By the time Mark Hoffman went through 5,000 cotton balls trying to soak up a clear fluid constantly oozing out of his ear, he'd already seen countless doctors to figure out what was happening.
The problem started in 2006: When he'd wake up in the morning, his right ear was wet and his pillow soaked. The issue came and went, but it really intensified last summer when the fluid started dripping every few seconds.
"It was a mystery for me for 10 years," Hoffman, 53, who lives in Akron, Indiana, told TODAY. "Nobody had any idea what this was."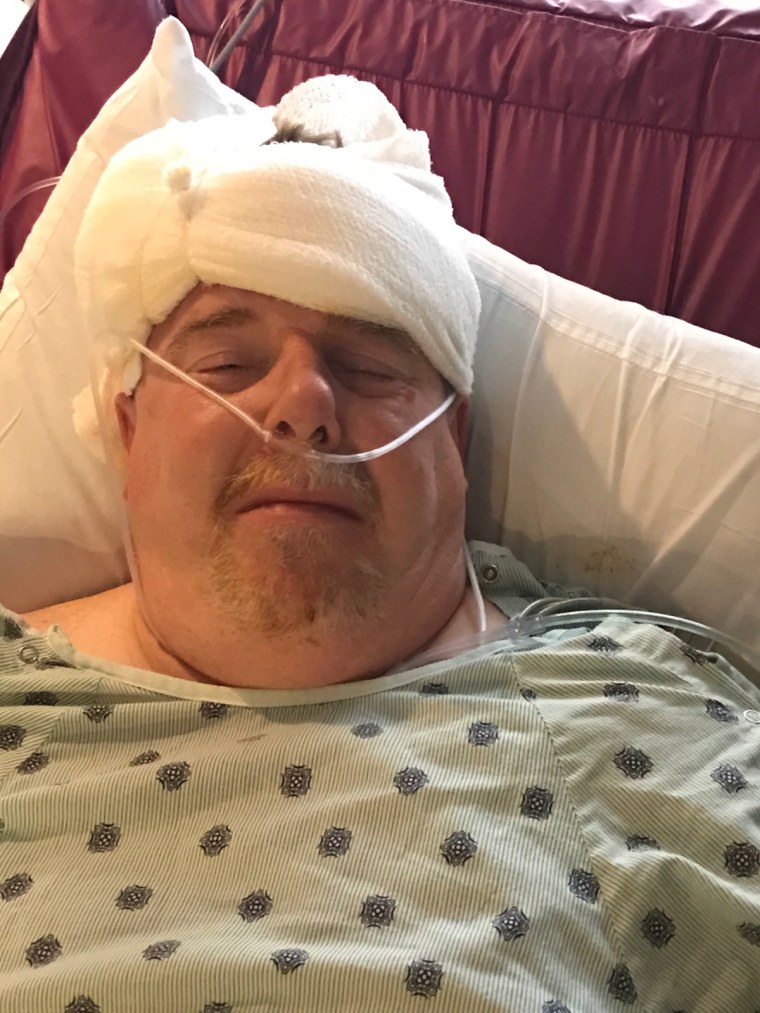 The answer — when he finally received a diagnosis last year — was something right out of a medical thriller: The watery substance was actually fluid leaking out of Hoffman's brain after a hole had somehow developed in his skull.
The condition, which seems to be linked to obesity, is on the rise in the U.S., with surgeries to fix it doubling in the last decade, said Dr. Rick Nelson, a neurotologist at IU Health and an assistant professor of otolaryngology at Indiana University School of Medicine.
"People don't really think about this complication of obesity and that they can end up needing brain surgery for it," he said.
Nelson, who has been researching the phenomenon for years, says most patients are middle-aged and overweight. About 70 percent are women.
How it happens:
Your brain and spinal cord are surrounded by cerebrospinal fluid, which looks like water. It's critical for brain function, delivering nutrients and acting as a cushion and shock absorber. Your body keeps making this liquid and recycling it about twice a day in a system that's tightly enclosed, Nelson said. The fluid is contained by the dura — a tough sac around the brain and along the spinal cord.
For a leak to happen, there has to be a hole in that sac and a hole in the bone of the skull. That can happen after brain surgery or big trauma, like an accident. But more patients, like Hoffman, are developing spontaneous cerebrospinal fluid leaks not caused by any surgery or accidents. Something is causing their skulls — but not other bones in their bodies — to get thinner, Nelson said.
In the early 2000s, Nelson would perform two surgeries a year to repair such spontaneous leaks. Now, he performs two to five a month.
Doctors don't know why it's happening, but besides excessive weight, sleep apnea may play a role, too, Nelson said. When people momentarily stop breathing at night, the pressure inside the head goes way up and that may start to erode the bones of the skull.
The typical symptom of the condition is fluid in one or both ears that just keeps oozing.
"Patients are surprised to realize there's brain fluid leaking out of their ear. Clearly, they are thinking it's just a standard ear infection when it's actually a connection between the outside world and their brain," Nelson said.
About 20 percent of people experience meningitis — a brain infection — as their first symptom. Infection is the biggest danger, so the leak has to be repaired with surgery.
Nelson performed the three-hour operation on Hoffman in December and Hoffman hasn't seen the oozing fluid since.
"It's a relief. I've probably used enough cotton to knit me a sweater, some socks and a few other things," Hoffman said.