As the flu continues to sweep across the nation, the feverish, achy and hacking among us are trudging to stores hoping to find relief in over-the-counter drugs and prescription medications.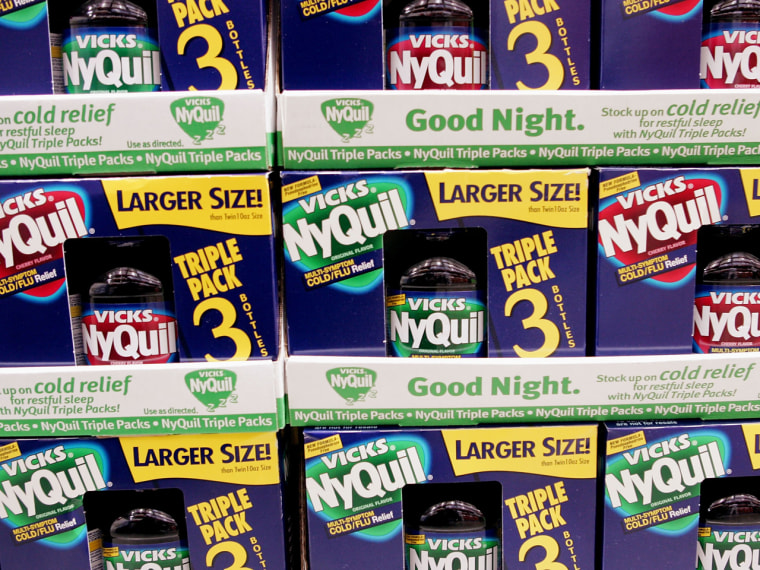 Unfortunately, some are finding empty store shelves where potent potions used to sit in abundance.
"I had someone offer me $10 for the last NyQuil [when I was] in line at Walgreens a few weeks back," says Michelle Meeker, a 45-year-old mother of two from Kent, Wash., who snatched up the over-the-counter cold remedy "just in case" when she saw it was the last bottle on the shelf. "He looked like he was going to pass out or throw up right there. Basically I wanted to get him away from me. It was like 'Take it and leave.'"
According to figures supplied by Nielsen, a global information and measurement company, sales in the cold/flu/allergy category have jumped by 40 percent in the last month and by more than 30 percent since this time last year.
And it's not just the over-the-counter medications that are in high demand. Sales of the prescription medicine Tamiflu climbed from just under 130,000 for the last week of November to nearly 450,000 for the first week in January, according to data provided by IMS Health, a healthcare technology and information company.
The real pain for many is the demand for popular multi-symptom concoctions such as Nyquil and its ilk. Between the last week of November and the first week of January, sales went from $61,939,293 to $96,600,171, according to Nielsen, skyrocketing 56 percent in just a few weeks. 
Todd Hale, senior vice president, Consumer & Shopper Insights, at Nielsen, says the demand may have been exacerbated by last year's mild flu season.
"A lot of retailers got stuck with products," Hale says, adding that many probably cut their orders for this year as a result.
Shortages this year are wide-ranging, including everything from decongestants to cough drops.
Bree Brown, a 40-year-old digital content editor and mom from Seattle, says she ran into problems when she went out to buy supplies for her flu-stricken spouse. The two big shelves normally designated for cough drops were completely out of the ones she wanted, "with the menthol in them," Brown says. "I went to the pharmacy and asked if there were any in the stock room, and she said everything was out on the shelves. Then she just shrugged and said 'Flu season'."
If you've come up empty at your local pharmacy or grocery store, there's still hope. You may be able to buy online and have your favorite flu remedy shipped right to your door.