Get serious about fitness, get rewarded with a weird skin rash. Some users of the Fitbit Force, a fitness tracking wristband meant to be worn day and night, are saying that the device has given them contact dermatitis, a red, itchy skin reaction that's often caused by an allergic reaction.

Paul Liebrand, who's been wearing his Fitbit Force since Christmas Day, says he noticed an itchy, red rash yesterday. "I had a burning sensation, and it itches," Liebrand told NBC News in an email. He says he wore the Fitbit Flex for months before with no problem.
FitBit is aware of the issue, and is offering refunds or a replacement device to customers who've gotten the rash from the Force, which sells for $129.95. The company issued this statement to NBC News on Wednesday:
We are looking into reports from a very limited number of Fitbit Force users who have been experiencing skin irritation, possibly as a result of an allergy to nickel, an element of surgical-grade stainless steel used in the device. We suggest that consumers experiencing any irritation discontinue using the product and contact Fitbit at force@fitbit.com if they have additional questions. Customers may also contact Fitbit for an immediate refund or replacement with a different Fitbit product.We are sorry that even a few consumers have experienced these problems and assure you that we are looking at ways to modify the product so that anyone can wear the Fitbit Force comfortably. We will continue to update our customers with the latest information. 
The clasps and casing of the FitBit Force are made with stainless steel, an alloy commonly used in jewelry and watches, which contains traces of nickel – and a nickel allergy is one of the most common causes of contact dermatitis.

If you're a Fitbit Force user who's prone to this kind of skin irritation, the best way to get rid of the rash is to stop wearing the device, and take the refund the company is offering or return it for another model, says Dr. Jeffrey Weinberg, a dermatologist with Mount Sinai Health Systems in New York City.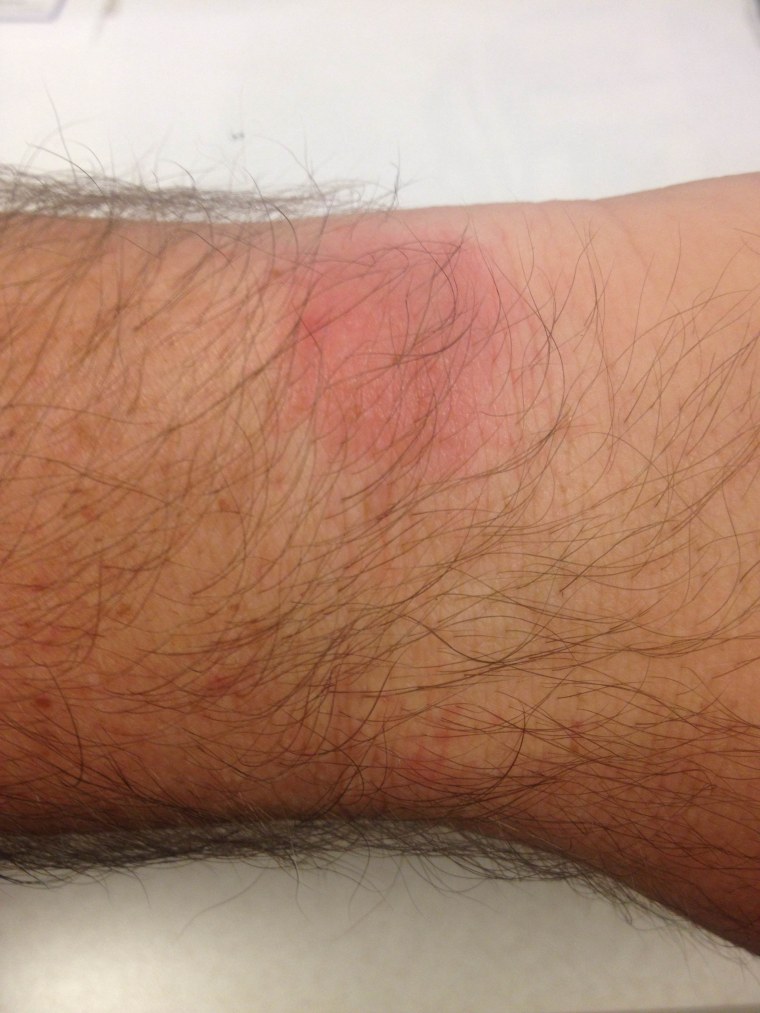 "The other thing they can do is put up a barrier between the product and their skin," Weinberg says. If you're willing to get a little experimental before parting with your FitBit Force, Weinberg says some of his patients who've gotten nickel allergies from, for example, the metal on their belt buckle have had some success with applying clear nail polish to the buckle. 
But the skin reaction is not likely about poor hygiene, or bacteria build-up, Weinberg says. "Very often you just need to avoid the offending thing. It's not about dirt. It's about something in the material that is stimulating the allergic reaction," he says. 
Liebrand, who lives in Southern California, plans to return his Fitbit Force for a refund. He says he's never had a reaction to watches, jewelry or belts, and that his rash started near the device's charging port, not near the clasps or the band. He immediately stopped using the Fitbit Force when he connected it to his skin irritation, but he says the rash hasn't gone away yet. 
Contact dermatitis usually takes about two or three weeks to clear up, according to the National Institutes of Health.