Maria Kang faced fierce backlash two years ago after posting a Facebook photo showing off her toned torso, her three young children and the tagline, "What's Your Excuse."
The post, which generated more than 16 million views, encouraged others to take a "no excuses" approach to becoming fit and healthy, but it also prompted numerous critics to call Kang a fat-shaming bully.
"I'm absolutely glad I put it up there," Kang said Wednesday on TODAY. "Now I have mobilized 37,000 women in 300 locations in 25 countries of 'No Excuse' mom groups, so this is a really exciting time."
Kang, 34, now hopes to motivate additional people to become more healthy and fit through her new book, "The No More Excuses Diet."
"It's all about being simplistic, achievable and doing it in three months," she said, referring to the "power of 3's" her program stresses:
3 days: "It takes three days to overcome an excuse or a craving."
3 weeks: "It takes 21 days to build a habit."
3 months: "It's going to take 12 weeks to make a transformation," Kang said. "If you do it now, you'll look great by summertime."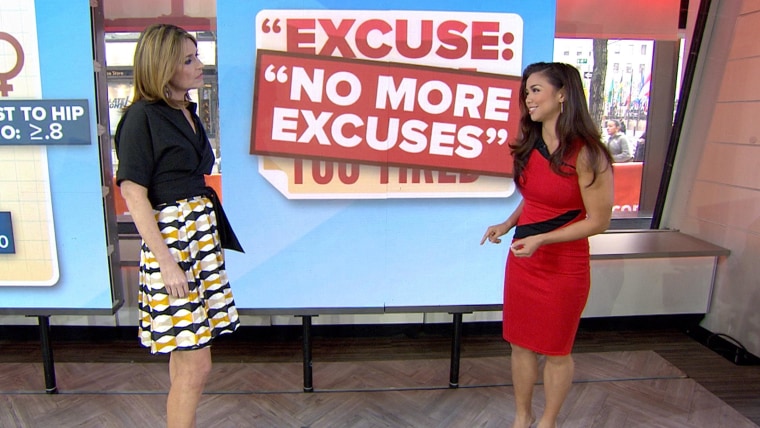 Kang advises measuring progress beyond milestones like weight loss and instead through "NSV — non-scale victories" like body mass index and waist-to-hip ratio. She also remains adamantly behind her original fitness philosophy, dismissing the most common excuses she hears from people who say they are too tired or have no time.
"You have to make time, whether that means getting off of social media early, just to wake up earlier in the morning," she said. "And if you're too tired, just commit to 20 minutes, but above all, figure out your reasons. Your reasons need to be bigger than your excuses."