A 26-year-old woman who is the first U.S. patient to get a uterus transplant says she is grateful for the chance to give birth to a child after having prayed for years.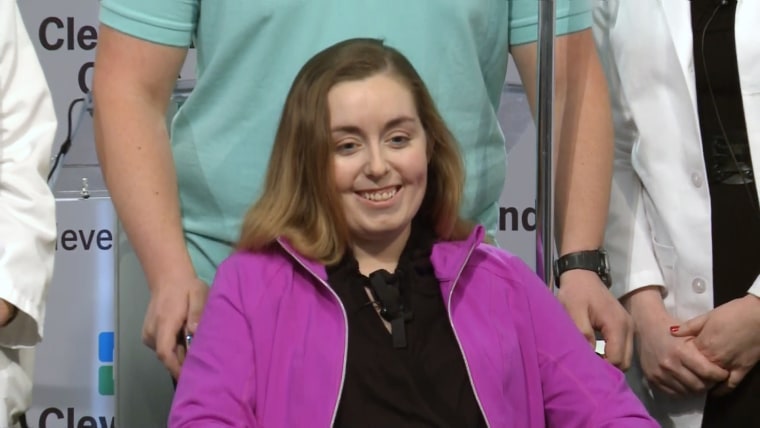 The young woman, identified only as Lindsey, said she'd adopted three "beautiful little boys" but yearned to also experience pregnancy. She spoke briefly to reporters from her wheelchair.
"I am so thankful to this amazing team of doctors and all the nurses and staff who have worked around the clock to ensure my safety," Lindsey said.
Surgeons at the Cleveland Clinic said Monday that Lindsey is recovering well from nine hours of surgery to implant a uterus from a deceased organ donor.
"This is a research project that gives hope for women who wish to experience pregnancy and children," Dr. Delos Cosgrove, the Cleveland Clinic's president and CEO, told reporters.
The uterus transplant team called the procedure a "significant step forward," but explained why they aren't celebrating yet.
Lindsey told the news conference she had been told at age 16 she could not have a biological child.
"From that moment on I have prayed that God would allow me the opportunity to experience pregnancy," she said.
Related: First woman to Get uterus transplant has a baby
Lindsey will have to wait a year of watching and healing before she can try. She and other women hoping to have the procedure had first to undergo in vitro fertilization (IVF) treatment to produce six to 10 healthy embryos, which can be implanted if the transplant is a success.
"We must remember a uterine transplant is not just about a surgery and about moving a uterus from here to there. It's about having a healthy baby," said Cleveland Clinic surgeon Dr. Rebecca Flyckt.
The hospital screened more than 250 women to identify 10 who qualified for the clinical trial. They needed healthy ovaries to produce the egg cells used for the IVF.
After she has one or two children, Lindsey will have to undergo surgery again to remove the uterus. Doctors don't consider it's worth the risk to her health to continue taking anti-rejection drugs for life.
Surgeons in Sweden performed the first publicized uterus transplants and say five healthy babies have resulted from nine transplants so far.
Related: 'Pain' and 'uncertainty': A young woman shares her struggle with endometriosis
The Cleveland Clinic team was not able to say how much the surgery cost or would cost in the future, or whether health insurers would pay for it.
It's also not clear just how many people might benefit from such a transplant. It could conceivably help transgender women bear children as well as women born without a functioning uterus or those who have lost a uterus to disease.
The American Society for Reproductive Medicine, the Organ Procurement and Transplantation Network, the American Society of Transplantation, the American Organ Procurement Organization and other groups are planning a meeting to draw up guidelines for centers planning to offer uterus transplants.
One big question will be who should be eligible to get them.