Jesi Stracham nearly died after a Jan. 18 accident left her paralyzed, yet she insists she wouldn't change a thing.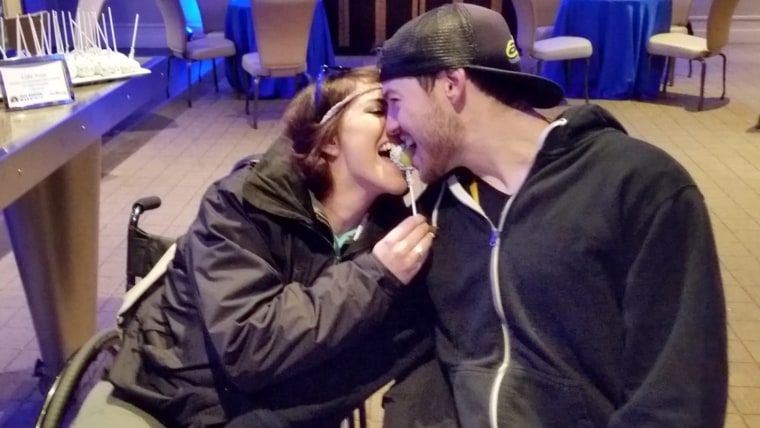 That's because the ordeal allowed the the 22-year-old North Carolina resident to meet Jordan Fallis, whom she originally contacted to discuss his experience as the first patient to undergo a new medical procedure to combat his own paralysis. What began as a few text messages about surgery, she said, developed into something far more profound.
"I would not take this injury back for anything," Stracham told TODAY.com, "because it did give me him."
Recalling her accident, Stracham said she was riding on the back of a street bike when a car made a sudden U-turn and collided with the bike. Stracham said the wreck broke three of her vertebrae, multiple ribs and her clavicle, and punctured a lung in the process. "I was resuscitated twice," she said. "I was in and out [of consciousness] my entire first week in the hospital."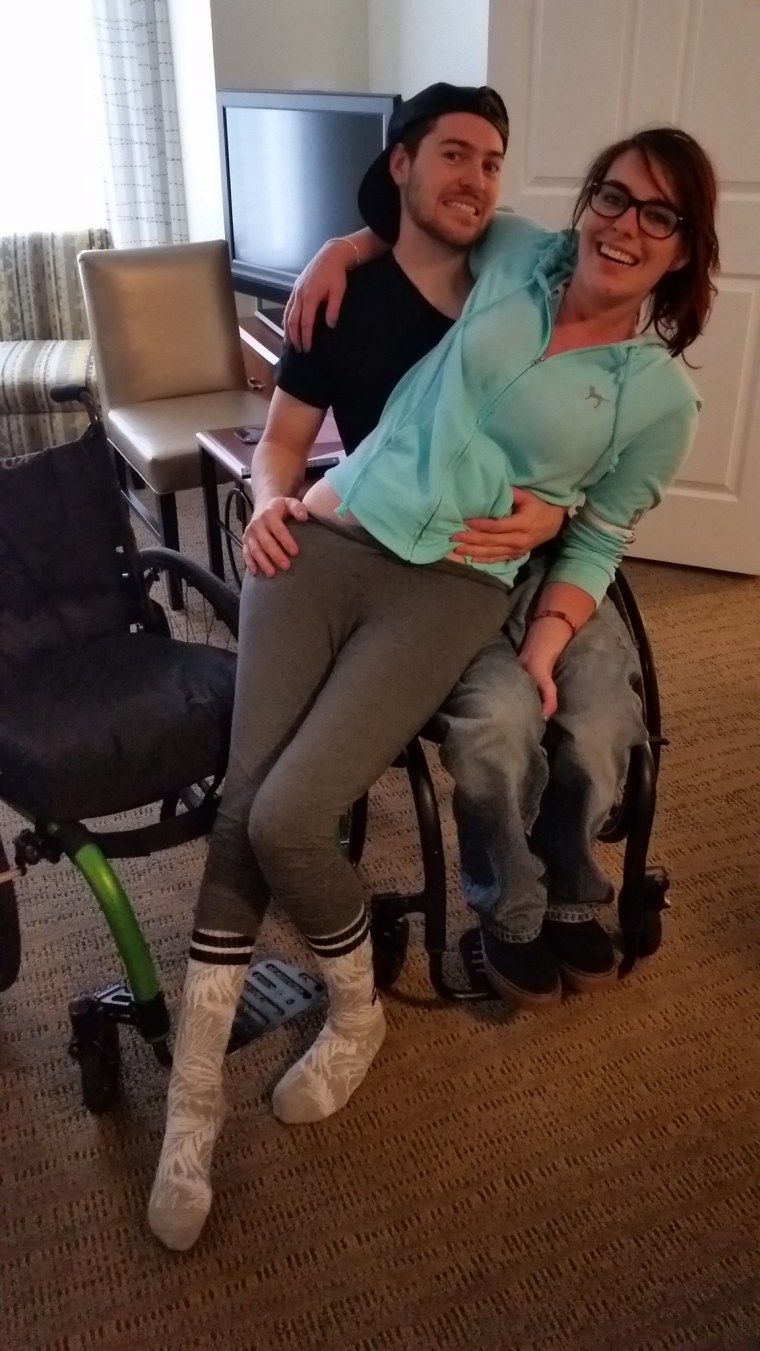 Initial recovery proved to be arduous. "It's kind of like reinventing yourself as a human," she said. "You think you have your whole life figured out and all of a sudden, something happens, and it completely crashes your world. ... I lived in that hospital for, like, 2½ months.There's no words to describe paralysis, your life being turned upside down. It's just like, 'Now what?'"
When presented with the option for NeuroScaffold surgery — which Stracham describes as a rice-grain-sized "Band Aid for your spinal cord" that potentially regenerates nerve connections — she learned about the first such recipient, and her aunt encouraged her to contact Fallis to learn more about the procedure.
Fallis, a 26-year-old from Arizona, told TODAY.com he broke his spine on Oct. 13, when he failed to land a backflip on his dirt bike. Fallis said he agreed to be the first person to undergo NeuroScaffold surgery as he was carted into the emergency room. "There wasn't really anything they could do, other than stabilizing my spine with the rods and screws, and this experimental surgery," he recalled. "I just happened to be in the right place at the right time."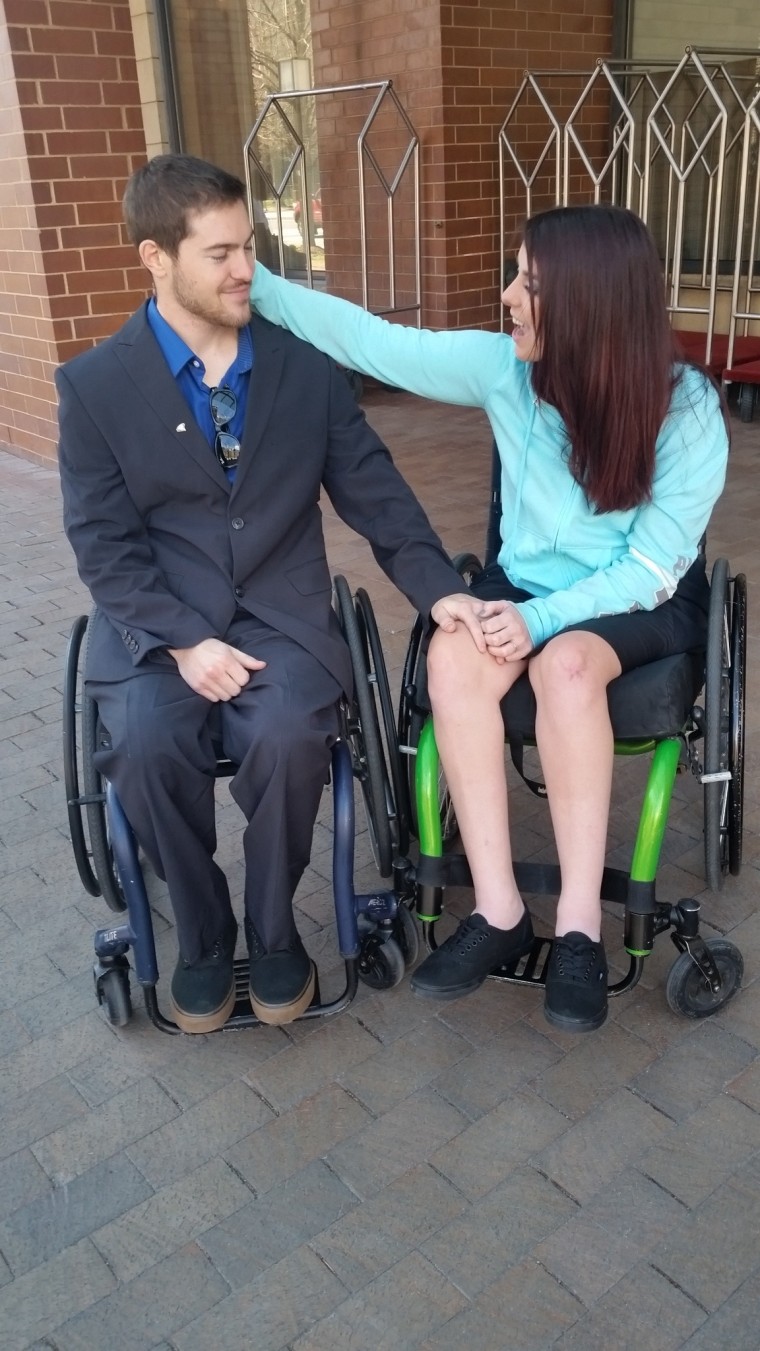 Per medical regulations, three months had to pass without major side effects before a second patient would be eligible to receive NeuroScaffold surgery, Fallis said. Stracham was patient No. 2.
Stracham said: "Of course I had all my questions, like, 'What can you feel and what can't you feel and how long does it take for this to come back?' And then the questions became more personal. 'What do you like to do on the weekends?' We sent each other pictures of our dogs, and it went from there. I really don't think I would be this positive about the situation without him."
Common interests and positivity were among the reasons Fallis began to feel a spark. "Her attitude keeps me up, and I know mine keeps her up," he said. "We kind of just feed off each other in a positive way."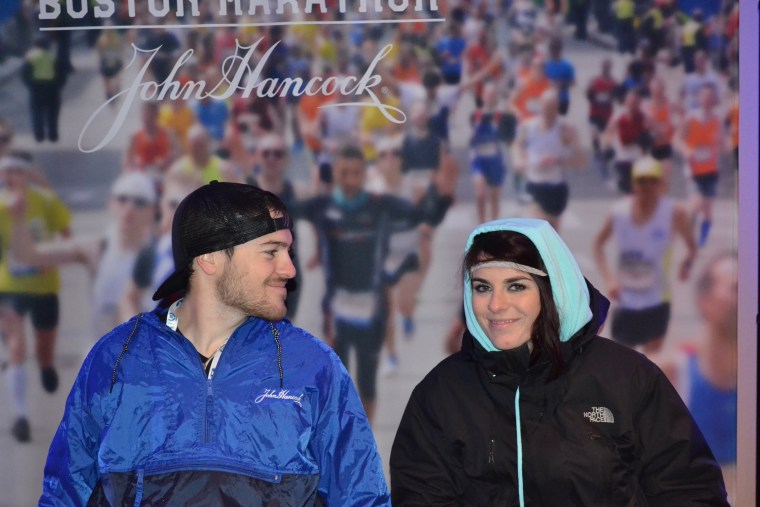 Stracham said she and Fallis defined their friendship as a relationship in mid-March, about three weeks into her rehabilitation program. "It just happened," she said with a laugh. "We both weren't looking for a relationship, but we stumbled upon each other."
With the help of NeuroScaffold Foundation Executive Director Yara Goldstein, the couple met for the first time in Boston, where they hung out, attended the Boston Marathon and appeared at foundation events.
In separate interviews, Stracham and Fallis described their first meeting at Logan International Airport as if it were a homecoming. "When I saw her there, it wasn't even like we'd met for the first time; it was a lot more like I was just on vacation or something," Fallis said with a laugh.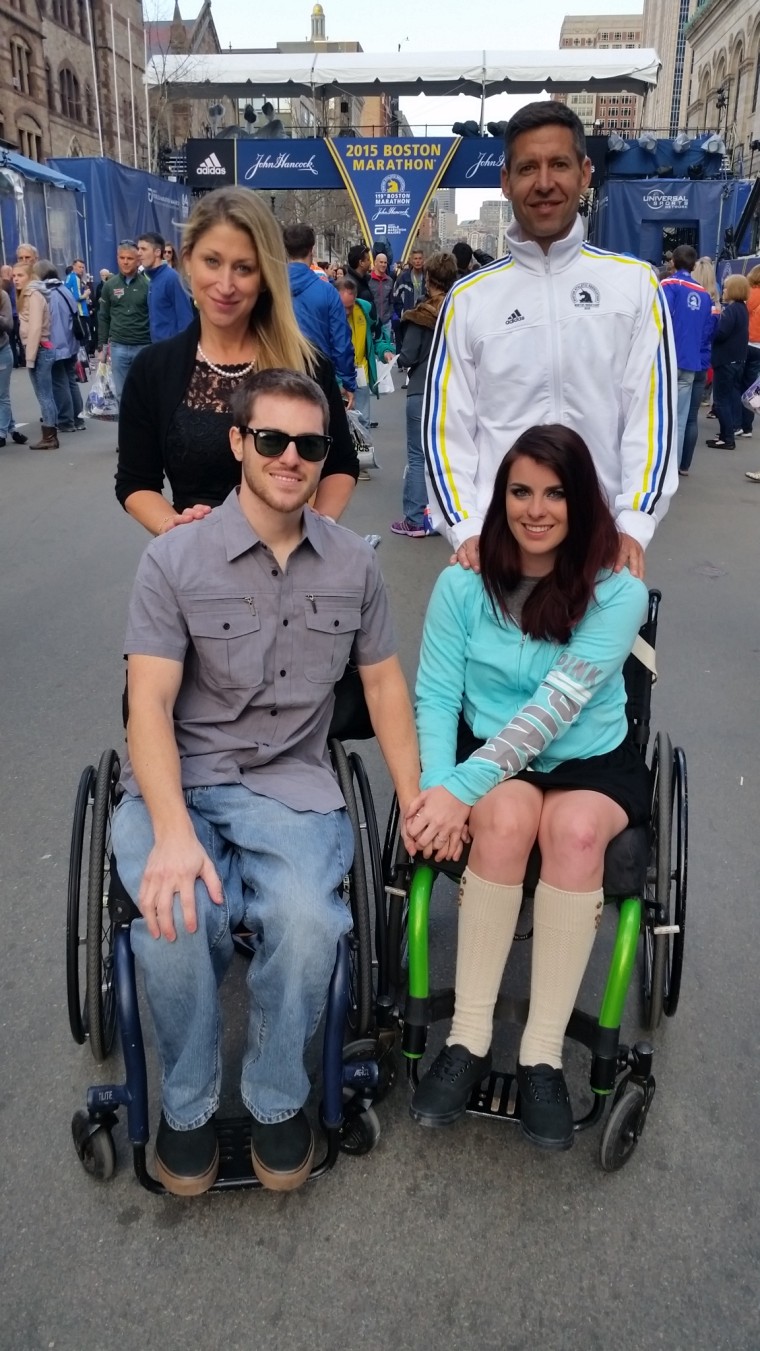 The relationship isn't the only thing that's getting better. "I've gotten [use of] my hips back in the past three months," said Stracham, who added, "The only thing stopping Jordan from walking is extending his leg and putting pressure on his feet."
Fallis has been able to move back to his own place, and Stracham, too, strives to return to a familiar lifestyle within months. A pediatric and dental assistant, she plans to return to work by the fall. She not only expects to get back on a bike, but also race on a custom model at a May 23 event, where Fallis plans to watch from the stands.
Her ultimate goal is to walk again by the end of the year.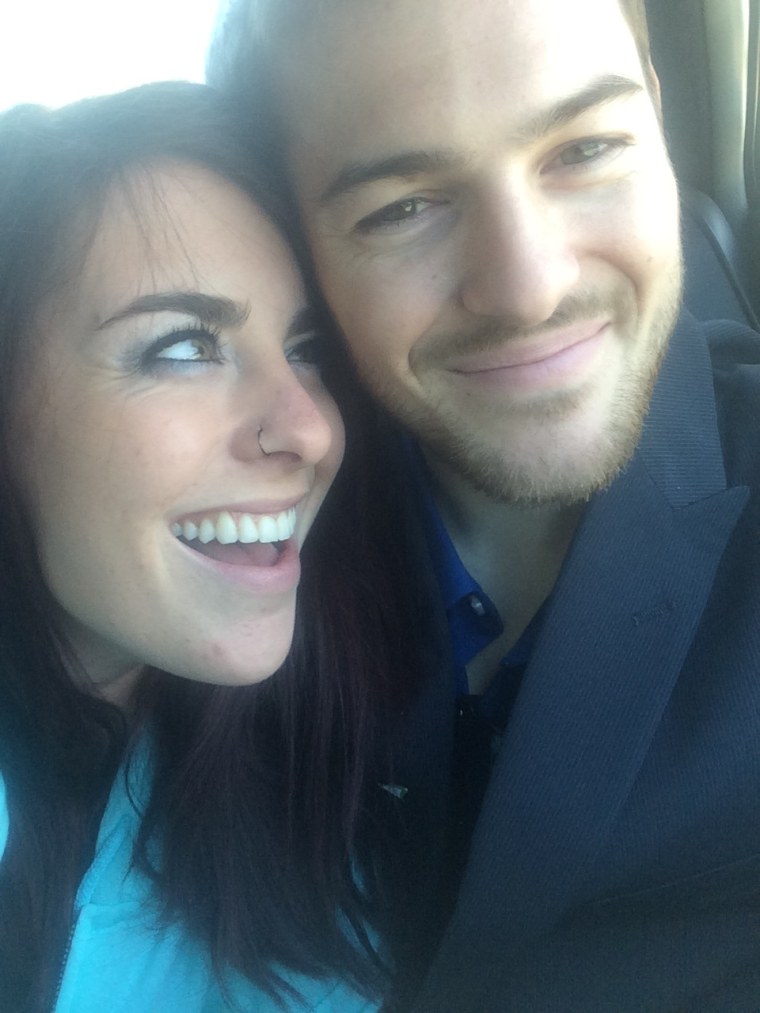 "I refuse to accept paralysis," Stracham said. "It's a fight to me the way cancer is to other people."
She and Fallis are also "paying it forward" by working with NeuroScaffold's foundation to raise money for future patients who need financial assistance for the surgery. In the meantime, the connection they share is priceless.
"Had we met outside of our injuries, both of us standing," Stracham said, "we [still] would [have ended] up together."
Follow TODAY.com writer Chris Serico on Twitter.