When we think of in vitro fertilization, our thoughts go to those struggling with fertility issues and hoping to start a family.
But following research conducted by experts at Cornell University, our thoughts may change — because IVF isn't just for humans anymore.
Meet the first puppies born as a result of the procedure:
The floppy-eared pups are just as furry, friendly and adorable as any others, but they offer hope for the animal kingdom that's much bigger than they are.
The goal of canine IVF isn't about a new way to breed dogs. It's about the potential to save species. The procedure has had limited success with other animals, including cattle and monkeys, in the past, but dogs are special.
MORE: See this baby giggle as puppies clamber over him in adorable video
"We chose dogs because they're a model system for many endangered species," Alexander Travis of Cornell University's College of Veterinary Medicine told TODAY. "So perfecting a technique like IVF in the domestic dog gives us a starting place to use it for other species."
The impact could be huge.
"We need IVF to help breeding programs for endangered species so that someday we can return these animals to the wild — not only saving them but the entire ecosystem in which they live," he explained.
So the birth of those seven pups— three females and four males — was an important step in that process. In fact, it could turn out to be an important step for human health, too.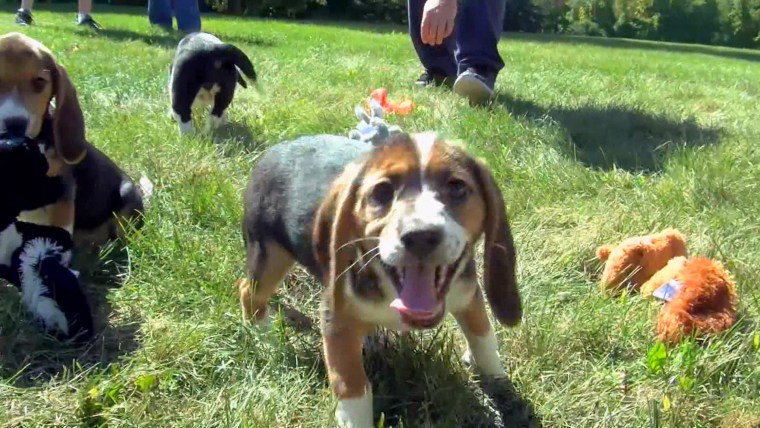 "The technique also gives us several opportunities to help address genetic disease in dogs, and that could give us information on human health, as well," Travis added. "There's over 350 genetic diseases that are known in dogs that have direct similarities to diseases in people."
MORE: Sweet dreams! Newborn sleeps surrounded by puppies in these adorable pics
While the pups are just 5 months old, their arrival comes on the heels of a decade's worth of research. They're all healthy and most will soon be adopted.
Follow Ree Hines on Twitter.