Kara Skaflestad was being treated for stage 3 breast cancer at 26 years old when her best friend's mother sent her a small gift to remind her to keep fighting.
The tiny pink boxing gloves that meant so much to Skaflestad during a difficult time became the inspiration for Fighting Pretty, an organization she created that makes "Pretty Packages" for women being treated for breast cancer.
The packages feature the signature boxing gloves plus lipstick, scarves, personalized notes and more.
"I want to tell women who are in the fight of their life that they can do it,'' Skaflestad told TODAY. "They can't control cancer, but they can try and control how they feel about it and how they feel about themselves."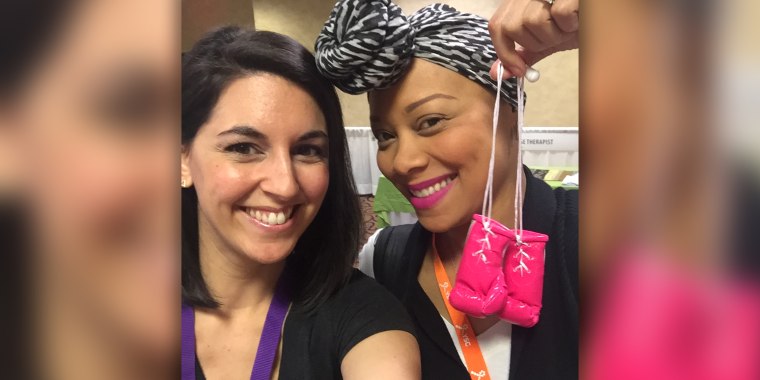 During the time when Skaflestad, now 36, underwent a double mastectomy and eight rounds of chemotherapy, as well as radiation and other treatments, she did her best to keep her spirits up by wearing bright scarves or hot pink lipstick.
"Feeling beautiful was a really hard thing to do when you lose your hair and you lose your breasts and your eyelashes, and so I tried to take control of that a little bit and do something that would lighten my mood,'' she said.
Skaflestad joined Hoda Kotb, who is also a breast cancer survivor, and Savannah Guthrie on TODAY Monday to kick off Breast Cancer Awareness Month. They teamed with a group of about 40 volunteers who gathered on Rockefeller Plaza to put together 400 "Pretty Packages" to be sent out to women who have breast cancer.
Skaflestad was living the 20-something life in Manhattan when she was diagnosed. Her beloved grandmother had died from breast cancer, prompting Skaflestad to do a self-exam in the shower.
After finding a lump in her armpit area, she went to a doctor and got a scan, revealing stage 3 breast cancer.
"Everyone was devastated, especially after losing my grandmother, but we really all bound together,'' she said.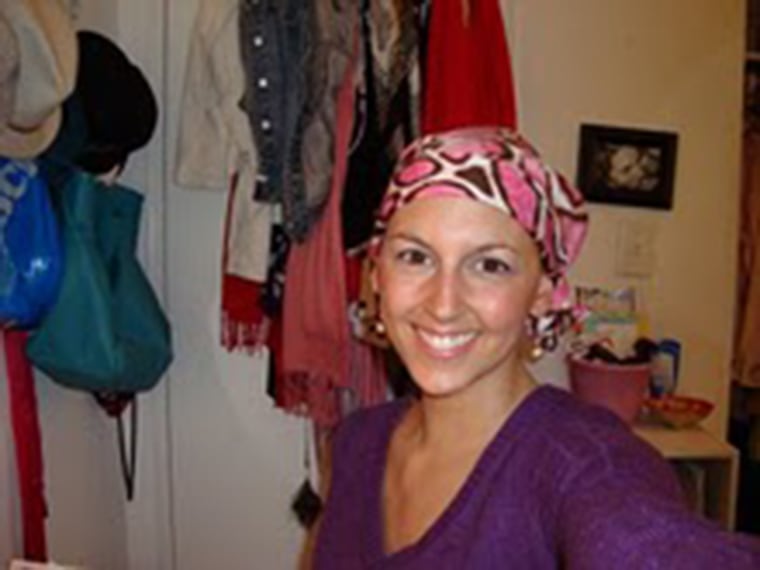 She received the gift of the mini boxing gloves during her treatments from Meg O'Hanlon, the mother of her good friend and a breast cancer survivor herself.
Three years after Skaflestad's treatments, she paid it forward when a family friend was diagnosed with breast cancer. She sent her the boxing gloves along with lipstick and a scarf, creating the first "Pretty Package."
"Little by little I realized I didn't have to send care packages just to people I knew,'' she said. "I could send them to anyone."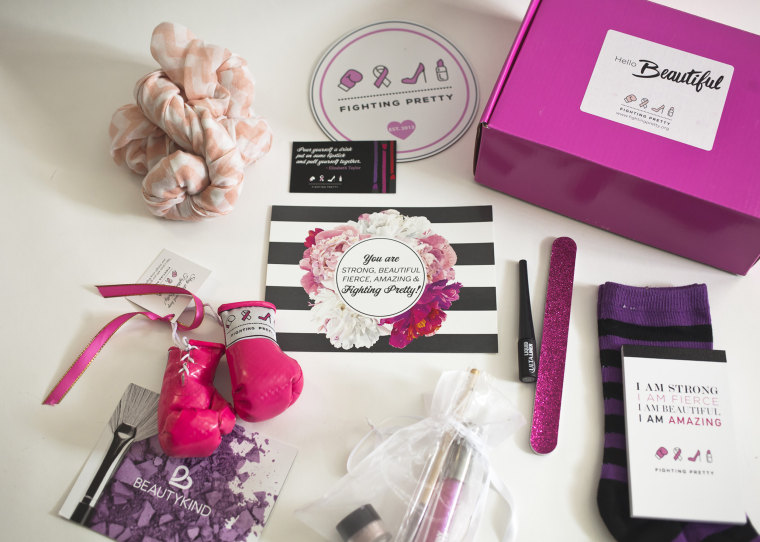 Fighting Pretty has sent out 6,000 "Pretty Packages" in the last five years to women in all 50 states and seven countries. Skaflestad, who now lives in Portland, Oregon, is also looking to work with hospitals to get the packages directly to patients. The charity asks for a $30 donation per box, to cover the cost of materials and shipping.
The hope is that every box can be the perfect pick-me-up for women who have breast cancer, as well as a reminder.
"Just remember that you are amazing and you are fierce and you're strong, and with or without hair or breasts or eyelashes, you are beautiful and amazing, and you need to remember that,'' Skaflestad said.