From Lena Dunham in Vogue to popular online videos, the difference between photo-shoot and Photoshop is becoming more evident. And with the rise of social media, there's heightened interest in how images are manipulated — how you can go from a plain-looking photo to a glamorous cover shot. 
There's no limit to what can be done with Photoshop — the image editing program that whitens teeth and smooths away wrinkles, among many other features. As part of our Love Your Selfie body image series, TODAY anchors Matt Lauer, Savannah Guthrie, Al Roker and Natalie Morales decided to take a look at the process with Cosmopolitan magazine to show how much an image can be Photoshopped. See how the keyboard, mouse and tablet work.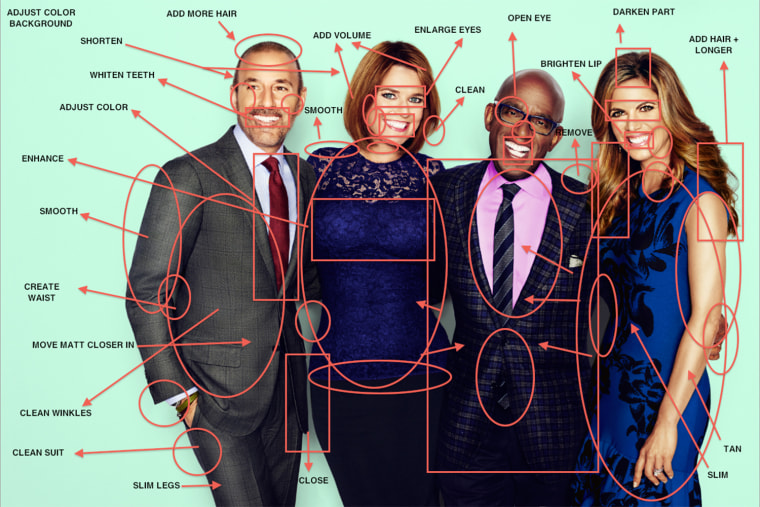 "We've all seen a hundred or a thousand photos of ourselves where every one of the features we don't like pops right out," said Matt. 
"My tummy. If I could sort of fix something that would be it," said Natalie. 
"I would make my arms thinner, take away a few wrinkles," said Savannah.
"Someone can Photoshop you and maybe make you a little different, a little better," said Al. "But you know who you are."
No doubt, the perfected images in magazines affect how we see our own physical flaws. While most adults don't care about Photoshopped images, teenagers, especially teen girls, say pseudo-perfect images of celebrities make them feel dissatisfied with their own appearance. The TODAY/AOL Body Image survey found the majority of the girls, ages 16-17, surveyed said they want the practice to stop entirely. 
Joanna Coles, editor-in-chief of Cosmopolitan, which helped with our Photoshop project, says,"we're trying to present the best self of someone. You're looking for things to restore them but not recreate them."
That's how Matt sees it: "If you change who I am as a person or any of us are as people and change our complete appearance, then it's ridiculous; then you might as well have a painting, you might as well have an artist in here painting a portrait, because it's not realistic."
All week, TODAY is exploring the issues we all face with body image on a daily basis, hoping to help you change the way you see yourself. Everyone from Cameron Diaz to Michelle Obama will weigh in. Follow the series at TODAY.com/LoveYourSelfie.