The government is cracking down on companies that sell nicotine-laced "e-liquids" in packages that look like kid-friendly food products, including juice boxes, candy or cookies.
On Tuesday, the U.S. Food and Drug Administration and the Federal Trade Commission sent 13 warning letters to manufacturers, distributors and retailers for selling the liquids, which are used in e-cigarettes and other vape products, with the "alarming" design.
Some of the side-by-side examples with real foods were striking, with the e-liquids resembling familiar brands, down to the logo design and container colors. "Whip'd Strawberry," for example, resembles Reddi-wip dairy whipped topping: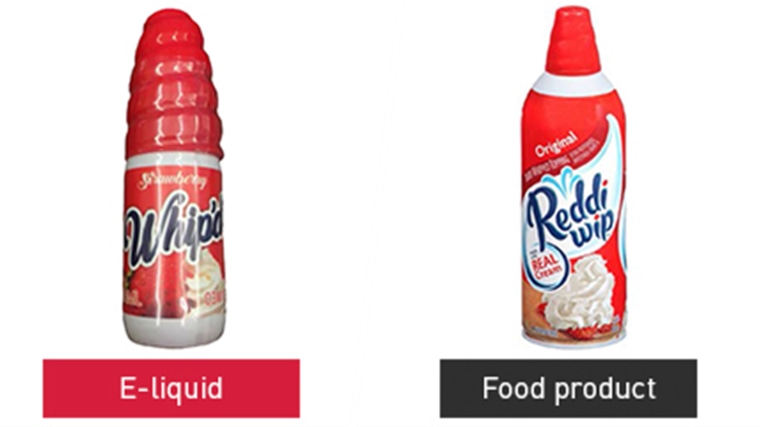 Children could easily confuse the e-liquids for something they've tried before, leading to serious accidents since nicotine is highly toxic, especially to small kids, the government warned. Their risk from exposure includes seizure, coma, respiratory arrest and death from cardiac arrest. There were 8,269 liquid nicotine exposures among children under 6 reported to U.S. poison control centers between January 2012 and April 2017. At least two children died, the report found.
"No child should be using any tobacco product, and no tobacco products should be marketed in a way that endangers kids — especially by using imagery that misleads them into thinking the products are things they'd eat or drink," said FDA Commissioner Dr. Scott Gottlieb, in a statement.
"Companies selling these products have a responsibility to ensure they aren't putting children in harm's way or enticing youth use."
Some of the examples cited include: "One Mad Hit Juice Box," which resembles children's apple juice boxes, such as Tree Top-brand juice boxes: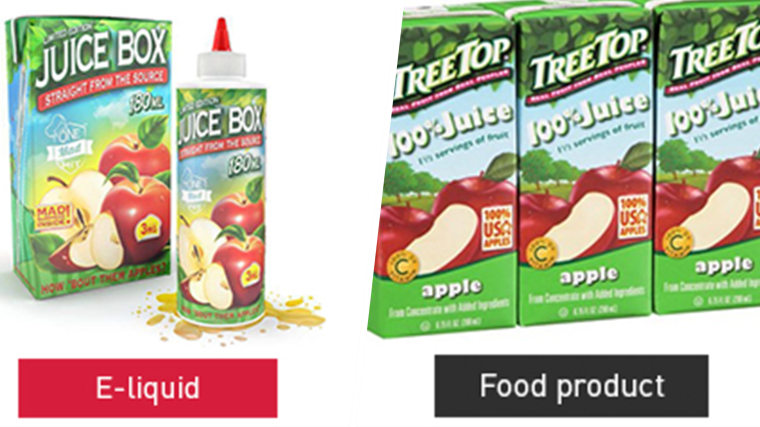 "Vape Heads Sour Smurf Sauce," which resembles War Heads candy: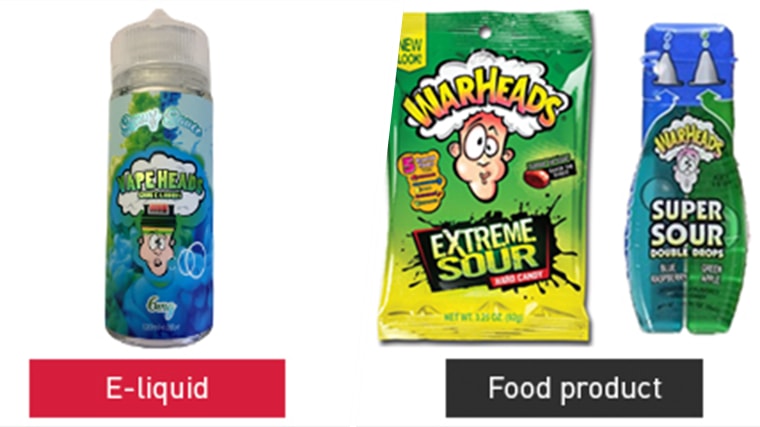 "V'Nilla Cookies & Milk," which resembles Nilla Wafer and Golden Oreo cookies: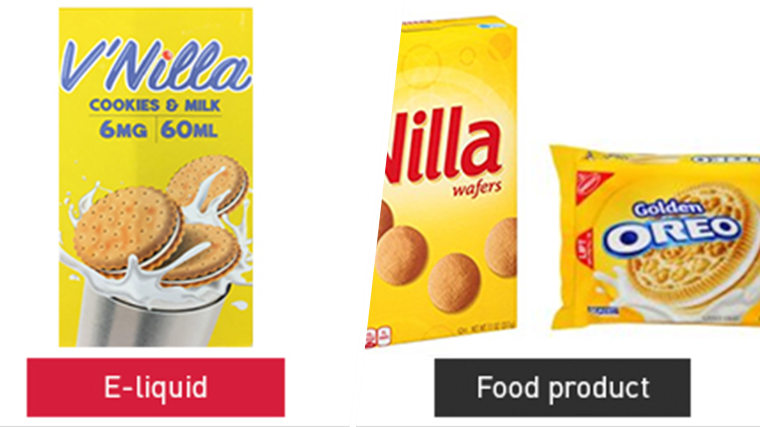 "Twirly Pop," which resembles a Unicorn Pop lollipop: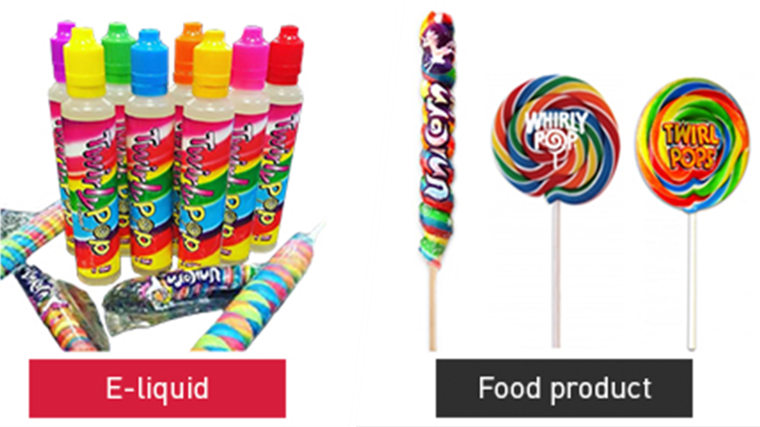 Products listed in the warning letters are considered to be in violation of the Federal Food, Drug, and Cosmetic Act because their labeling or advertising imitating kid-friendly foods is false or misleading.
Each company has 15 days to respond about the actions it's taking to address the government's concerns.
The American Vaping Association, a nonprofit organization that advocates for "fair and sensible" regulation of e-cigarettes, supported the FDA's action, but warned the government against "declaring war" on flavored vaping products.
"Flavors are critically important to helping adults quit smoking, but that is no excuse for crass, bottom feeding marketing that violates U.S. trademark laws," said Gregory Conley, president of the American Vaping Association, in a statement.
"While we applaud this particular crackdown by the FDA, we are concerned that the agency will expand their campaign to include responsibly marketed flavored products that are popular with adults looking for alternatives to combustible cigarettes."
Vaping has become a hit with teens, alarming experts who say they are inhaling cancer-causing chemicals and may be more susceptible to nicotine addiction in the future. Flavoring is part of the appeal, experts say.
"The tobacco industry wants people to start young and knows that what really attracts them are sweet and fruity flavors," Dr. Robert Jackler, chair of otolaryngology and a professor of otorhinolaryngology at Stanford University, told NBC News.
E-cigarettes are not safe for youth, the Centers for Disease Control and Prevention warns.