Millions rely on the glistening gel of hand sanitizer to get through the day with germ-free hands.
But on Wednesday, the U.S. Food and Drug Administration announced it wants more data to show it's OK to use these products every day and that they're effective in reducing bacteria on skin. There's no indication the products aren't safe or don't work, the FDA stresses. It simply wants to know more.
"Today, consumers are using antiseptic rubs more frequently at home, work, school and in other public settings where the risk of infection is relatively low," said Dr. Janet Woodcock, director of the FDA's Center for Drug Evaluation and Research, in a statement.
"These products provide a convenient alternative when hand washing with plain soap and water is unavailable, but it's our responsibility to determine whether these products are safe and effective… To do that, we must fill the gaps in scientific data on certain active ingredients."
Related: 5 little-known facts about germs
No products will be pulled from the market, but the FDA wants manufacturers to send data for three active ingredients: alcohol (ethanol or ethyl alcohol), isopropyl alcohol and benzalkonium chloride.
It particularly wants to know more about the long-term safety of daily, repeated exposure to these ingredients by the general population and by their use of pregnant women and children.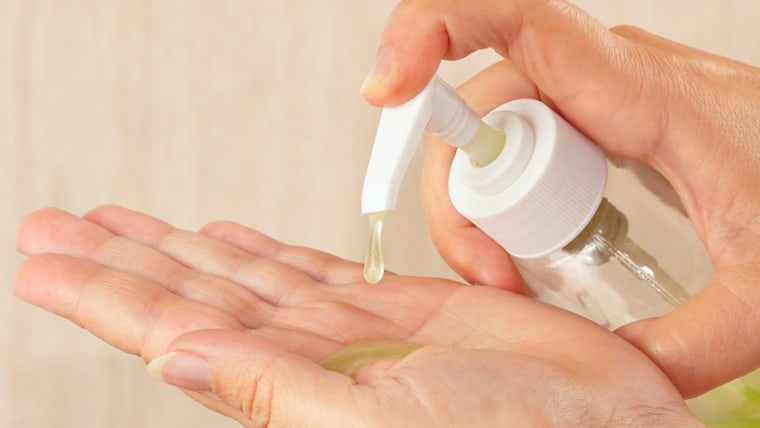 If you're in a pinch and you don't have soap and water, a hand sanitizer may be your next best bet. You want to look for one that contains alcohol, rather than an anti-bacterial, according to NBC News medical contributor Dr. Natalie Azar.
"The reason is that there is a controversy about this particular substance called triclosan, which has been studied by the FDA for a number of years now. They don't have enough evidence yet to say whether it's dangerous for humans, but animal studies suggest that there could be some issues," Azar said.
"The idea is that perhaps it could breed antibiotic resistance, ruining the natural flora on the skin."
Related: 5 toxic chemicals you should banish from your home
Hand sanitizers can be helpful, but they don't work under all circumstances. The Centers for Disease Control and Prevention has the following tips:
The best way to reduce the number of microbes on your hands is the old-fashioned way
Wash them with soap and water. If that's not possible, use a hand sanitizer that contains at least 60% alcohol.
Skip non-alcohol-based hand sanitizers
They may not kill all germs, cause bacteria to develop resistance, and are more likely to irritate your skin.
Sanitizers don't help really dirty hands
They may not eliminate all types of germs if you don't use enough of the product or wipe it off before it dries. Hand sanitizers may not be as effective when hands are really dirty or greasy, plus they might not remove harmful chemicals, like pesticides, from hands.
Follow A. Pawlowski on Facebook, Instagram and Twitter.