Supporters of a new "pink pill" to treat low sex drive in women applauded and cheered Thursday afternoon when Food and Drug Administration advisers voted to recommend the drug's approval.
Panel members made it clear they are not entirely happy with recommending the pill, which causes nausea, unexpected fainting and other side effects. But they said there's nothing else on the market for women with the problem.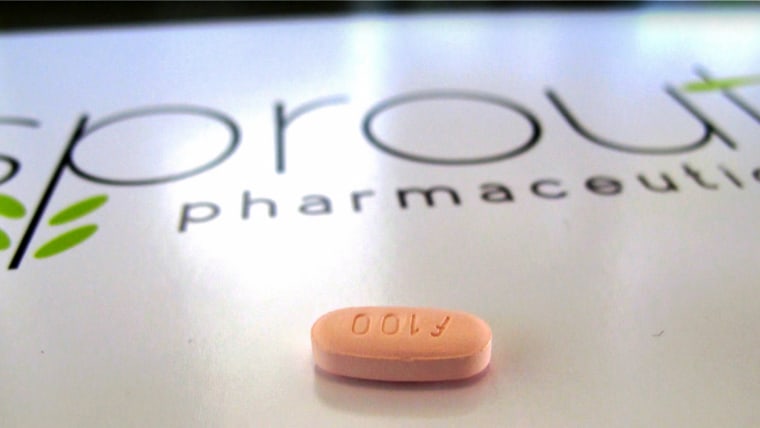 "I have serious, serious, serious safety concerns," said Dr. Walid Gellad of the University of Pittsburgh, one of the panel members who voted to recommend approval, anyway. "The benefits are modest, maybe less than modest. But I think that puts it in good company with other approved drugs."
Advocates point out that men have Viagra, Cialis and other pills to treat erectile dysfunction, but that there's no equivalent for women.
The FDA doesn't have to approve the pill. Six of the 24 committee members voted to reject the drug outright. The remaining 18 said it should be approved but there needs to be a strict warning so that women know about the potential side effects.
More than 30 people spoke to a day-long hearing about the drug, which the FDA has rejected twice before.
"I'm elated," said Amanda Parrish of Nashville, who testified in favor of the drug's approval. "It is probably going to come with great restrictions and stuff, but who cares? If they had turned it down again, it would have been gone forever."
Drug giant Boehringer Ingelheim gave up on the drug in 2010 and turned it over to North Carolina based Sprout Pharmaceuticals. Sprout has exclusively focused on bringing flibanserin to the market, backing a campaign called "Even the Score" to position the drug as a product that women should be free to choose.
They've played up the fact that it's a pink counterpart to Viagra, the "little blue pill." But it works differently. Viagra works by increasing blood flow to the penis. Flibanserin acts in the brain, changing the balance of chemicals related to mood.
Critics are worried that flibanserin is a pill that women would take every day. They point out that once it's on the market, any doctor can approve it for any use he or she sees fit, and thousands of women could be taking it for extended periods. That almost certainly means many more side-effects will be seen as thousands of women take the pill.
The 4,000 women in the most recent trials, like Parrish, were all pre-menopause and in good health. What happens when older, sicker women start taking it, critics ask.