Joanne Maglaras knows all about the love and support of family. She also knows all about stress of family life and how it can affect heart health. Five years ago, at age 49, Maglaras, of Flushing, New York, had a heart attack.
Her difficult recovery after the cardiac event may have been linked to her daily stressful juggling of child, financial and "sandwich generation" responsibilities, according to a Yale University study released Monday.
Maglaras, who works full-time helping high school students apply for college financial aid, was dealing with her husband's recent job loss while helping their four children, now ages 12 to 26, navigate the tween, teen and young adult years. And like many women her age, she was also helping her own parents navigate their senior years.
"Stress is tough and mothers always worry about their children no matter how old they are, and it was a tough time when my husband lost his job," says Maglaras, now 54. "I didn't know what was in store for me," says Maglaras. "Physically, I'm just not the same person I was."
Stress may partly explain why some of the estimated 35,000 young and middle-aged American women who experience heart attack each year suffer a more difficult recovery than men, according to new research published online today in Circulation, a journal of the American Heart Association.
Yale researchers analyzed data from 2,397 female and 1,175 male heart attack survivors, all of whom were 18-55 years old and participants in the Variation in Recovery: Role of Gender on Outcomes of Young AMI Patients (VIRGO). VIRGO is a prospective observational study of young and middle-aged adult heart attack patients in the United States, Spain and Australia. During their initial hospital stay for heart attack, researchers measured patients' perceived stress using a 14-item scale that gauged their lives as being uncontrollable and overloaded over the past month.
"VIRGO was an ideal opportunity to look at a younger population in terms of heart attack recovery and differences in men and women after a heart attack," says lead author Xiao Xu, Ph.D., assistant professor of obstetrics, gynecology and reproductive sciences at Yale University in New Haven, Connecticut. "What our study found was a significantly higher level of mental stress in younger women with heart attack compared to their male counterparts."
The study showed:
Women had worse recovery one month after heart attack on multiple outcome measures, such as chest-pain-related physical function and quality of life as well as overall health.
Women had a significantly higher level of mental stress.
Greater stress among women partially explained their worse recovery.
Women were more likely to be concerned about family issues while men were more likely to be worried about financial matters:
Family conflict during the past year was reported by about 33 percent of women versus 20 percent of men.
A major personal injury or illness was reported by 22.4 percent of women versus 16.6 percent of men.
Death or major illness of a close family member was reported by 36.6 percent of women versus 27.8 percent of men.
A loss of crop or business failure as heavy stressors was identified more by men (7.4 percent) compared to 3.5 percent of women.
Are you at risk for a heart attack? TODAY women learn symptoms, get cholesterol tests
While the study does show a kind of conventional construct of men feeling financial stress more than women, and women perceiving more stress about family situations, the data do show that the healthcare community needs to pay more attention to ". . . gender specific stressors and try to find ways to reduce those stressors," says Xu.
Women are often caught in the stress-inducing vortex of demanding jobs and demanding families, while often providing care to aging parents. Previous research has shown that younger women with a recent heart attack are more likely than men of the same age to experience inadequate blood flow to the heart, or what is called myocardial ischemia, in response to emotional stress, according to researchers at Emory University's Rollins School of Public Health.
The challenge now ". . . is to help the health care professionals know how best to help people," says Dr. Harlan Krumholz, the study's senior author and director of the Center for Outcomes Research and Evaluation at Yale-New Haven Hospital and a professor in Yale's School of Medicine and Public Health. "I believe that we have been so focused on the prognostic importance of clinical factors that we have neglected how the context of people's lives can affect their response to disease."
Doctors hope the next steps are to ". . .see if there are strategies that might be individualized for people whose stress in their lives might make them more susceptible to health problems and delays in recovery," says Krumholz.
Most heart attack patients only spend a few days in the hospital and then go home while hopefully entering and sticking with organized programs of cardiac rehab and, perhaps, lifestyle interventions, explains cardiologist and women's heart health expert Dr. Nieca Goldberg, medical director of the Joan H. Tisch Center for Women's Health at New York University's Langone Medical Center. For younger women, sticking with a program can be tough.
"A heart attack alone is a life-changing experience, but when you're younger and taking care of a family and working, women can become overwhelmed," says Goldberg.
Goldberg believes it's very important for doctors to assess the "whole patient" and to work with their patients to try to prevent heart attacks in the first place.
"It's important for doctors to pick this up and assess every patient they see," she says. "We see that younger women in general take a longer time to recover from heart attack, and this study tells us maybe we're not looking at the whole picture including, their heart health."
To keep healthy, Maglaras, a self-described Type A personality, is trying to exercise more and eat healthier. And she is staying positive about the future.
"I'm a very lucky woman, and I'm doing well and so are my family and my parents," she says. "I'm doing what I can, but I think women always worry about everything. It's just who we are."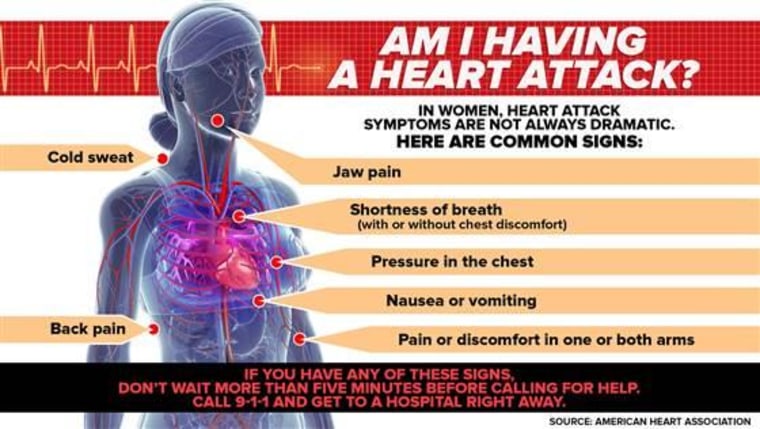 This article was originally published Feb. 9, 2015 at 4:30 p.m. ET.