If you're feeling depressed, hanging out with friends or loved ones face-to-face is better for your emotional health than a phone call or sending an email, according to new research.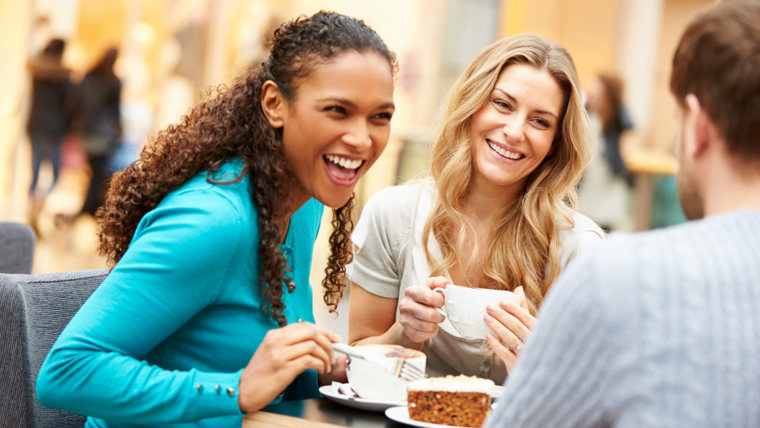 People who get together regularly with family and friends are about half as likely to report symptoms of depression as those who have little face-to-face contact, according to the report published in the Journal of the American Geriatrics Society Monday. It's the first study to compare how the different types of social contact affect our mental health.
Phoning and emailing did not seem to have the same kind of protective effect, says the study's lead author Dr. Alan Teo, a professor of psychiatry at the Oregon Health & Science University and a core investigator at VA Portland Health Care System.
"We see a dose dependent effect with in-person contact," Teo says. "The more face-to-face meetings the lower the rates go."
It's not that emailing or calling on the phone is bad or that you should cut them out of your life.
"But the message is that they are no substitute for face-to face contact, which acts as a sort of vitamin for depression prevention," says Teo.
Is sensory deprivation the key to relaxation? My test in a float tank
The researchers analyzed data from more than 11,000 American adults, ages 50 and older, who had participated in the University of Michigan's nationally representative, longitudinal Health and Retirement Study. That study collected, among other information, the frequency of in-person, telephone, and written (which included emails) social contact.
The researchers then looked at the risk of study volunteers developing depression symptoms over a two-year period, while accounting for factors such as health status, distance from family members and history of depression.
Volunteers who met with family and friends at least three times a week had the lowest risk of developing symptoms of depression, 6.5 percent, compared to an 11.3 percent risk among those who got together once every few months or less when surveyed at the two-year mark. In contrast, the frequency of phone calls and emails had no clear impact on the risk of depression.
For perspective: the Centers for Disease Control and Prevention estimates that 9.5 percent of adults will experience depression.
In contrast, the frequency of phone calls and emails had no clear impact on the risk of depression.
While the study only looked at people who were 50 and older, the findings might apply to younger adults as well, Teo believes. The researchers hope to study the role of different types of communication among millennials, although Teo suggests people in their 20s might experience more positive results by connecting through social media.
The findings have already influenced Teo's behavior.
"I am trying to make sure I am spending time face to face, having nice long conversations at a café, because I really think meeting up with someone brings something special, something magical, for our mental health."
Is your body clock out of whack? 11 ways to get to sleep faster
The findings make sense to Dr. Helen Lavretsky, a professor in-residence at the University of California, Los Angeles, and director of the late-life mood, stress and wellness research program at UCLA's Semel Institute for Neuroscience and Human Behavior.
"Email is good and does help in reducing social isolation," Lavretsky says. "But we are communal animals. We are meant to be in society. "
Lavretsky points to the mountains of research showing the health benefits of attending church and suggests that at least part of those benefits may come from being in the society of others.
"It's a very powerful effect," she says.
Dr. Holly Swartz, a professor of psychiatry at the University of Pittsburgh School of Medicine, says the findings are "very interesting" and "novel."
"Face-to-face contact seems to be protective against depression," says Swartz. "While technology makes it possible to be in touch with more people more of the time, there is a question about the quality of those contacts. Long, leisurely face-to-face conversations are also important."
As for why in-person contact might be more mentally healthful, it may come down to how much comfort you derive from being face-to-face with someone, says Dr. Michael Thase, a professor of psychiatry at the Perelman School of Medicine at the University of Pennsylvania.
The autumn blahs are real. 3 simple ways to stay upbeat all season
"There is some comfort that comes from being in direct contact with a person and the other things can only approximate that," says Thase, noting that when Internet-based therapy is assisted by actual contact,"it works better."
That doesn't mean there isn't any value to other modes of communication, Thase says. "They may help," he adds. "They just won't take the place of direct human contact."