If you're hesitant to hit the gym because it's been a long time since you last stepped foot in one, we get it — you may be feeling intimidated or overwhelmed at the thought of building a new routine.
But even at 51, Hoda Kotb makes working out a regular part of her week — her toned arms and legs are evidence of it!
Kotb's personal trainer, Chris Finn, joined TODAY Monday to share fitness tips and easy exercises to get started.
Speaking of getting started, the Equinox trainer says that middle-aged women should work out three times a week to maintain a "healthy and active lifestyle".
RELATED: 4 workout moves to tine waist, arms, abs, booty
If you're ready to hit the gym, but have no idea where to start, Finn recommends group fitness classes.
"It takes the guesswork out of what to do and how many reps, etc. If you can head to a class, let the instructor figure out what to do and you follow their lead."
According to Finn, the best time to work out is actually six to eight hours after waking up. But since a 2 p.m. workout isn't exactly ideal, any time mid-morning will suffice.
So, we had to know — what makes working out with Hoda most enjoyable?
"She's fun and she has great energy," he said. "If I'm going to train a client at 5:30 a.m., better that they're energetic and fun like Hoda!"
RELATED: Crank it! Dance your way through a summer workout
Feeling motivated? Finn shared these three exercises to help you get a head start:
Knee raise into a backwards lunge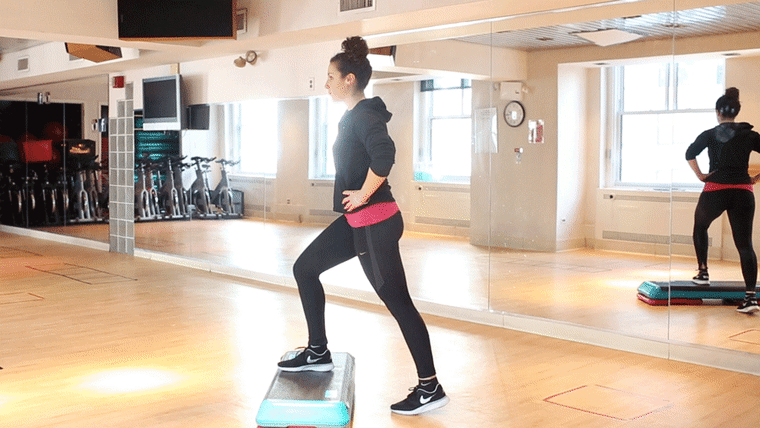 What you'll need: platform stepper (Those at home can also use a set of stairs — make it harder by adding weights.)
The move: With Hoda, we do 10 on each side; step up on to the platform and raise your knee then back down into a lunge
What it works: hamstrings, quads and balance and the rear lunge helps the booty
Bicep curls into shoulder press into triceps extensions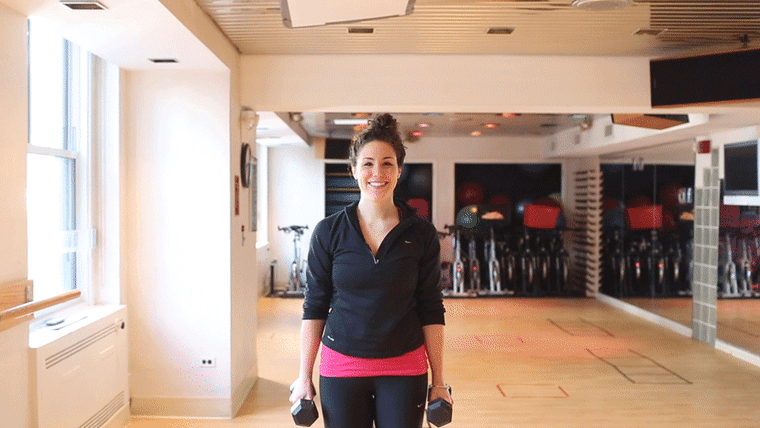 What you'll need: 7- or 8-pound dumbbells (Those at home can use water bottles)
The move: With your dumbbells or makeshift weights, do a three-part arm move starting with a biceps curl. Transition into a shoulder press then continue with a triceps extension. Complete 15 to 20 reps.
RELATED: Hoda Kotb's morning routine: 4a.m. wake up, hit the gym — and 7 donuts?!
What it works: biceps, shoulders and triceps. It's an arm activity — middle-aged women love working their triceps!
Plank step up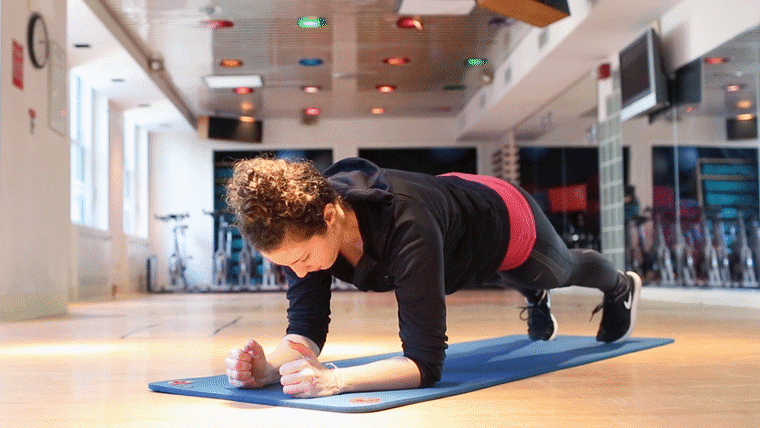 What you'll need: mats (or soft flooring at home)
The move: Start in a pushup position on your hands. Go down onto your left elbow and up to a pushup position then alternate sides
What it works: This is a core activity — it helps with stability and triceps