Stepping on the scale last year for the first time since he left the NFL in 2008, former New York Giants quarterback Jared Lorenzen was hit harder than he ever had been by a blitzing linebacker.
At least it felt that way when he read 502.8 pounds on the digital display.
He had a sense he was putting on too much weight each time he had to go up a shirt size — 3XL to 4XL — but nothing prepared him to see that number.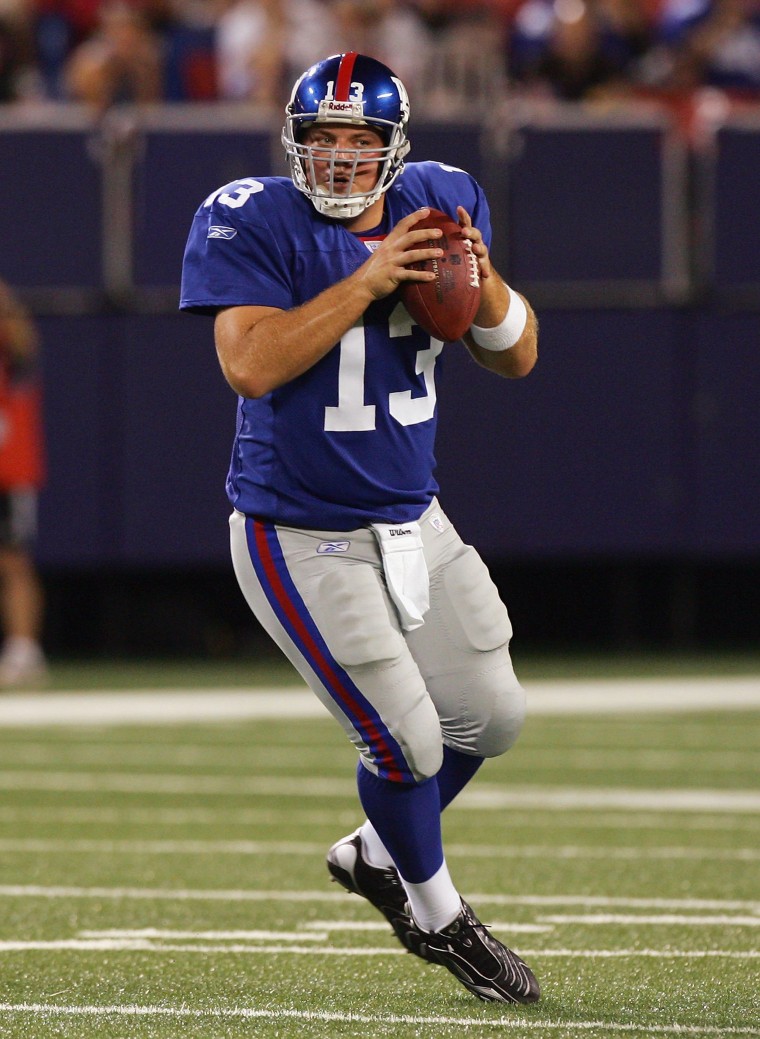 "It's embarrassing, it's life-altering, it's scary," Lorenzen told TODAY. "When I watched the little screen ... I looked at myself and even then, I thought, 'I'm not that guy.'
"I was to a point where I realized that if I went to bed and didn't wake up, people would say, 'Well look at him, he's huge.' It wouldn't be unexpected. That's where it hit me: Oh, my God, I could die."
But Lorenzen, who is a dad to a 14-year-old daughter and 7-year-old son, is going on offense.
The 36-year-old University of Kentucky football legend is embarking on a healthier lifestyle to lose weight as part of a planned video initiative called "The Jared Lorenzen Project."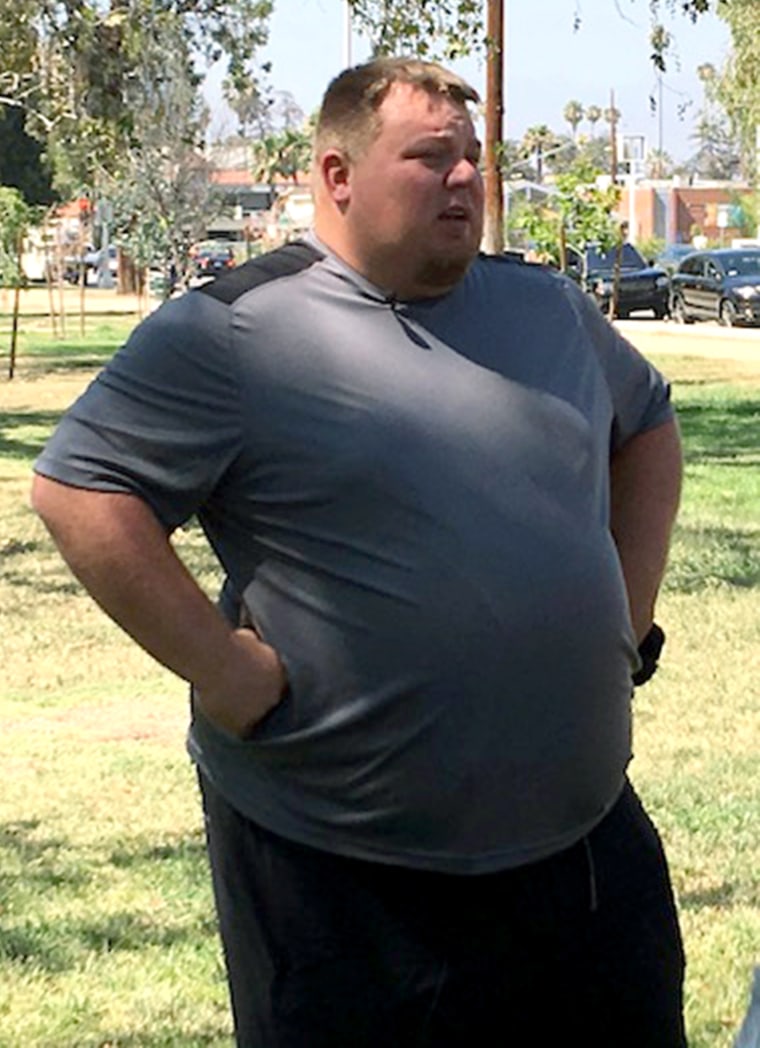 And he's hoping fans will join him.
"I would get kids come up to me all the time, telling me, 'I've been a quarterback because you're big and I'm big,' said Lorenzen, whose nickname during his career was "The Hefty Lefty."
"It means the world that these kids were quarterbacks because of me, but I also want them to realize there's a stage where you have just got to be healthier."
The docuseries is the brainchild of filmmaker Anthony Holt, who previously made a documentary about ex-NBA star Antoine Walker's post-retirement financial troubles.
Lorenzen met Holt at the University of Kentucky Athletics Hall of Fame ceremony in 2015, where he and Walker were inducted for their stellar college careers.
"It wasn't until I went to the induction and heard Jared speak, and the way he captivated a room telling a story during his induction speech," Holt recalled, "that I knew he was someone that — if he wanted to do this and really dedicate himself to this — could really inspire and change the lives of millions of other people."
A year after they met, Holt convinced Lorenzen to embark on a life-changing regimen — and to do it in front of cameras.
He put together an all-star support team: celebrity trainer Gunnar Peterson and nutritionist Philip Goglia.
Before the full-scale regimen begins this fall, Lorenzen has taken small steps to change his lifestyle. For example, he's traded the 10 to 12 Diet Cokes he drank a day for 3 gallons of water on a doctor's advice.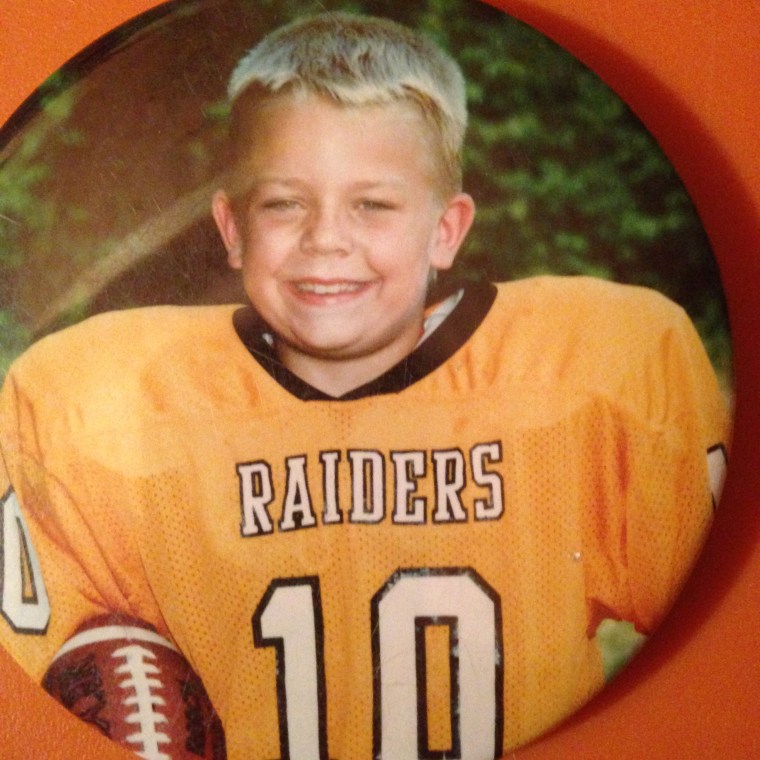 His team also built a mobile gym in a trailer that they plan to drive to different communities so Lorenzen "can rally fans to work out with him," Holt said.
Lorenzen has always been big — he was 13.3 pounds at birth. Once he started playing sports, no opposing player would dare make fun of his weight.
"I was bigger than all of them, but they weren't going to do anything because I was better than them, too," Lorenzen said.
Bigger than many offensive lineman blocking for him, he could run over defenders to pick up yardage when he wasn't torching them from the air.
He set 11 school records and six NCAA records during his time at Kentucky. And while his NFL career was less prolific, he did win a Super Bowl ring with the New York Giants, serving as Eli Manning's backup for three seasons.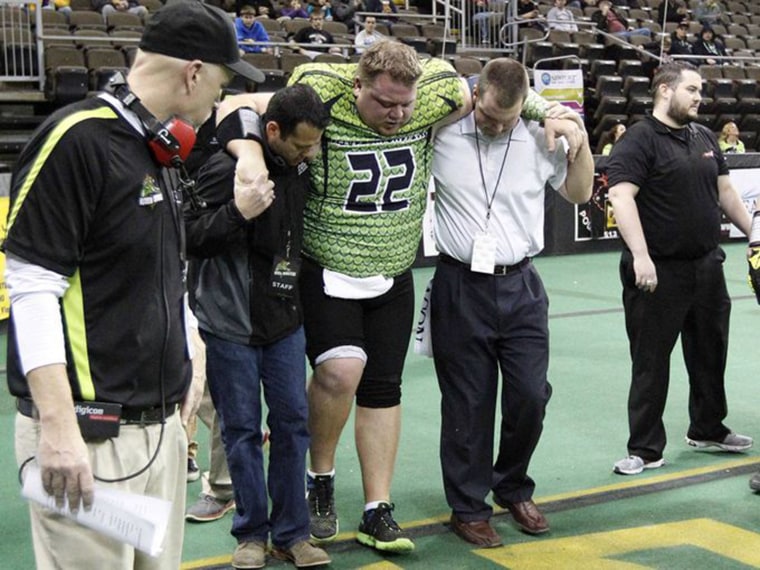 "My size was an advantage to an extent, but once you get too big and you can't move, you're in trouble," said Lorenzen. "There were times in my career where I'd hand off the ball and I'd run downfield to block. Well, I couldn't do that towards the end. I'd hand the ball off and have to stop to catch my breath."
By 2014, he was playing quarterback in the decidedly less glamorous Continental Indoor Football League, having ballooned to around 300 pounds.
His career came to an end after he shattered his ankle on a tackle — one he's certain he would have dodged if he'd been fitter.
He's kept busy since then, coaching his son's football team, launching a T-shirt company, and working in sales near his home in Kentucky.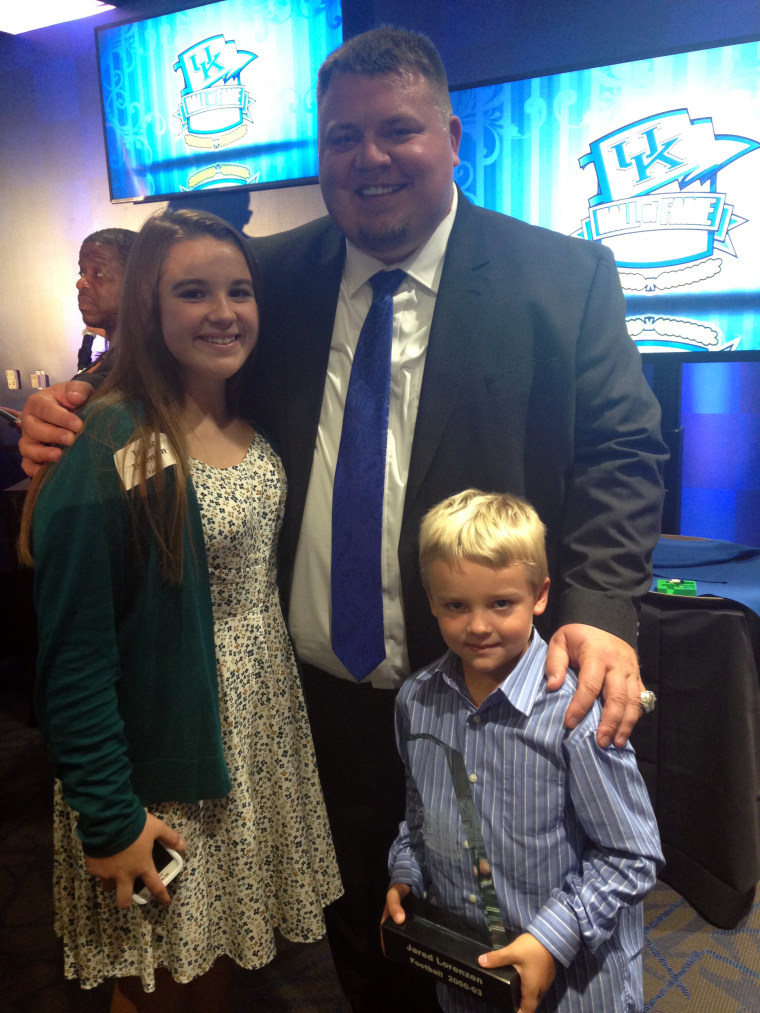 But without the regular exercise, he's found himself at 500 pounds.
Currently in the fundraising stage (there's a GoFundMe page), "The Jared Lorenzen Project" will be a video journal that includes workout and nutrition guides on partner site NowLetsGetFit.com.
Holt plans to start shooting footage next month.
"I have very important reasons for doing this," said Lorenzen. "I look at my daughter every day and say if I continue, I'm not going to see her get married. I look at my son, he's 7, I want to watch him grow up and play ball."