Women with endometriosis, a chronic, painful condition that affects the reproductive organs, have a higher risk of heart disease, according to a new study.
The study, published Tuesday in Circulation: Cardiovascular Quality and Outcomes, an American Heart Association journal, found that women age 40 or younger were disproportionately at risk: they were three times as likely to develop heart attack, chest pain, or need treatment for blocked arteries, compared to women without the condition.
Researchers from Brigham and Women's Hospital followed 120,000 women over 20 years. Nearly 12,000 participants had endometriosis — the growth of the tissue that lines the uterus to other places in the body.
Related: 5 body pains to never ignore
While the overall rate for heart disease was 21 cases per 100,000 women under 40, the researchers found that for every 100,000 women with endometriosis, the heart disease rate increased to 65 cases.
Compared to women without endometriosis, women with the condition experienced:
52 percent increased risk of heart attack
91 percent increased risk of developing angina (chest pain)
35 percent increased risk of needing surgery or stinting to open blocked arteries.
"We don't think that it's a coincidence," said Dr. Stacey Missmer, director of epidemiologic research and reproductive medicine at Brigham's Women's Hospital, who co-authored the study. "We know that women with endometriosis have systemic inflammation, they have a poor oxidative stress profile, they also may have a difference in their lipid profile and their cholesterol levels, for example, all of which can increase their risk for cardiovascular disease."
Related: 'Pain' and 'uncertainty': A young woman shares her struggle with endometriosis
At least 10 percent of women of reproductive age suffer from endometriosis — or "endo" — which, according to Missmer, can have important life consequences such as infertility and inability to participate in work or daily activities due to extreme pain.
Allison Moldoff, 21, was diagnosed with endo when she was 12-years-old. Growing up, she experienced pain so horrendous that she developed anxiety and depression out of fear of the pain caused by her period each month. She also quit exercising due to pain and gained weight.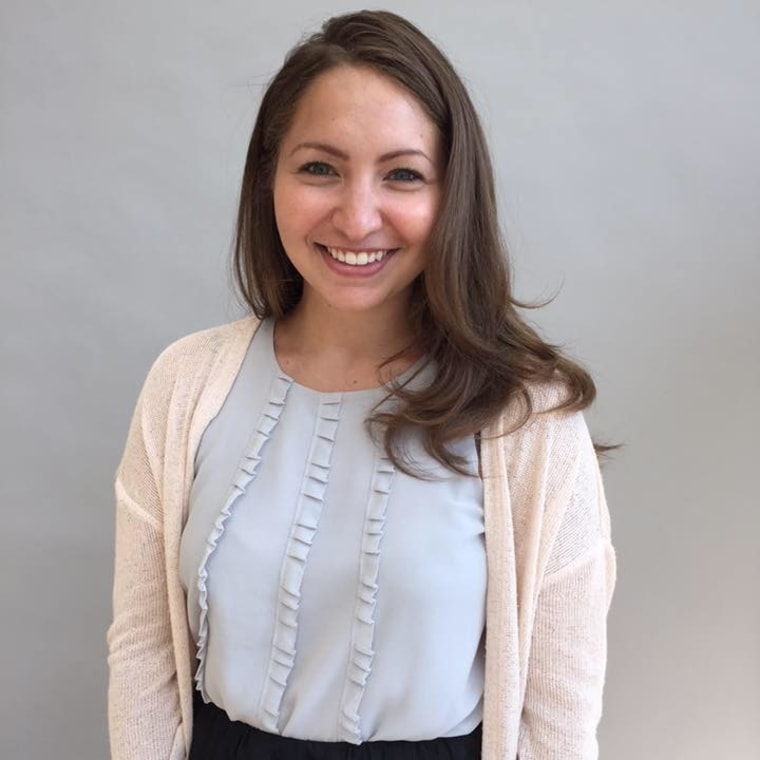 "The pain is excruciating," says Moldoff, whose older sister and mother were diagnosed with endometriosis. "It feels like you have a knot in your back, but when you go to stretch it out, five more come. It's piercing and your whole body becomes taken over by this pain."
Moldoff has already had three surgeries to help reduce the pain, and will likely undergo a fourth soon.
After her battle with weight and fitness, learning about the association with heart disease makes Moldoff more determined to stick with her nutritionist.
"I don't want to make myself scared, so for me the next step is to take the study to my doctor and ask him what proactive things I can do now to stay healthy," she told NBC News.
Endometriosis can be hard to diagnose since symptoms are similar to those of stomach and bowel conditions — symptoms commonly mistaken for menstrual cramps — and because a surgical diagnosis is needed to definitively determine if a girl or woman has the condition, says Missmer.
Related: Lena Dunham bows out of 'Girls' press tour due to endometriosis
"What girls and women can do both for endometriosis and for cardiovascular disease is listen to their bodies." Missmer said. "If you are feeling that you are in pain or discomfort beyond what seems normal to you, you should discuss that with your medical practitioner — women shouldn't feel that pelvic pain and menstrual cramping is always normal."
Missmer offered tips for women with endometriosis to lessen their risk of coronary heart disease:
Diet
Eat healthy fats, having a low carb, low sugar diet, and eating healthy proteins such as fish and poultry.
Stay active
The American Heart Association recommends at least 30 minutes of moderate to rigorous physical activity per day. Physical activity can help to improve pain symptoms, and it helps mood, as well as other perimeters that also influence cardiovascular disease.
Maintain a healthy weight
Losing weight can decrease chronic inflammation, which is one of the key issues with both endometriosis and cardiovascular disease.
Quit or don't start smoking
Smoking is the No. 1 individual risk factor for dying in America, according to a recent report from the Institute for Health Metrics and Evaluation at the University of Washington.
Recognize the symptoms
Heart disease and stroke cause 1 in 3 women's deaths each year, according to the American Heart Association. Routine medical exams where your blood pressure and cholesterol are checked are all important for young women. Diabetes is also a risk factor for heart disease.
Here are some common heart attack symptoms in women:
Pain in the upper back, neck or jaw
Indigestion
Nausea
Palpitations
A sense of dread