Emma Stone visited "The Late Show With Stephen Colbert" Tuesday night to promote her upcoming film, "Battle of the Sexes," but soon talk turned to her life off-screen — including a battle of her own.
The actress opened up about her experiences living with anxiety from an early age.
"I was a very, very, very anxious child, and I had a lot of panic attacks," she explained.
So her parents helped her find the help she needed.
"I benefited in a big way from therapy," Stone said. "I started at 7."
And she illustrated that fact with an actual illustration from way back then.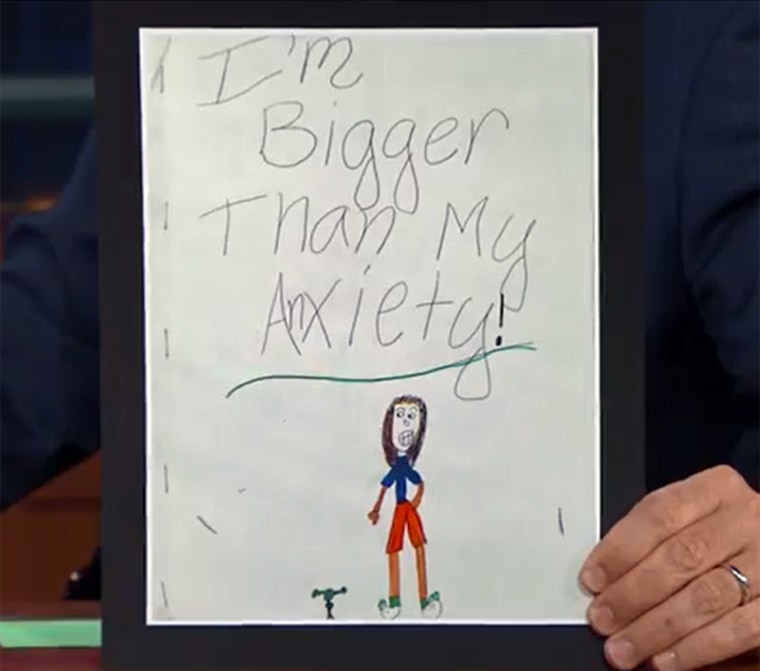 "This is me, I guess," the 28-year-old said, gesturing toward the drawing with a laugh. "It's really great artistry, with my shoes and then this is anxiety here. It's a little green monster that looks a little bit, as someone backstage said, (like) a uterus with some ovaries. But I didn't mean for it to be hormonally related in any way."
After all, she was just a kid. But her anxiety hasn't been limited to those days, and her ideas about what's therapeutic have expanded since then.
"(Acting) helped me so much," Stone added. "Improv helped me so much. I still have anxiety to this day — not panic attacks, knock on wood."
And she isn't alone.
Fellow stars, like Kristen Bell and Ryan Reynolds, have shared their own struggles with anxiety, too, and Colbert told her that he has experience with it as well.
"When I was younger ... I had anxiety attacks," he recalled. "I'd curl up on the couch backstage at the Second City and say, 'Don't talk to me!' I'd hear my cue and walk on stage. But when you get on stage you feel fine."
Stone agreed, adding, "Isn't that wild?!"