It will be close, but Braylon Beam thinks the Carolina Panthers ultimately will defeat the Denver Broncos in this weekend's Super Bowl game.
"I think this is a Panthers year," the 6-year-old North Carolina boy, who is battling brain cancer, told Ellen DeGeneres during his third visit to her program.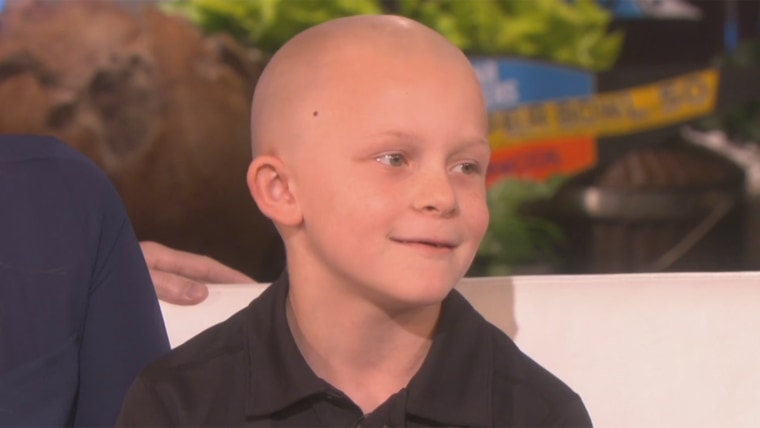 The talk-show host called the boy "good luck" for the Panthers. Last August, with help from the local Make-A-Wish Foundation, the North Carolina kindergartener served as the team's head coach for a day. He did such a good job the team nearly went undefeated for the season.
RELATED: Elderly residents hit 'the dab' to support the Panthers in the Super Bowl
"I think you add the good luck charm," DeGeneres told him.
But leaving nothing to chance, she gave Braylon and his parents Super Bowl tickets to see the game and sent them off to San Francisco in a private jet.
Braylon also will get to be on the field before the game starts and will return to the field during the halftime show as a correspondent for DeGeneres' program.
Braylon's brain cancer was diagnosed after school teachers noticed him having problems seeing the blackboard. Tests showed he had a tumor on his optic nerve, resulting in chemotherapy treatments for the past year.
RELATED: Carolina Panther Roman Harper lists his Charlotte home on Airbnb for the Super Bowl
Weekly dance parties held by Braylon and his dad with hospital nurses to help the boy through his treatments caught the attention of Degeneres, who first brought him on the show last May and then again in December, when she provided him with some Christmas gifts.
His appearance this week brought some good news by his mother, Meredith Beam, who said a recent brain scan showed Braylon's tumor had stabilized. She also said the boy's eye doctor gave a positive report to the family.
"He feels very optimistic about his vision. So very good news for us," she said.