A haunting new short film featuring Elle Fanning accurately captures the aching sadness of life with an eating disorder, experts say. But as powerful as the message is, those currently suffering from disordered eating should probably avoid its graphic images.
Cinematographer Rodrigo Prieto made the eight-minute film, called "The Likeness," with his 19-year-old daughter, Ximena, who became anorexic in her early teens. Prieto's work includes award-winning films like "Brokeback Mountain," "Argo," and the forthcoming "The Wolf of Wall Street," yet he says this short film is as important to him as any of those acclaimed full-length features. He was first approached by Candescent Films to create it as part of a series of shorts with a social message.
In the first third of the film, the viewer follows the camera through a dark and disturbing house party: In one room, a naked body, partially covered by a thin sheet, is sprawled over a small table. In another, a brunette in her underwear lies still on the floor; next to her, a naked woman is crouched over to fit into a drawer, her eyes staring blankly ahead. Later, an orderly helps a unresponsive young woman stagger down a hallway.
If it seems like everyone in this section of the film seems ripped from the pages of a fashion magazine, it's because they were, essentially, Ximena Prieto says. Initially, Rodrigo Prieto said he wanted to have the models stare down the camera. "And Ximena told me no, no, no, the worst feeling is when everybody ignores you. That's why nobody is looking at the camera; everybody is doing their own thing," he says.  
For Prieto, it was a way for his family to talk about eating disorders. "Since we had gone through the anorexia, this was still very present in my heart, and it's an important issue that I don't feel is really discussed enough in the arts, and in general," Prieto said in a phone interview Monday. "We are hoping it helps other people or families to open up and talk about what they've been feeling or experienced." The film isn't just about eating disorders, "but also about these feelings that we all have, of feeling judged and isolated and alone in this society," he said. 
The short premiered at the Tribeca Film Festival in April, and was uploaded to YouTube last week.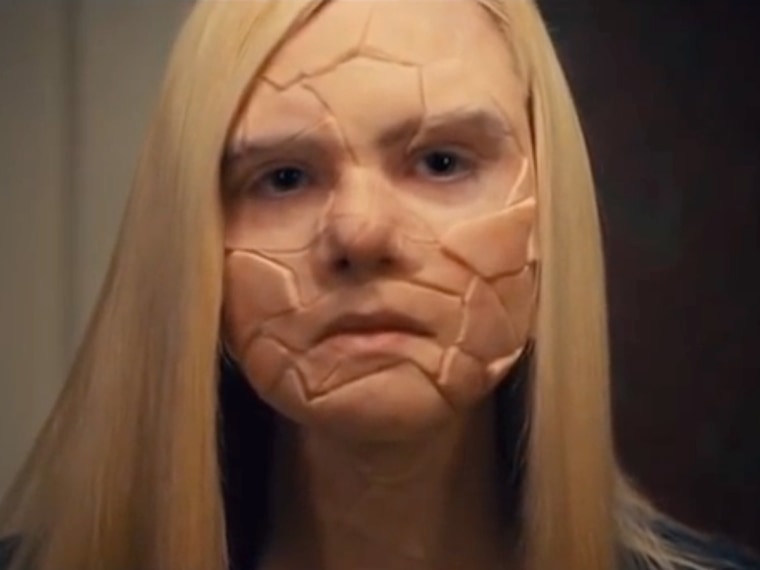 The film is an honest representation of what it's like inside the mind of an anorexic or bulimic person, says Lynn Grefe, president of the National Eating Disorders Association, but for vulnerable people still struggling with disordered eating, it could be more harmful than helpful — too close to pro-anorexia or pro-bulimia imagery. In the U.S., about 20 million women and 10 million men have an eating disorder at some point in their lives, research has shown. 
It can be hard to watch, especially a bathroom scene where a tearful Elle Fanning pulls at her face, literally trying to tear her own skin off. (The camera shows the distorted, monstrous reflection she sees when she looks in the mirror.) But even the tortuous moments like that are important to see if it's something you've never personally experienced, Grefe says.

"The whole feeling of feeling worthless, and ugly -- I think it portrays that incredibly well," Grefe says.
Grefe thinks the film's "dark, powerful" portrayal of the eating disorder patient's fractured worldview could help people understand the seriousness of illnesses like bulimia and anorexia, which can be fatal for about 4 percent of patients.

"If they did understand that anorexia has the highest death rate of any psychiatric illness, and the significant burden on families, emotionally and financially, then they would seriously invest with us in research advancements and programs to get people to the help they need as early as possible," Grefe said in an email.
But, she says, she would never share the film within her community of eating disorder patients. Ximena Prieto thinks that's the right call.
"I definitely would say if someone is in the midst of dealing with an eating disorder, it's triggering. You'd have to be in a somewhat stable place to confront this emotion," she said by phone on Monday. "But I think it's important to face those triggering things, once you've, you know, recovered, because you can't spend the rest of your life running away."
Both father and daughter hope the film carries the message across that eating disorders aren't just about vanity. "That's part of the stigma attached to it," Rodrigo Prieto says. Ximena Prieto cuts in with the fact that people dismiss it "like it's a diet," which is certainly is not.
"What I wanted to do is represent what she's feeling and what's in her mind," he continued. "Like Ximena says, we can't hide from these things or hide these images from young boys and girls, because they're going to find them, anyway. It's not like, OK if they don't see this short they'll be fine. I think that this short is, in the end, helpful to open the discussion for people to talk about it."