It took just 90 minutes for Kyleigh Bass to do 2,110 sit-ups and break the national record. Oh, and did we mention, she's only 10-years-old?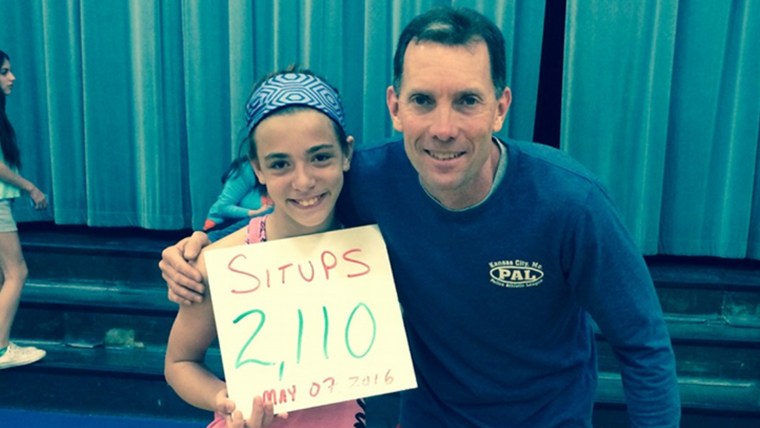 The elementary school student had already been a ranked competitor — in November, she completed 800 sit-ups and earned a place on her school's leaderboard at Fox Hill Elementary in Kansas City, MO.
The school's physical fitness department operates using the tools provided by Project Fit America, a non-profit organization, which uses exercise to teach leadership, sportsmanship and character development.
However, Bass had bigger plans in mind: to not only surpass her personal best, but to also break the national record, which stood strong at 2,001 sit-ups.
Though it would be a large feat for Bass, she was determined to succeed.
"I wanted to break this record because I am a very competitive person and I like to be at the top," Bass told TODAY.
RELATED: 'You're exactly where you need to be': 8 ways to take competition out of yoga
So, her physical education teacher, Bill Lentz encouraged Bass to train through the winter, and take a stab at the record in the spring.
And that she did — Bass trained three days a week for six months by attending gymnastics practices. She focused on strengthening her core muscles, under the instruction of her coach, who she says has been strict.
When it came time to compete, she was more than ready. On May 7, Bass's mother Michelle told her not to worry about counting the amount of sit-ups, and got into position to hold down her feet.
It was her mom's strength that inspired Bass before, during and after her competition. Just a few weeks prior, she watched her mom cross the finish line of her first half marathon.
"My mom was cheering me on. I thought, if she can push through the race, then I can push through this. If she can push through running in the cold, I can do this," she said.
RELATED: Go, baby, go! Stroller-pushing dad wins half-marathon and breaks world record
There were times, though, that weren't easy.
"If she stopped for even a matter of a few seconds, it would've been over," Lentz said.
Although she said her stomach was in severe pain, Bass couldn't have been happier to not only beat the record, but to do so by a whopping 109 sit-ups.
"I had a really big smile on my face. I was really excited because it was something I was training for, and I was really excited."
Lentz, who has been teaching for 23 years, is continuously inspired by his students.
RELATED: #StartTODAY: 9 ways to teach kids about nutrition, fitness, money, organization
"Kids like Kyleigh — it's why teaching physical education is the greatest job in the world. They work hard, set goals and just watching her that day — there's no way you couldn't be inspired by that. You have two choices — you can either quit or keep going, and this is a 'keep going' kid right here."
For now, Bass is focusing on recovering, and remains enthusiastic about returning to gymnastics.