Daniel Kish has been blind since he was 13 months old, but if you were to watch him from a distance, you wouldn't know it. Walking down the street, the 47-year-old looks like anyone else. When he reaches the corner of an intersection, he waits for traffic to pass and then proceeds on his way. As he walks, he dodges the signposts and mailboxes that line the sidewalk. He can even describe the size of the buildings he passes and tell you if they're made from brick or glass.
Kish can do this because he's taught himself how to echolocate, using sounds to position himself in his environment. By clicking his tongue and paying close attention to the echo, he can identify trees, buildings and people.
Similar to the sonar that bats and dolphins use, Kish argues echolocation is a skill that all people possess, it just needs to be developed. Without sight, Kish says, "the seeing part of the brain learns to gather information from non-visual (senses)" like hearing and touch.
But echolocation is much more than just a theoretical concept for Kish. He's the head of an organization called World Access for the Blind, a traveling academy of trainers that teaches people with blindness or impaired vision how to "see" using sound.
At a recent class in Burlington, Vermont, he taught the basics to two teenagers. They began by learning how to position themselves in the center of a room. Then Kish had them find the corners in an open hotel lobby.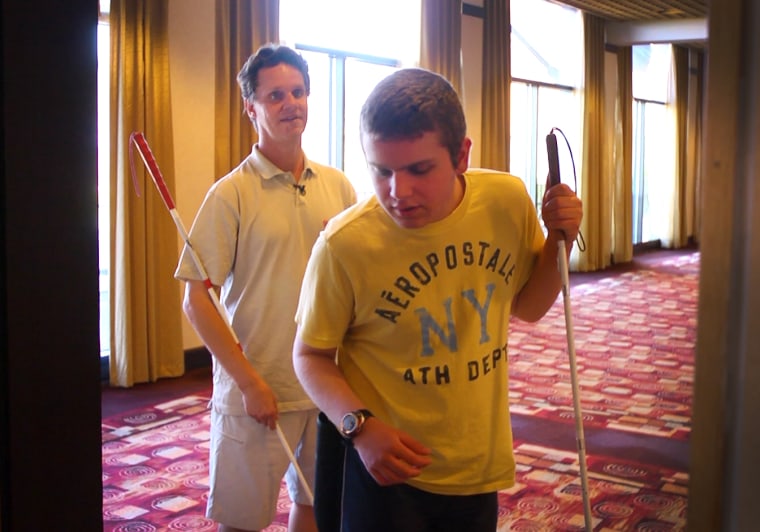 "Corners are cool because they're easy to find and you can hear them in very big places, or when very they're far away," he says.
Within two hours, Kish and his students were walking down Church Street, a busy restaurant arcade in the center of the city. For 14 year-old Alek Wolfe, it was the first time he could walk around unaccompanied by his mother. Though his mom wasn't far behind, Alek walked unescorted, and the young teenager was ecstatic with what felt like independence.
"I love it!" he said while walking with traffic less than ten feet away.
The class is part of a program by the Vermont Association for the Blind and Visually Impaired. Dan Norris, one of the supervisors who organized the event, explains that, "a lot of teenagers in our school get mobility training instead of driver's ed."
Kish says that echolocation is unique from traditional mobility training, especially for blind teenagers, because it encourages people to move around under their own direction.
"I didn't have formal mobility training when I was younger," he says. "If I had I probably wouldn't be who I am because formal mobility training back in those days -- and it still is to some extent today – is highly structured, highly regimented."
Kish, who taught himself how to echolocate as a child, argues that mobility training overemphasizes the "mechanics of skills rather than activation of the brain. My brain was activated in the same way that the brains of sighted children are activated."
If Kish has his way, blind children would learn echolocation much earlier in their lives, and it's become his mission to teach echolocation to as many people as possible.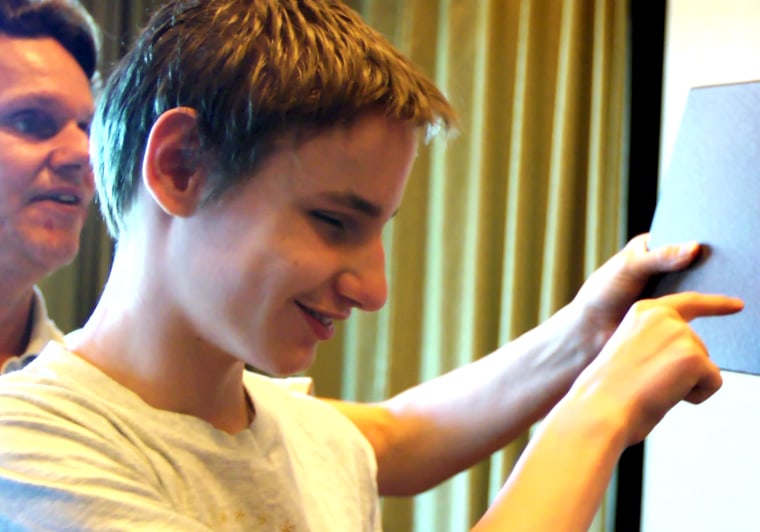 Through World Access for the Blind, approximately 1,000 people from over 30 countries (about half from the U.S.) have received training in Kish's echolocation program. In addition, the organization has worked with "many thousands of instructors who work with blind students," says Kish, who's grueling schedule keeps him constantly flying between his home in Los Angeles, his classes in Europe and his clients in Australia.
Despite this progress, Kish is still something of an outsider among advocates for the blind. According to the National Federation for the Blind, the use of echolocation is common in mobility training, but is limited to listening to the sound of cane taps, footsteps and similar environmental sounds. Kish calls this passive echolocation and agrees that it can be useful.
Nonetheless, Kish believes that his clicking technique, which he calls "flash sonar," lends itself to a more precise understanding of the world.

"The more you become attuned to your signal, the easier it is to extract an echo based on the attuned signal from the noise," says Kish. By using an active click, he says you gain an added degree of independence.
"We assume that dependency -- the fostering of dependency and the fostering of restriction -- will lead to independence and will lead to freedom," he says. "[But] dependency cannot lead to independence and restriction and limitation cannot lead to freedom."
Related:
What really made Mary Ingalls go blind?