Dr. Kent Brantly, the doctor infected with Ebola while working in West Africa, says despite his clean bill of health, he's aware that the virus' stigma remains with him.
"You know, I'm not worried about that. It may happen," Brantly told TODAY's Matt Lauer exclusively. 
"I've been recognized a few times out in public. But the only people who come and speak to me are the ones who grab my arm and say, 'I'm so glad to meet you. We have been praying for you.'"
The line of questioning was prompted by Lauer revealing what many friends asked when he revealed who he was interviewing: "Are you going to shake his hand?"
"I shook your hand, I'll do it again," Matt told Brantly.
The doctor shared his story in a wide-ranging and exclusive interview with NBC News, parts of which aired Tuesday night on NBC Nightly News. 

The full interview will air Friday night, on Dateline. It's the first time Brantly, 33, has spoken publicly since he was released from Emory University Hospital August 15.
On the morning of July 23, a Wednesday, Brantly woke up sick. He didn't believe right away he had Ebola. He really hoped it was malaria.

"I woke up that morning and really I just felt a little off – a little warm, a little under the weather," Brantly said, speaking softly but confidently. "I took my temperature and it was, I think, 100.0. I went about my routine getting ready."

He figured it would blow over in a few hours. It couldn't be Ebola, he thought.
"There was always the possibility but I really thought I probably had malaria. " He called in and said he'd stay home because he was not feeling well. He had rapid malaria tests on hand and administered one to himself. It came back negative.
Ebola looks just like malaria at first – fever, a little achiness, a bad headache. It's one reason doctors, nurses and health technicians are at such high risk. Malaria is so common in West Africa, and it's not transmitted from person to person, so there is no need to take precautions when a feverish patient comes in.
At the worst, it's usually dengue or Lassa fever – both caused by viruses that can cause hemorrhagic symptoms like Ebola, but usually only in the worst cases. And they don't pass from person to person in the same way Ebola does.
Brantly figured he could tough it out in his family's home, a comfortable house just yards from the beach. There, his children had spent many happy months collecting shells, poking around in rocks and playing with their friends.
But when it was clear Brantly didn't have malaria, and as his fever slowly rose, he called his colleagues again. There was an unspoken agreement.
Two colleagues suited up and came to his house "It was pretty surreal," he said. They tested him for Ebola and sprayed his house with germ killers. He asked them to spare his couch. If he had Ebola, that would be one thing, he said. There would be time to destroy it later. But he wanted to use the sofa for now.
His fever kept rising. The first Ebola test came back negative.
"I really was more irritated that I was going to have to sit in my house for three days," Brantly said, speaking in quiet, even tones. "I knew the first test, unless it is positive, is not the definitive test." If it came back negative he'd have to wait for a few days and take a second test.
The next morning, he was worse. "I don't remember what my temperature was. But I felt worse. I was tired," he said. Malaria tests also kept coming back negative.
"My friends and family were praying that I had dengue fever," Brantly said.
It was Saturday night before the second test came back with the bad news. Brantly had Ebola.
"My first thought was my family. How am I going to tell them?" Brantly said.
Amber Brantly remembers. "It was a Saturday afternoon and I had worried all day," she said, clutching her husband's hand as she spoke.
"I just waited for his phone call all day," she said. "And then when he did call to tell me he had Ebola, I don't know if I can describe that," she said, tearing up at the memory.
"I knew what was coming. I had seen him treat these people who had already been diagnosed, and I knew how it ended. I knew how everyone had ended up so far. So I had the disadvantage of having the knowledge of the course of the disease. I was scared."
Brantly is "100 percent" convinced he did not get infected with Ebola while treating patients who were known to be infected. He thinks he may have become infected by someone he saw while he wasn't suited up in the personal protective equipment that doctors, nurses and other health care workers wear to treat sick Ebola patients – rubber boots, a full body suit, two pairs of surgical gloves duct taped tightly around the arms, a hood, an N95 respirator, goggles and a rubber apron.
"It is very hot, but we were safe," Brantly said. "I am very convinced that I did not contract Ebola in the isolation unit, because our process if so safe. Our team was well trained. We took care of each other."
Some doctors with Ebola experience have suggested that maybe a brief moment wiping sweat from the brow got the infection into Brantly's eyes, but he doesn't think so. "We would check each other while in the unit," he said.
There was also a theory about a co-worker who got sick, but Brantly doesn't think that colleague infected him.
"I was still seeing patients in the emergency room and on the ward," he said. He was evaluating suspected cases without wearing full protection. And he was interacting with family members – hugging the bereaved, shaking their hands. Ebola doesn't pass through casual contact with someone who doesn't have symptoms, but many patients he saw may have been in the early stages.
"You never know who is walking around with a fever who took some Tylenol to make themselves feel better," Brantly said.
"I know there were times when I didn't have full protection," he said. "There were enough opportunities outside the isolation unit."
He was never scared of becoming infected.
"There was trepidation," he said. "I wasn't afraid of treating Ebola patients in the isolation unit. That was the safest job. But seeing patients in the clinic, seeing patients in the emergency room, being in the community – those things gave me pause."
Brantly's first Ebola patient was a young woman in her late 20s, perhaps 30, whose uncle was also infected. He died in the ambulance while they were preparing the isolation unit.
"She was laying on a kind of a pallet on the ground in front of the hospital. As we went out with our stretcher to pick her up and carry her into the isolation unit, I knew that was a critical moment," Brantly said.
"I have to believe the fear was even greater for our Liberian colleagues." Workers were moving out to carry the ill and frightened young woman inside. They were fully geared up in the protective equipment that includes two pairs of gloves, a full suit, boots, goggles and a rubber apron.
Brantly made a point of bending down to touch her. "This is a person. This is not a disease," he said.
The young woman, named Theresa, had a fever, diarrhea and stomach pain. She improved for a few days in what Brantly called "pseudo-remission". But then she worsened again. "After three or four days, she passed away," he said.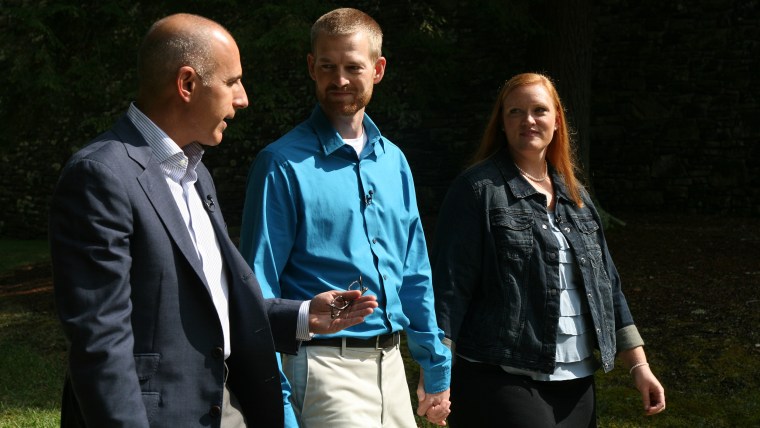 "It was hard to lose that first Ebola patient but I think it really drew our team together as they saw the kind of care we able to provide to her," he said. "To treat her with dignity and respect… we were able to let her have that dignity in the last days of her life."
That set the tone for all the staff.
"We deal with death as physicians in America," Brantly said. "I dealt with death in my training." But he'd never seen anything like Ebola. It's killing just over half the people who get sick in this current outbreak. The World Health Organization says more than 3,000 have been infected, with more than 1,500 dead. And WHO says as many as 20,000 may be infected before it's over.
Brantly lost dozens of patients over the summer, not all of them to Ebola. "I sat with a number of patients and held their hands and wiped up their vomit and sang to them," he said.
One was a woman who watched her own daughter die across the room from her. She lost two daughters and a sister to Ebola. The woman had gone virtually silent. Brantly sang her songs of praise.
"As I sang that song to her, she just gave a head nod of affirmation and squeezed my hand," he said. After that, she reached out to the nurses for her few remaining days of life. "But for those few days, she had some level of peace, some level of dignity, comfort."
Brantly, who studied Biblical text in college, only settled on becoming a doctor after he decided he wasn't cut out to be a preacher or a teacher. For him, delivering medical care is intertwined with his faith, and he freely shares that faith with patients.
"Faith is central to my life. I am who I am, I do what I do because of my faith." He chose Samaritan's Purse, a non-denominational evangelical group headed by Franklin Graham, son of Billy Graham and Ruth Bell Graham.
"I believe that God has used the people in my life, my parents, my friends my community I feel like God called me to be a medical missionary. That why I was in Liberia in the first place," he said.
Racked with fever and chills, alone for hours at a stretch, Brantly played religious music to comfort himself. "Those words sustained me," he said. "Those words resonated in my head. I went to sleep to the sound of those words."
He prayed constantly.
"I don't think there is anything special about me that made God save my life," Brantly said. He doesn't think that means people who did not survive had less faith, or were somehow less favored by God.
"I survived. That is not to say that for everybody else who died God was absent," he said.
"God promises that he hears our prayers and that he answers them. Not every answer is yes."
For him, the answer was yes. He walked out of Emory University Hospital in Atlanta just weeks after his dramatic air evacuation. He hugged each nurse and doctor who had cared for him. 
He's spent the past weeks in seclusion with Amber and their two young children. He still needs a bit more recovery time, and then they'll decide where to go next. "Our family is going to move on," he said. "We are going to go serve somewhere."
"I'll go anywhere you go," Amber told him. 
NBC News' Maggie Fox contributed to this report.