New guidelines come out Thursday advising Americans on what to eat, and there's one surprising and controversial new piece of advice: eat less sugar.
It's very specific. Americans should get less than 10 percent of calories from added sugar, according to the federal dietary guidelines, which are changed every five years.
People should also take it easy on salt and saturated fat, Health and Human Services Secretary Sylvia Burwell told NBC News.
And almost everyone needs way more fruits and vegetables, the guidelines say.
"Let's get to those fruits and vegetables, let's get to that low fat dairy, let's get to those proteins and, including lean meat and proteins, let's work on our oils and make sure those grains are whole grains as much as possible," Burwell said in an exclusive interview with NBC.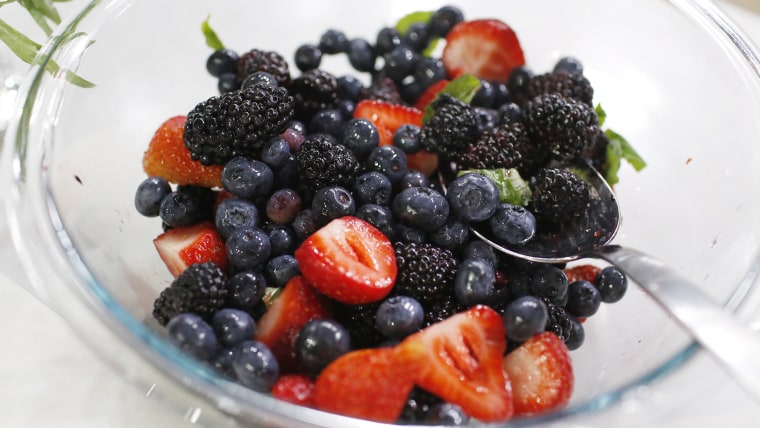 That means vegetable oil instead of butter and at least half of all the bread and pasta you eat should be whole grain, and half the rice brown rice.
People often lack the fiber, vitamins and minerals found in vegetables, according to the guidelines released every five years. Someone eating 2,000 calories a day needs two and a half cups of vegetables every day and two cups of fruit.
"Diversifying your color, in terms of when you think about eating your fruits and vegetables- making sure that you have different colors because those are different nutrients that they're reflecting," Burwell said. That can mean red and yellow peppers, green kale or broccoli, orange or red tomatoes, orange sweet potatoes and green beans or asparagus.
"The don'ts? Saturated fat, sodium, and added sugars. Those are the places where most people are consuming too much of this," Burwell said.
Related: One type of sugar is worse than others: Here's how it may fuel cancer
So people may want to look more to low-fat milk or soy milk for their dairy needs rather than cheeses, which are loaded with fat and salt, the guidelines say. And Americans already get plenty of protein and grains. They need to look for leaner proteins, including nuts and more seafood, and more whole grains.
Some of this will be hard to work out, Burwell agreed. That's why the Food and Drug Administration is working to require new, clearer food labels that spell out for people what's in their food, including the percentage of calories from sugar.
"We're going to work to have labeling that will help you understand that added sugar as well," Burwell said. That detail is missing from labels now and it takes quite a bit of math to work out how much sugar is in a product based on the grams.
Related: Avoid the cookie! 3 simple ways to make healthy eating simple
But Alice Lichtenstein, a professor of nutrition science and policy at Tufts University who was on the advisory committee that set the basis for the guidelines, says the point is for people to make changes in eating habits and patterns over time.
"It's easier for people to understand general guidelines and include them in their own eating patterns," Lichtenstein said. "That's better than telling them to do something specific, and they try to do it for a while, find it's hard, and say forget it after a few days."
An easy place to start is breakfast. "Well, you can get rid of the super-sugary breakfast cereal," Lichtenstein said. "How about whole wheat toast with peanut butter?" she asked. That takes care of the whole grain requirement, and adds a little protein and healthful fat in the peanut butter.
Burwell said even snacks can play a role.
"Just like saying, 'okay I'm going to have a piece of fruit as my afternoon snack, that's what I'm going to do'," Burwell said. Adding a couple of almonds is a healthy way to add protein, she said.
Swapping a soda for a glass of water can help, Burwell added. "Sugar is something that we find in lots of products," she said. "There's a lot of added sugar in beverages."
It won't be easy, the guidelines warn. Americans eat too much in general and eat a lot of empty calories. It'll take time and require help to get there. "Make this doable in terms of making it something people can actually achieve and stick to," Burwell said.
But Lichtenstein says it's already easier. "Whole wheat pasta is in all the markets now and doesn't cost any extra," she said. Cleaned, trimmed and packaged vegetables are also inexpensive, as are frozen fruits and low-fat, low-sugar yogurt.
Cutting back on eating out one day a week is another way to improve healthful eating, Burwell advises.
"Many times you don't notice where that salt is. Sometimes it's in soups or sauces or other things," she said.
The payoff is direct and personal. Many studies show that people who eat more fruits, vegetables and whole grains, and who eat less red and processed meat, less fat and less sugar have much lower rates of heart disease, diabetes, cancer and other diseases.
"This is about that disease prevention," Burwell said.
"We know that diet is one of the things that we definitely know can prevent any number of diseases that we see. It's important for your health, it's also important for your pocketbook."
Marion Nestle, Paulette Goddard Professor in the Department of Nutrition, Food Studies, and Public Health at New York University, says it might be easiest to think in terms of whole foods rather than processed food.
"Michael Pollan said it best: 'eat foods, not too much, mostly plants,'" Nestle said, quoting Pollan's book "In Defense of Food: An Eater's Manifesto."