/ Source: TODAY Contributor
At their wedding reception, a bridal couple lovingly gave close family friends an irreplaceable memory, and tissues were in short supply.
They surprised Pete Otto, who was dying of cancer, by inviting him to share a dance with his daughters, Jessica and Megan, knowing he might not be there to have a father-daughter dance with his beloved girls at their own weddings.
"This was their big day, and the fact that they let me and my family have our moment was so selfless," Jessica Otto, 25, told TODAY, of the newlyweds. "It was the most beautiful gift they could have ever given us."
As Michaela and Nora Cook-Yotts celebrated their marriage on Feb. 18 at the Saphire Estate in Sharon, Massachusetts, Otto, 54, was called to the dance floor along with Jessica, a bridesmaid, and 23-year-old Megan, who is engaged.
In an emotional moment, the three danced to Aaron Krause's rendition of "Every Breath You Take."
Though surrounded by wedding guests, the slow dance felt intimate and private to Jessica Otto, who counts Michaela Cook-Yotts as one of her closest and oldest friends.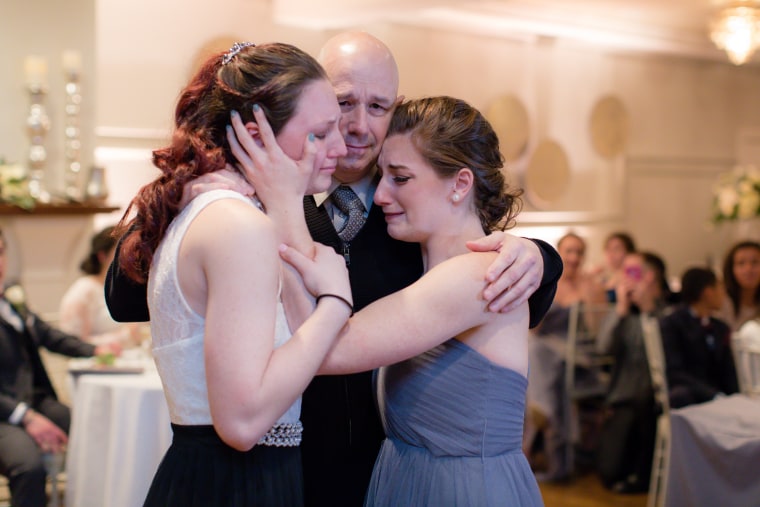 "It's something I'm going to remember for the rest of my life," Otto said. "It might not have been the right time, and it might not have been at my wedding. It's still a dance I got to share with my dad, and it was a very special moment, and I know my sister feels the same way."
Her dad, a man of a few words, seemed to love it.
"You can feel how he feels," his daughter said. "I know that he thought that the dance was very special. Deep down he knew there was a great chance we wouldn't get this moment, and he was very grateful we had it then."
Otto and the former Michaela Cook have been friends since they met in second grade in Rehoboth, Massachusetts, and their dads are best friends, too.
It was Nora Cook-Yotts' idea to suggest the Otto family dance.
"Nora brought up the idea to me, and it was, 'Yes, absolutely. We need to do this for them because we love them,'" Michaela Cook-Yotts said. "Everybody loves Pete. We really just wanted to give something to them. It didn't matter that it took away our spotlight."
As they swayed, the three Ottos shed tears, along with the other wedding guests.
"The emotion in the entire room was so overwhelming," Cook-Yotts added. "It was so moving. Everybody was crying, and there wasn't enough tissues. It was just the most incredible moment."
It was a time the couple hoped would make the day just a little brighter for Pete Otto, who was diagnosed with Non-Hodgkin lymphoma 16 years ago. He entered remission several times, but the disease returned for a fourth time in April 2016. In January, the month before the wedding, the family learned there were no more treatment options.
Throughout his diagnosis and treatments, including chemotherapy, radiation and a stem cell transplant, Jessica and Megan have thought about their future weddings.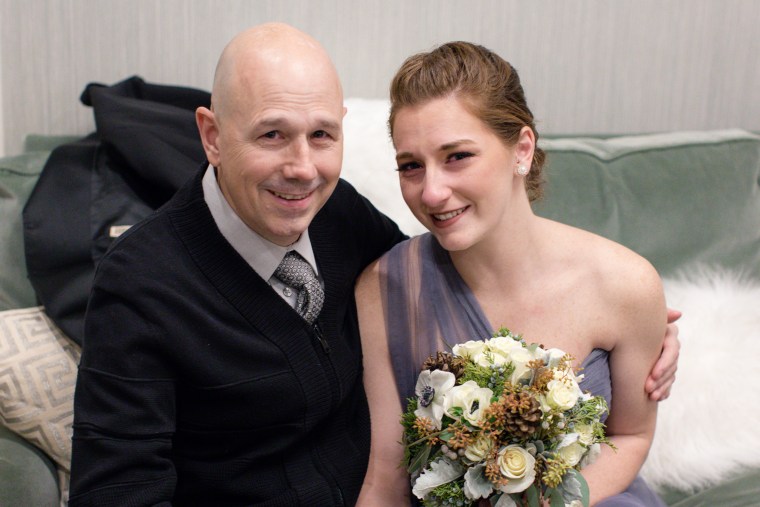 "Him not being there for my wedding and him not being able to meet my kids — those are the two things that hit me really hard about the future," Jessica Otto said. "I always dreamed of my dad giving me away at mine and being able to have our father-daughter dance."
As tough as Pete Otto's cancer fight has been for the family, which also includes his wife, Lisa, it has also pulled them together. Jessica Otto said she and her dad bonded over the Pan-Mass Challenge bike-a-thon, which they both participated in to raise money for cancer research and treatment.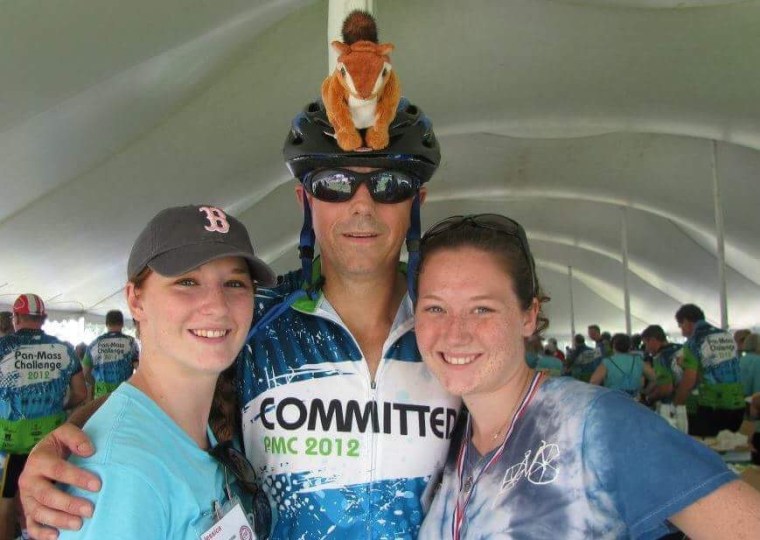 "We are a very close-knit family, and as sad as it is, it definitely brought us closer and made us appreciate each other more than we already did," she said.
In recent months, Pete Otto's health has declined further. Jessica Otto said her dad is not doing great, with some good days, some bad. Looking back, she is even more grateful now that she got that dance with the man she calls her best friend.
"It was easily the most important thing they could have done for us at the time," Otto said of the brides. "We loved every second of it. We will cherish that memory forever."
TODAY.com contributor Lisa A. Flam is a news and lifestyles reporter in New York. Follow her on Twitter and Facebook.