While participating in Oprah Winfrey's "Master Class" series, Dwayne "The Rock" Johnson offered inspiring advice to others who have grappled with one of his toughest opponents: depression.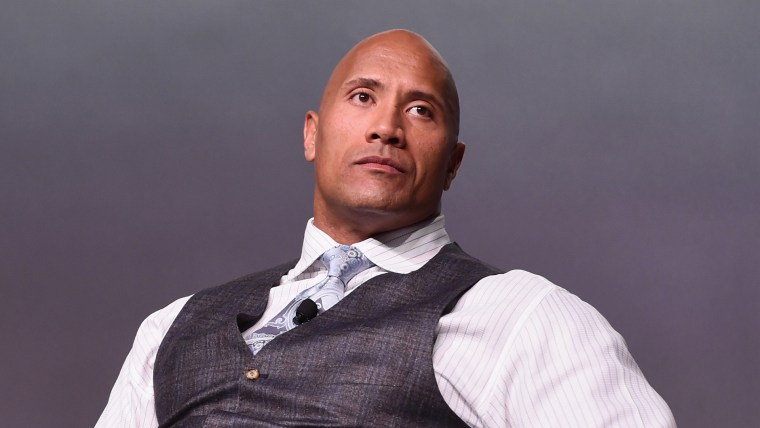 "I found that, with depression, one of the most important things you could realize is that you're not alone," the actor-wrestler, 43, said in a YouTube video posted by Winfrey's OWN channel Thursday. "You're not the first to go through it; you're not going to be the last to go through it. And oftentimes — it happens — you just feel like you're alone. You feel like it's only you. You're in your bubble. And I wish I had someone at that time who could just pull me aside and [say], 'Hey, it's gonna be OK. It'll be OK.' So, I wish I knew that."
He added, "Hold onto that fundamental quality of faith. Have faith that on the other side of your pain is something good."
According to that YouTube video's description, the former college football star had been battling depression at age 23 while living with his parents in a small apartment. Johnson said his decision at that age to pursue his father's career — professional wrestling — rather than return to the Canadian Football League team that cut him initially was perceived by his dad as the "worst mistake you will ever make."
Johnson's dad, who broke many wrestling color barriers as Rocky "Soulman" Johnson, relented, and wound up training his son, who went on to become a WWE superstar known as The Rock.
"My dad rose to the occasion," Johnson said. "He said, 'I'll train you.' And it wound up being one of the greatest chapters in my life."
RELATED: Dwayne Johnson gets emotional while talking about his relationship with daughter
Johnson followed up the release of that video with a Twitter response to thank a doctor who'd commended him for opening up about depression.
"Sometimes the hardest thing for us guys is to ask for help," Johnson tweeted. "I made that mistake a few times."
RELATED: What to say (and not say) to someone who is depressed
This November has covered a spectrum of emotions for Johnson, especially on the home front. During another "Master Class" conversation, he got emotional while discussing his 14-year-old daughter, Simone. "I always wanted to be a great dad," he said. "I always wanted to give Simone things that I felt I never got. When I held her when she was born, I held her in these two hands and I said to her, 'I will always, always take care of you. For the rest of your life, you are safe.'"
He'll put that same skill set to work for a second time in the near future: Last week, Johnson announced that he and his longtime girlfriend, Lauren Hashian, are expecting a baby girl.
Follow TODAY.com writer Chris Serico on Twitter.