Four kinds of Duncan Hines cake mixes have been recalled by Conagra Brands after a sample tested positive for salmonella.
Conagra announced that it is voluntarily recalling the Classic White cake mix as well as three other varieties, Classic Butter Golden, Signature Confetti and Classic Yellow, that were made during the same time period.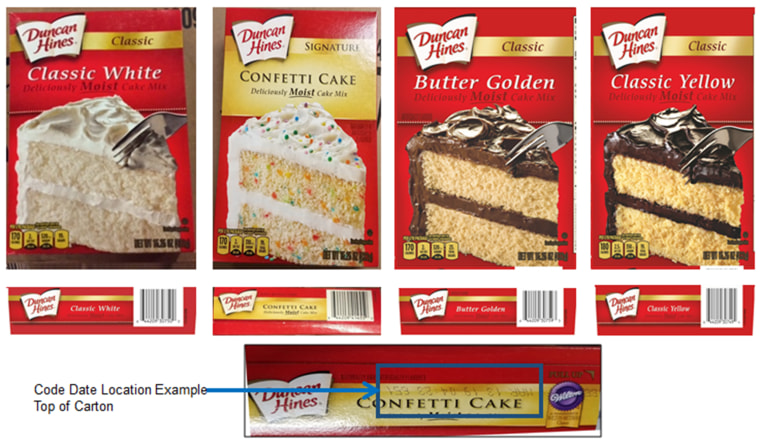 The recall is part of an investigation by the FDA and Centers for Disease Control of five occurrences of illness related to salmonella. Multiple people who were sickened reported consuming cake mix, and some may have eaten it raw.
"Consumers are reminded not to consume any raw batter,'' Conagra said in a news release. "Cake mixes and batter can be made with ingredients such as eggs or flour which can carry risks of bacteria that are rendered harmless by baking, frying or boiling. Consumers are reminded to wash their hands, work surfaces, and utensils thoroughly after contact with raw batter products, to follow baking instructions, and to never eat raw batter."
Consumers are urged to return the cake mixes to the store where they bought them. The recall applies to the cake mixes with use-by dates of March 2019 and the following UPC codes:
644209307500
644209307494
644209307593
644209414550
Each year, salmonella causes about 1.2 million illnesses, 23,000 hospitalizations and 450 deaths in the U.S., the CDC estimates. Symptoms, which usually appear 12 to 72 hours after eating contaminated food, include diarrhea, abdominal cramps and fever.
The Duncan Hines recall is the latest after a summer and fall of salmonella-related recalls that included cut melons, kosher chicken, Goldfish Crackers, Ritz Crackers, raw chicken, Honey Smacks cereal, prepared salads, ground beef and more than 200 million eggs.