Every Thelma needs a Louise. Every Shirley has her Laverne. For drag icon RuPaul, he has Michelle Visage.
Visage has been the sidekick to the queen of queens for decades, but most visibly as a judge on the hit VH1-competition series "RuPaul's Drag Race." Now entering its 13th season, the 52-year-old television personality is back as judge once again, and even though the show has won numerous Emmys (19, including two for Visage's role as a producer) and found mainstream success, Visage said it never gets old.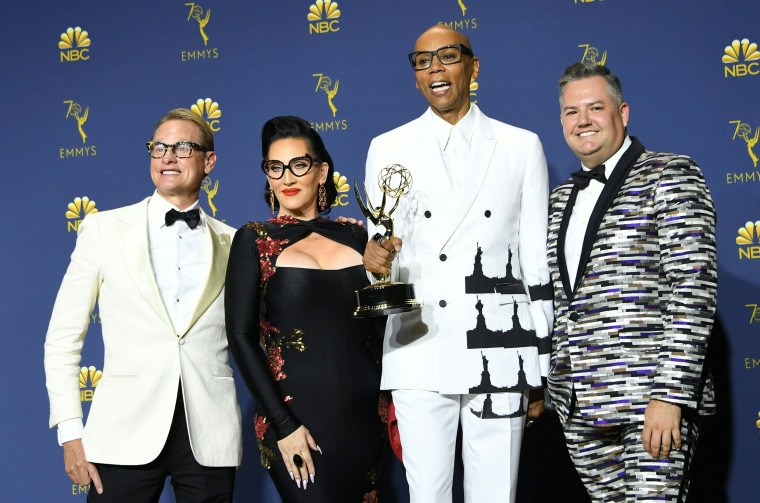 "I've never lost sight of how important this show is," Visage told TODAY Health. "There's not a minute that I would say, 'Here we go again,' or 'This old thing,' or 'It's just a TV show.' There's not a minute in my life that I feel that way about this show because I've been around for long enough to know better."
Originally from the great garden state of New Jersey, Visage first entered the spotlight as a member of the 1980s' girl group Seduction. Their debut album spawned the hit "Two to Make It Right" which climbed to the No. 2 spot on the Billboard 100. In the mid-90s, she performed as the lead vocalist with The S.O.U.L. S.Y.S.T.E.M. before co-hosting on RuPaul's VH1 talk show from 1996 to 1998. In the 2000s, Visage worked countless jobs on radio, before landing back on television with her partner in glam on the panel of judges for the third season of "Drag Race" in 2011.
"I know what my friends have gone through, not only being queer but being queer performers, and to have a show like 'RuPaul's Drag Race,' it's such a platform for these artists to be seen and to be validated," Visage said.
Since "Drag Race" created a fandom for Visage, especially as a fierce ally of the LGBTQ community, she has served as a judge on two seasons of "Ireland's Got Talent," appeared on "Celebrity Big Brother," and competed on "Strictly Come Dancing" in 2019, the BBC's version of "Dancing with the Stars."
"I just wasn't getting pregnant. It was month after month after month, my period would get further and further apart."
Michelle Visage
A few months prior to her twirl around the ballroom, Visage revealed she was having her trademark breast implants removed due to Hashimoto's disease. According to the National Institutes of Health, Hashimoto's is an autoimmune disorder where a person's immune system attacks their thyroid gland. It can lead to hypothyroidism (when the thyroid gland doesn't make enough thyroid hormones to meet your body's needs) which could cause symptoms like fatigue, unexplained weight gain and depression — and, like other autoimmune disorders, is much more common in women than in men.
Visage was first diagnosed with Hashimoto's when she was 29, after she had difficulty getting pregnant. Without treatment, hypothyroidism (caused by Hashimoto's) can impact fertility and lead to problems during pregnancy as well.
"I didn't know why I wasn't getting pregnant and if it weren't for my great gynecologist who said, 'Well, how long have you had this nodule on your thyroid?' and I went, 'What? What are you talking? A nodule?'"
"I just wasn't getting pregnant. It was month after month after month, my period would get further and further apart," she explained. "At one point, it was like 60 days and I hadn't gotten it so I thought I had to be pregnant. So finally, I went in and he sent me to an endocrinologist."
Unfortunately, in the beginning of Visage's journey, she felt like her doctor wasn't listening to her. But, as any fan of "Drag Race" can attest to, her no-holds barred, brazen and bold attitude put a stop to that quickly.
"The first endocrinologist I went to was an awful man in New Jersey," she said. "I started asking questions ... And he literally said to me, 'Shut up. Stop asking questions, I'll tell you when you can ask questions.' So I stood up. I said, 'You can go screw yourself,' and I left. I got my charts from the wonderful woman that worked at the desk, and I found an incredible doctor in New Jersey that explained everything to me."
From there, Visage said her new doctor began doing tests that her other doctor hadn't considered. "I implore all women that are reading this, to get the right labs," she said.
Visage did end up getting pregnant. In 2000, she had her first daughter, Lillie, and then a few years later she gave birth to her second daughter, Lola.
About 15 years ago, Visage said she really began "chasing her wellness," in the hopes of easing her Hashimoto's symptoms. There is some research that certain diet modifications can help to reduce systemic inflammation and support the immune system. She went gluten-free and tried other measures, but she still suffered.
Years ago, she started thinking about taking a more drastic measure, and in 2019, she finally decided to have her implants removed.
"I wanted to take control of my health... but I had talked to doctors over the years about taking my implants out, and they had sent me data about FDA approving breast implants because they've been around since 1962," she said. "But in my little want-to-be-a-doctor head, if an autoimmune condition is your body fighting off invaders and I have giant two invaders that are there 24 hours a day, seven days a week. Yeah, it made sense to me that if I have this invader and my immune system never gets to stop being inflamed, not even for a second to take a break, then it makes sense. I need to get them out."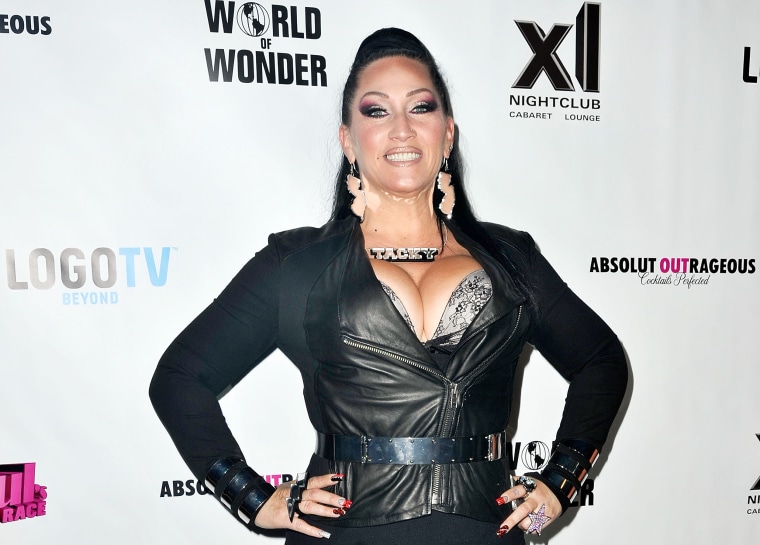 While research is still ongoing, there have been studies published associating breast implants with rare disease, autoimmune disorders and other conditions. According to the National Women's Health Network, researchers have suggested that exposure to toxins in silicone gel could trigger women who are predisposed to autoimmune disease to develop it. In 2019, the Food and Drug Administration said that manufacturers should add a warning label to information given to women considering implants. They also recommended patients review a checklist to understand all possible side effects.
Visage had her first breast implant surgery when she was 21 years old, and after that initial surgery got them enlarged twice over the years. Her large breast size was a major part of her iconography, something she modeled after actor Mae West, and her cup size became a long-running joke on "Drag Race."
And while fans of the series may have been sad to hear those jokes stop or her big bosom go away, Visage had no problem. "I didn't think twice," she said sternly. "I think it was more about the public making peace with it than it was about me making peace with it. All I thought about was I am sick of feeling like s---. I can't do another 20 years feeling the same way I felt for the past 20 years. I don't want to do this again, I don't care if I have nothing."
"Flat boobs and a floppy stomach is what I've got."
Michelle Visage
"And I have nothing. I am a nipple on a rib cage. I actually flaunt it ... I absolutely love having zero breasts. I went from having double Ds to my husband going, 'Where are they?'"
Visage, who married David Case in 1997, explained her husband may miss her breast implants a little, but that he was supportive of her decision because he would much rather have her here for another 50 years than have her have "big boobs."
"Flat boobs and a floppy stomach is what I've got," she said. "... I'm OK. I'm happy. My husband's happy, too, so screw the rest of the world if they don't like me with flat boobs. Carry on, move on, don't look."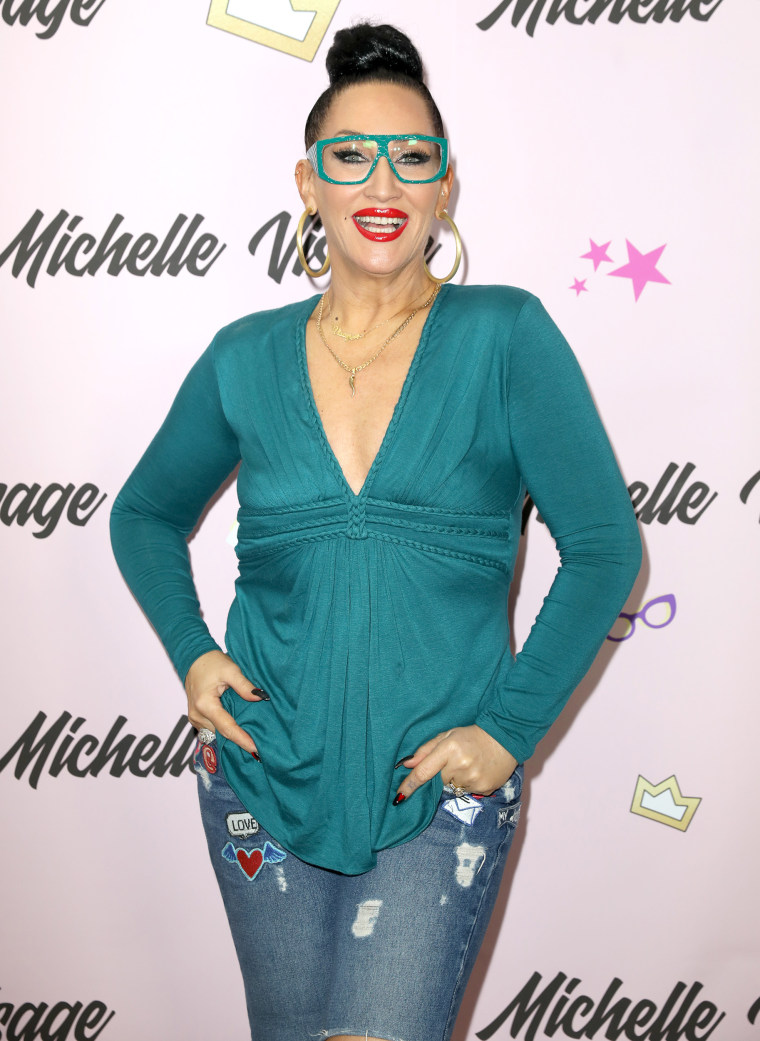 For now, Visage says her symptoms are "much, much better" after she had her implants removed. She hopes others, especially women or people in the LGBTQ community, take away from her story that they need to be their own best advocate when they walk into the doctor's office.
"My advice is to keep asking, keep looking, keep going, keep educating yourself," she implored. "You do not have to settle for being spoken down to just because you don't have a medical degree, that doesn't mean that you are less than them."
"Take control. Again, be your own advocate. If you don't advocate for your own health, who's going to?"
Spoken like a true queen.
Watch Michelle Visage on "RuPaul's Drag Race" every Friday at 8:00 p.m. on VH1.