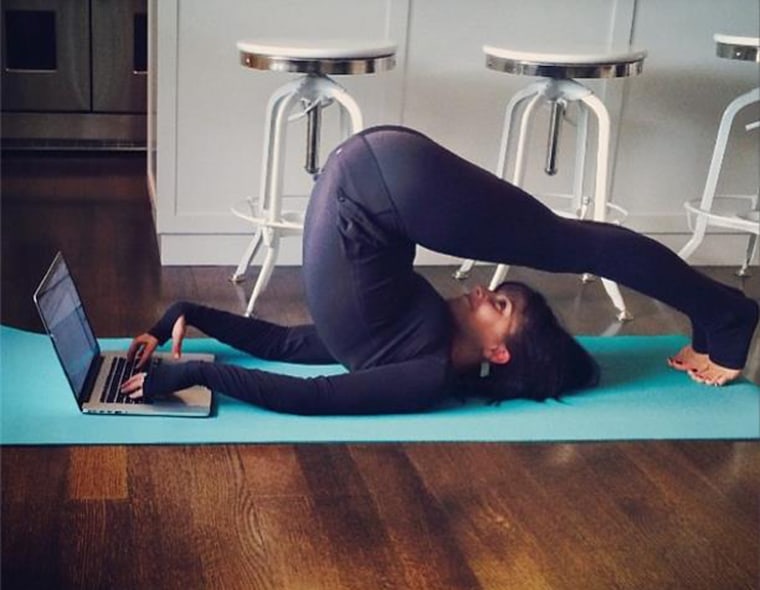 Hilaria Baldwin is just like us — if we were really, really flexible and could make dinner while doing yoga on top of the stove.
The wife of actor Alec Baldwin is a prolific Instagrammer and posts multiple images to her account, many with the hashtags #yogapostureoftheday and #hilariaypd. The yoga instructor and mom to 10-month-old Carmen poses in a variety of places. She's at home, on the street and everywhere else that people who do yoga can make us feel really out of shape — like upside down in front of an open fridge.
Here's a sampling of Baldwin at her best. Hilaria ensues!
While we pause "Here Comes Honey Boo Boo" to run to the kitchen for more cold pizza, Hilaria is doing this, writing, "This is how I earn my snacks."
This is just gonna fuel the whole barefoot-in-the-kitchen crowd. And there might be a hair in our omelet.
Busy moms losing their patience while juggling kids and carts at the grocery store are just doing it wrong.
Any dad who has ever been tasked with lowering the crib mattress needs to turn in his tool belt. It's "no stretch," Hilaria says.
Look who's footing the bill! Cash in hand is old news as Hilaria says, "Stop asking me what's in my wallet," in a nod to her husband's bank pitches.
Just when you were starting to feel good about those StairMaster sessions at the gym. 
If you've never been lost at sea, you've clearly never taken the wheel of a boat like this.

Insert more jokes about women drivers here. 
Ironing. Ugh! Can this household chore get any worse? What's that? Do it on our knees with our legs crossed? Oh.
Hey, when you're done with the dishes ...
... don't forget to throw in a load of laundry ...
.... and take out the garbage.
After all that, what's better than a relaxing pedicure? Fold yourself in half and put your feet up — you've earned it!
Oh, and p.s., moms: Never forget to kiss your baby.
Follow Kurt Schlosser on Google+