Health officials have finally traced an outbreak of Listeria that sickened 12 people and killed one to a Dole facility that makes bagged salads in Ohio.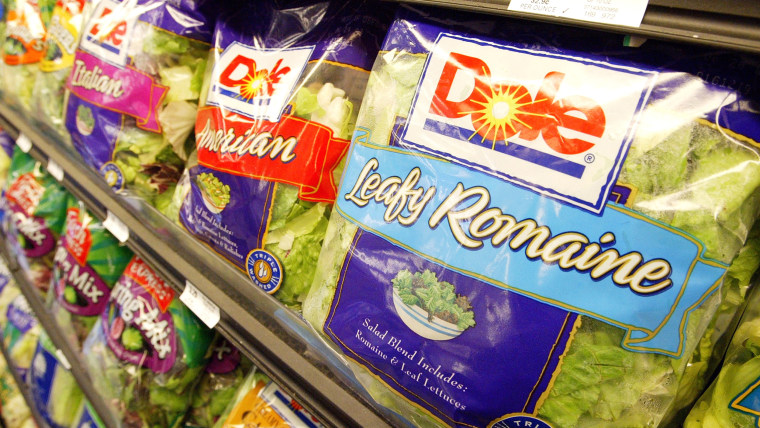 People should throw away any salad that came from the facility, the Centers for Disease Control and Prevention says.
The outbreak was last summer but consumers shouldn't take chances, CDC said.
"On January 21, 2016, Dole reported to CDC that it had stopped all production at the processing facility in Springfield, Ohio and is withdrawing all packaged salads currently on the market that were produced at this facility," CDC said.
The salads were sold under various brand names, including:
Dole
Fresh Selections
Simple Truth
Marketside
The Little Salad Bar
President's Choice.
"These packaged salads can be identified by the letter "A" at the beginning of the manufacturing code found on the package,' CDC said.
"CDC recommends that consumers do not eat, restaurants do not serve, and retailers do not sell packaged salads produced at the Dole processing facility in Springfield, Ohio."
Related: Five Things to Know About Listeria
The 12 cases were reported starting last July. Likely many more people were made sick, but the 12 serious cases were hospitalized and samples show they were infected with genetically related germs.
"At this time, there is no evidence to suggest that packaged salads produced at other Dole processing facilities in the United States are linked to illness," the CDC said.
"Although the investigation began in September 2015, the source of these illnesses wasn't known until January 2016 when the laboratory result from the packaged salad collected in Ohio linked the illnesses to the Dole processing facility in Springfield, Ohio."
CDC estimates that listeria puts 1,600 people into the hospital each year and kills 260 of them. Most at risk are people with weakened immune systems, such as the elderly, very young children and pregnant women. Listeria can cause miscarriages and it can infect newborns.
It often contaminates fresh vegetables as well as cheese and ice cream.
Related: You can't judge meat by its color and 4 other common food handling mistakes
If you have the Dole brand packaged salads produced at the Ohio facility at home, the CDC recommends:
Throw the packaged salad away in a closed plastic bag placed in a sealed trash can. This will prevent people and animals from eating it.
Wash the refrigerator drawer and other areas where the packaged salads were stored with hot water and soap.
Wash cutting boards, surfaces, and utensils used to serve or store packaged salads.
If possible, use a dishwasher; otherwise, use hot water and soap, followed by sanitizing with a solution of one tablespoon chlorine bleach added to one gallon of hot water.
Wash your hands with warm water and soap after cleaning up.
Watch for symptoms
If you have eaten a Dole brand bagged salad produced at the Ohio facility and do not have any symptoms, you probably don't need tests or treatment, even if you are at high risk of listeriosis, the CDC says.
Symptoms can develop up to 2 months after eating contaminated food, but usually develop within several days.
Symptoms can vary, but include:
Headache
Stiff neck
Confusion
Loss of balance
Convulsions
Fever and muscle aches