Many kids don't eat healthfully at school and a new study suggests it's because they don't have enough time.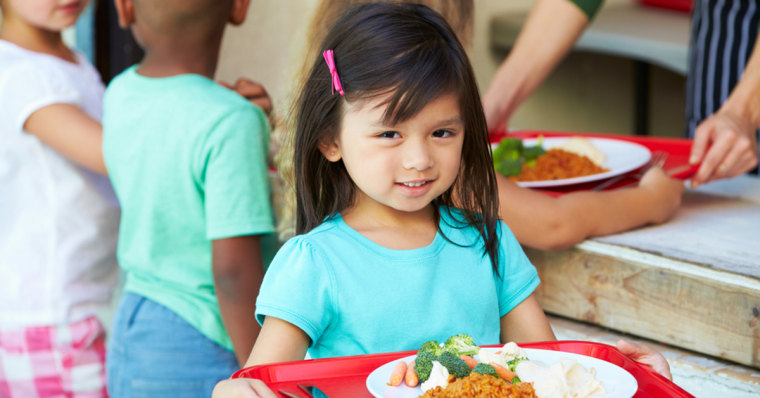 When children had a school lunch period of less than 20 minutes, they consumed less of their entrees, vegetables and milk, and they were less likely to choose a fruit to go with their meal, Harvard researchers reported in the Journal of the Academy of Nutrition and Dietetics.
While eating less might seem to be a positive at a time when many children are battling obesity, with the new school nutrition guidelines, school meals may be one of the healthier meals kids eat all day, says Dr. Cambria Garell, assistant medical director of the Fit for Healthy Weight clinic at Mattel Children's Hospital at the University of California, Los Angeles.
"Research has shown that school lunches contain more fruits and vegetables when compared to lunches brought from home," says Garell. "This makes it more important to give children sufficient time to eat the school lunch."
Because when kids don't eat enough to satisfy them at lunchtime, they're more likely to eat more junk food later in the day, experts say.
"There's been a lot of attention given to the quality of the lunches over the last four or five years and there have been big steps forward," says Eric Rimm, a professor of epidemiology and nutrition at Harvard University's T.H. Chan School of Public Health. "There hasn't been any research on the length of time children have to eat that lunch."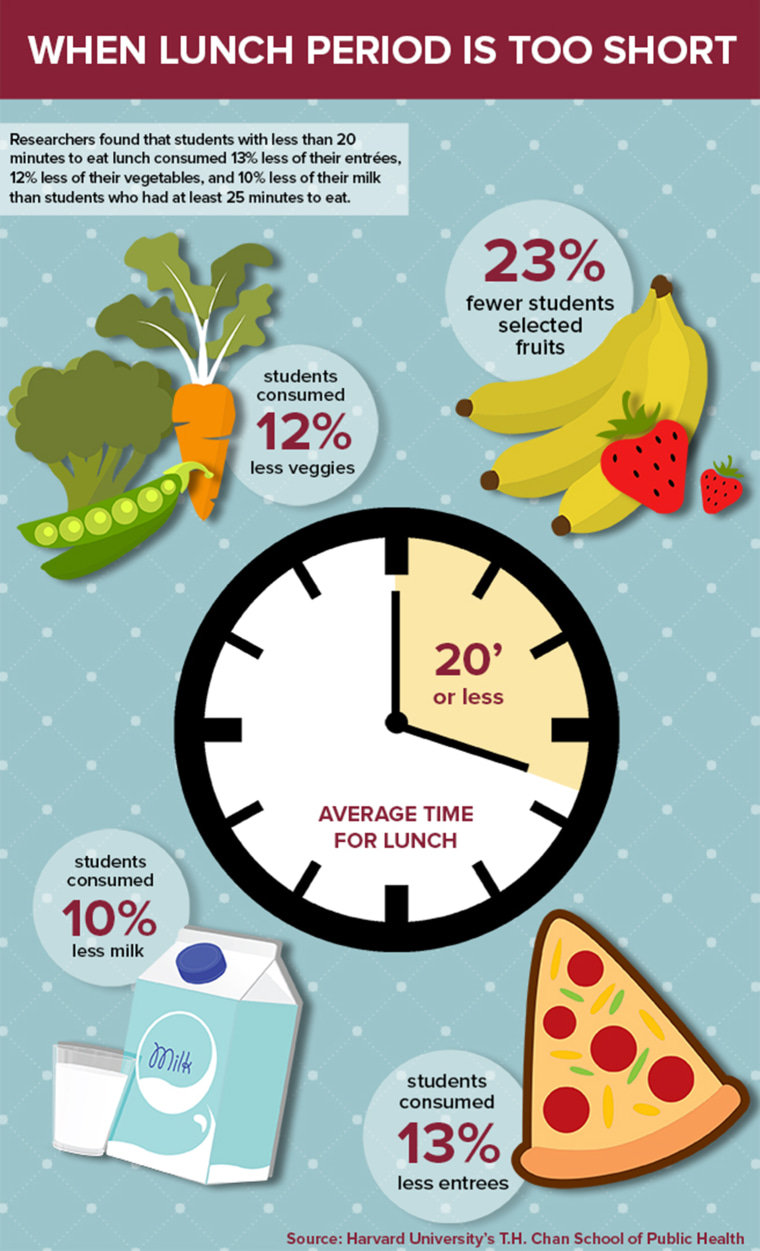 Rimm and his colleagues studied the eating habits of 1,001 students in six elementary and middle schools in a low-income urban school district in Massachusetts. The schools had lunch periods ranging from 20 to 30 minutes. The researchers analyzed what students chose to eat and how much they consumed by monitoring what was on the children's plates at the end of the lunch period.
Children with less than 20 minutes to eat lunch consumed 13 percent less of their entrees, 12 percent less of their vegetables and 10 percent less of their milk, compared to students who had at least 25 minutes to eat. Those who had less time to eat were also less likely to choose a fruit to go with the rest of their lunches.
Although the study was done in younger children, Rimm believes it also applies to high school students. "And they're the ones who are likely to go out to get a cheeseburger after school since they're going to want something else to eat before 6 P.M.," he says.
The study found that some kids spent so much time waiting in lunch lines they had as little as 10 minute to eat their meals.
Rimm hopes that the study will motivate school administrators to find ways to streamline lunch lines. In some cases that might be accomplished by simply adding a second cashier, he says.
Another issue the study turned up: some lunch periods start as early as 10:30. "For some of these children, lunch becomes their first meal because they skip breakfast knowing lunch is going to be at 10:30," Rimm says.
Eating lunch early can be a big problem for kids who need to watch their weight, says nutritionist Liz Meinart, a clinical dietician at the Children's Hospital of Pittsburgh, at the University of Pittsburgh Medical Center.
"At the weight management clinic, kids are telling me they are starving by the time they get home," Meinart says. "They're eating their lunches when they should be having a mid-morning snack."
The short lunch periods may also contribute to children gobbling their food.
"In my clinic a big complaint among the kids coming in is that they eat too fast," Meinart says. "That could be something they learned in school because of the quick lunch periods. It takes 20 minutes for the body to let us know that we're full. How can these children learn hunger and satiety cues when they're eating so fast?"
Meinart welcomed the study's focus on lunch timing. "People have been looking at the content of the lunches," she says. "But they haven't been looking at the schedules and I think that is a huge part of it."