A glance from her son, Jadon, gave Nicole McDonald a boost of strength.
Jadon gazed at his mother only days after he and his twin, Anias, underwent an exhausting 27-hour-surgery to separate them — 13 months after they were born conjoined by the head. The boys have successfully made it through the hardest part of their recovery.
"Jadon is actually doing very well," Dr. James Goodrich, director, Pediatric Neurosurgery, Children's Hospital at Montefiore, told TODAY. "We think they are on course to be off the tubes and out of ICU in the next week."
A team of 40 doctors, lead by Goodrich, separated the twins and reconstructed their skulls.
At first, Jadon couldn't move his left side, but he's quickly recovering his mobility.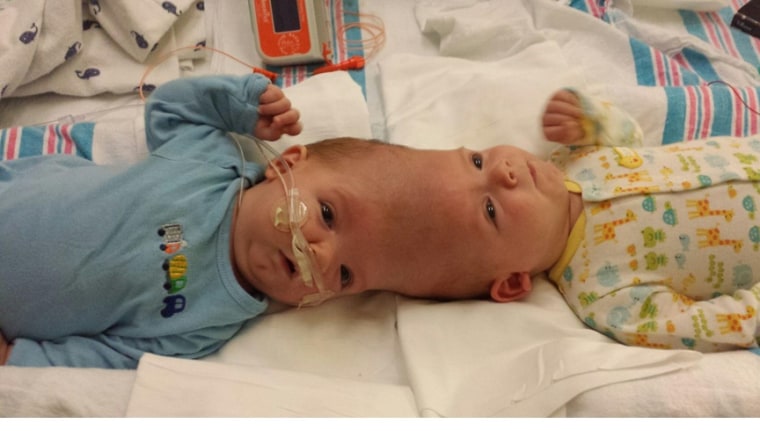 Anias is experiencing seizures, but doctors treated him with an anti-seizure medication. Goodrich said seizures are normal because surgery creates scar tissue.
"You can't cut the brain without obviously some residuals," he said.
As the boys improve, their mom and dad are adjusting to having two separate babies.
"When they told me they were wheeling Jadon up first, it took me a second to comprehend. I actually asked why they rearranged the room because I hadn't really internalized the idea that there would be two beds in here," mom McDonald wrote on Facebook. "Happy rebirth day."
Related: Couple expecting conjoined twin girls hope they can beat the odds
McDonald was 17 weeks pregnant when she learned she was carrying twins. When doctors requested a repeat ultrasound, they got a shock — her twins were connected by the head, a condition known as craniopagus twins.
"I cried for two hours after I found out. My mind was flooded with questions, with doubts, with fears, but then, with hope," McDonald wrote on her GoFundMe.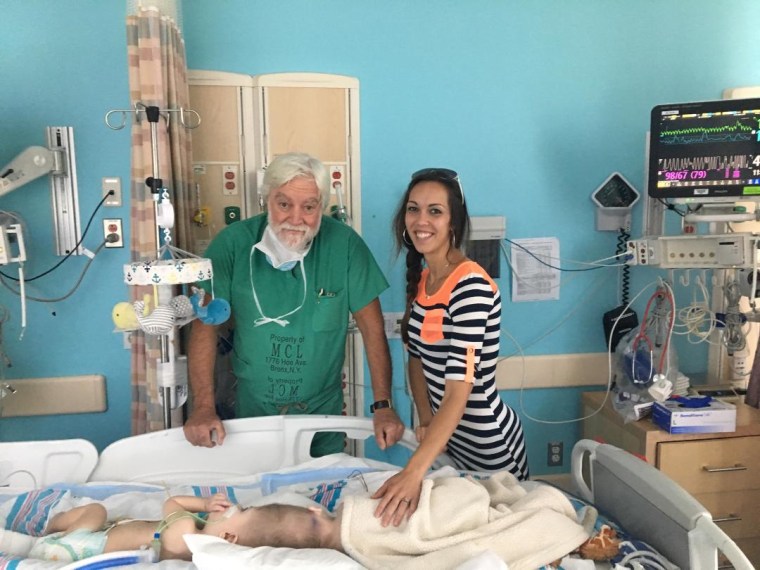 The hope came in the form of Goodrich, who had successfully separated Carl and Clarence Aguirre, another set of craniopagus twins, in 2004. In total, he has separated seven sets of these twins. Craniopagus twins are rare, accounting for one out of every 2.5 million births, but almost half, 40 percent, are stillbirths.
Related: Formerly conjoined twins thrive one year after epic surgery
Jadon and Anias were born in an unscheduled C-section at 32 weeks on Sept. 9, 2015.
After the boys were stabilized, McDonald and her husband Christian left their home in Braidwood, Ill., outside of Chicago, and moved closer to the hospital in the Bronx. Having conjoined twins made it difficult for the McDonalds to work, because the boys require much care, and at a great expense. The surgery cost around $2.5 million.
After much preparation, the boys went into surgery on Oct. 12. Jadon emerged first, while Anais required more surgery.
Related: Mom of conjoined twins can't wait 'to hold two individual babies' after surgery
While they are doing well, recovery will be long and unpredictable. After as many as five weeks in the hospital, the boys will need to go to a rehab facility.
"I should feel so happy...TWO SEPARATE BABIES!!!...and yet I ache with the uncertainty of the future," McDonald wrote. "We are standing on the brink of a vast unknown."
It's too soon to tell if Jadon and Anias will experience lingering problems; Goodrich hopes their young brains are pliable enough to adapt. But the boys will experience some initial challenges.
"They go right back to infancy; they never sat up, they never have had control of their heads, they never learned to walk," he said.
Even though the twins face as much as a year of rehab, Dr. Oren Tepper, who led the reconstruction of their skulls, thinks they will flourish thanks to their strong, supportive parents.
"The last key to all the success is the family. The McDonalds are a great example of the type of family you need for this to happen," said the director of the Craniofacial Surgery Program at Montefiore.
On Saturday, McDonald posted on Facebook her deep gratitude for the doctors and medical professionals at Montefiore, especially Goodrich, whom she called "a God-send from the beginning," her husband Christian, who "has been here every step of the way, loving these babies with a passion that I admire" and her 3-year-old son, Aza.
Finally, as McDonald, her family and the twins prepare for their new life, she shared her profound religious conviction, saying: "Without God we would have unraveled many months ago."