A mother who lost her legs and a daughter who was critically injured in the April 15 Boston marathon attack had only been at the race's finish line for 10 minutes -- 20 minutes, tops -- when the bombs went off.
For Celeste Corcoran, 47, and her daughter, Sydney, 18, those brief moments devastated their lives, changing them forever. But the women tell Natalie Morales of TODAY and NBC's Rock Center that they are determined to rebound with the help of family, friends and community.
"I will have a different life, a different reality," said Celeste Corcoran, who lost her lower legs below the knee. "But, I really believe that if you just kinda persevere and believe in yourself, you really have to dig down deep inside and just be like, 'I can do this.' It's going to be hard, but I can do this."
The mother-daughter duo stopped by the marathon finish line that Monday after lunch to see Carmen Acabbo, Celeste Corcoran's sister, finish the race. They were moving closer to get a better view with the explosions ripped through the crowd.
"The moment the bomb hit, I was in shock," Sydney Corcoran told Morales. "I wasn't exactly sure what happened. It wasn't until, like, I was on the ground and everyone was grabbing at me that I realized something serious had happened."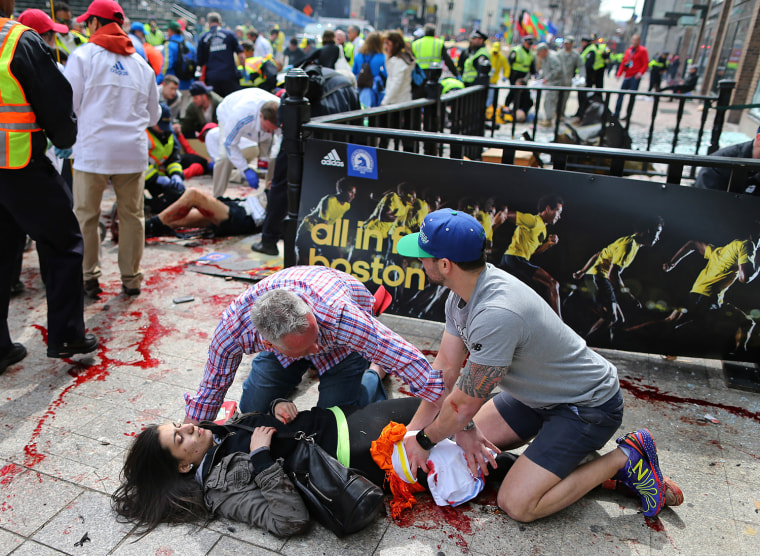 Nearby, her mother was badly injured and her father, Kevin Corcoran, used the belt from his pants to staunch one of her wounds. He asked a stranger for a second belt to help, too.
"I just wanted to die," Celeste Corcoran told Morales. "The thought was there 'cause I was in so much pain. And then I just remember thinkin', like, I can't. I can't. I don't wanna leave my family, you know. There's still too much to do."
Both women were taken to Boston Medical Center, where doctors raced to save their lives. They're healing together in a shared room, but are scheduled to move soon to a new center operated by the Spaulding Rehabilitation Network, said Greg John, a friend who is helping the family with publicity.
A spokesman for the center, Tim Sullivan, said between 10 and 20 victims of the Boston blasts are expected to arrive in the coming weeks.
There, they'll all begin the long road to recovery. Celeste Corcoran will work to prepare her limbs for prosthetics that will help the hairdresser return to the work she loves.
"It's been a lifelong passion," she said. "I can't see myself not doing that."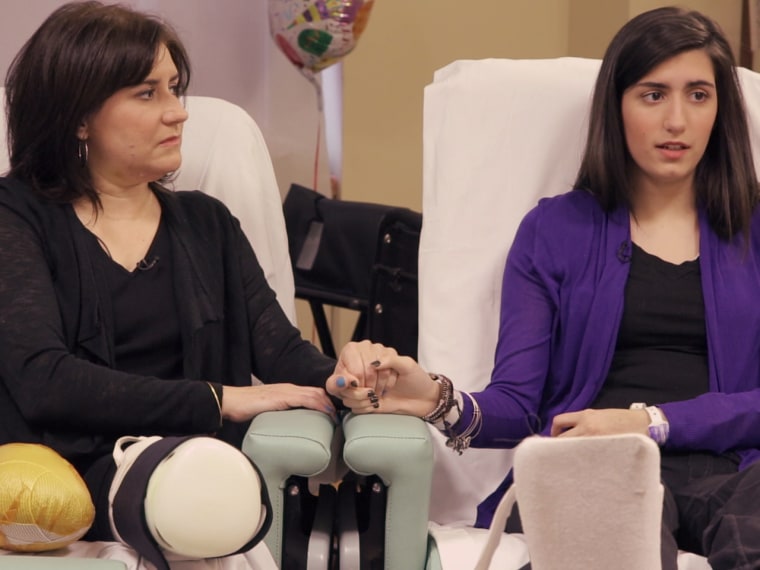 Sydney Corcoran, who celebrated her birthday in the hospital Tuesday, suffered a severed artery in one leg and life-threatening shrapnel wounds. Doctors have told her that she would have died except for the help of strangers whose quick work applying a tourniquet was captured in a wrenching image after the attack.
Now, Sydney Corcoran hopes to recover enough to return to high school, go to college and pursue her dreams of a career in criminal justice. But she knows there's a lot of work ahead.
"They think that with effort, I might be back to where I was before," she said.
The family, which includes Tyler Corcoran, 20, is still sorting out what comes next. They have health insurance, but it's not yet clear whether it will cover all of the medical expenses that loom ahead. An online fundraiser organized by family friend Alyssa Carter has received more than $655,000 in pledges.
Link: Celeste & Sydney Recovery Fund by Alyssa Carter
The women have been deluged with flowers, balloons, cupcakes – and visitors, including actor Bradley Cooper, who stopped by last week, Johns said. Marines from the Semper Fi Fund visited, including an amputee with injuries similar to those Celeste Corcoran suffered.
"He came in here with his legs and I was just amazed," Celeste Corcoran said. "He goes rock climbing. (It) sounds like there's nothing he can't do. Granted, he's a few years younger than I am. But, you know, if you have the spirit and you know that you wanna do it, I can absolutely achieve it."
Related stories: