Are you up for a 30-day walking challenge? Sign up for the challenge with our free Start TODAY newsletter. Then, join us on the START Today Facebook group for daily tips and motivation, to connect with others following the plan, and to get real-time advice from trainer Stephanie Mansour!
Sherrie Dampeer saw firsthand how weight-related problems impacted her mother's health. And the 56-year-old was afraid she was on the same path herself.
"My mother's health was one of the things that really frightened me because in looking at her, I was seeing myself," Dampeer said. "By the time my mother passed, she was on a lot of medicine, mostly related to her weight. She was a diabetic, had hypertension, developed congestive heart failure and had mobility issues because of the excess weight. She ended up in a nursing home because she couldn't physically take care of herself anymore."
When Dampeer's mother died, it spurred her to action. "It was like a light went off. I started to focus on my own health." But it was hard for Dampeer to find the time to devote to her health. She works for the New York City Human Resources Administration Department of Social Services and she's also a minister at her church and a volunteer ombudsman.
RELATED: How walking helped one woman lose 44 pounds, boost energy and reduce knee pain
She used the pandemic for motivation and time
The COVID-19 pandemic sparked Dampeer's weight loss in two ways. First, it scared her since she heard how people with obesity, like her, were at higher risk for severe COVID-19 and hospitalization.
Second, it gave her extra time to build some healthy habits. "My job shut down in March of 2020, and instead of sitting home and eating, I decided to take care of me. I live by myself. I didn't want to die alone. I was scared. So, I got more aggressive with changing what I ate and walking," she said.
She finds motivation and accountability with Start TODAY on Facebook
Dampeer came across the Start TODAY Facebook group early in the pandemic. "Stephanie [Mansour] sounded so motivating, and she focused on doing what you can. If you can't do situps, squats or pushups, she shows you how to modify, so she makes it feel welcoming," she said.
Dampeer credits the group with motivating her, holding her accountable and encouraging her to exercise and eat better. "Start TODAY has helped me tremendously with reinforcing my 'why' and how it is crucial not to compare myself with others, but to compare myself only with myself on my journey," she said.
I try to make exercise fun, so I will stick with it, so it doesn't feel like a job.
Dampeer walks every day and aims for at least 10,000 steps. She lives in Brooklyn and says she's walked almost every bridge in New York City. "I've walked the Brooklyn Bridge, Manhattan Bridge, Queensboro Bridge and Williamsburg Bridge. Walking is therapeutic for me. I see different areas of neighborhoods, and if I see a historical building or something nice, I'll take a picture and post it at the end of the day. I try to make exercise fun, so I will stick with it, so it doesn't feel like a job," she said.
She also uses resistance bands to build muscle. "I want to be strong, flexible and independent," she said.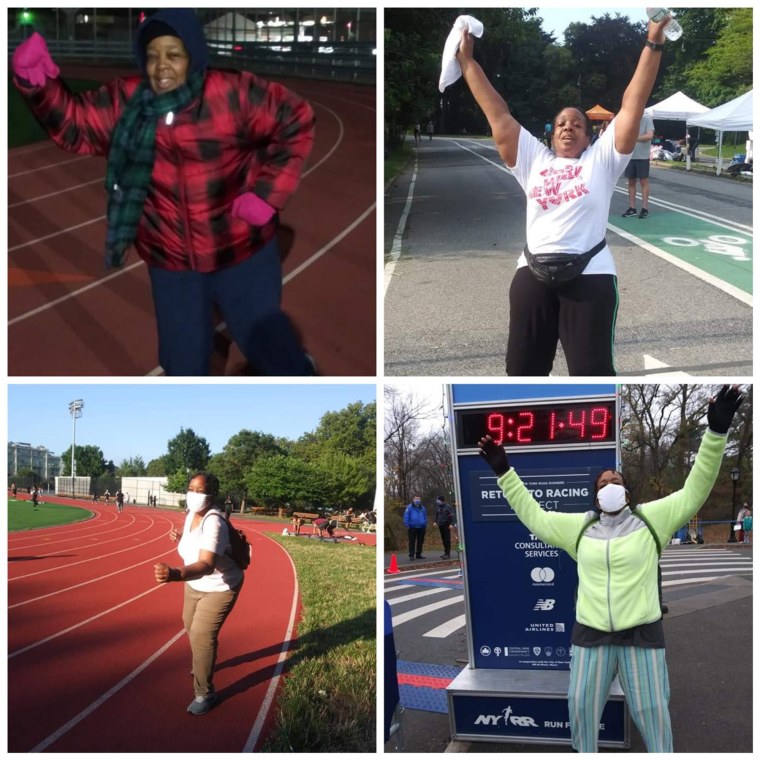 I want to know that I'm healthy and strong from the inside out.
She focuses on her health and celebrates non-scale victories
Dampeer is now at a weight that her doctor considers healthy, and she only weighs herself twice a month. "My thing is optimal health and wellness, it's not about the number on the scale. I just want to be the healthiest version of Sherrie I can be," she said. "You could look on the outside and say, 'Oh, she lost weight.' But I want to know what's going on inside my body. I want to know that I'm healthy and strong from the inside out." 
She says markers of inflammation in her blood are now stable, her blood pressure has come down, her A1C (a blood sugar measurement) has dropped from 5.7 to 5.4, and her mobility has improved. 
She also appreciates some of the changes she's noticed in herself because of her weight loss. "I feel better and lighter," she said. She can:
Sit on the subway without touching the people next to her or feeling like she's invading their space.
Shop for clothes in stores that cater to all sizes, not just plus sizes.
Breathe when she bends over to tie her shoes.
She fits walks in throughout the day
When Dampeer returned to in-office work in July 2021, she didn't let her walking routine slide. She walks in her house before work, walks to a train station further from home, or walks near work in the morning, at lunchtime or at the end of the day. 
She is now an ambassador for a health and wellness program her employer promotes, called WorkWell NYC. "I help them promote healthy things," Dampeer said. "As a minister, my body is a temple, so I want to be an example for others as well. It's about me taking care of me."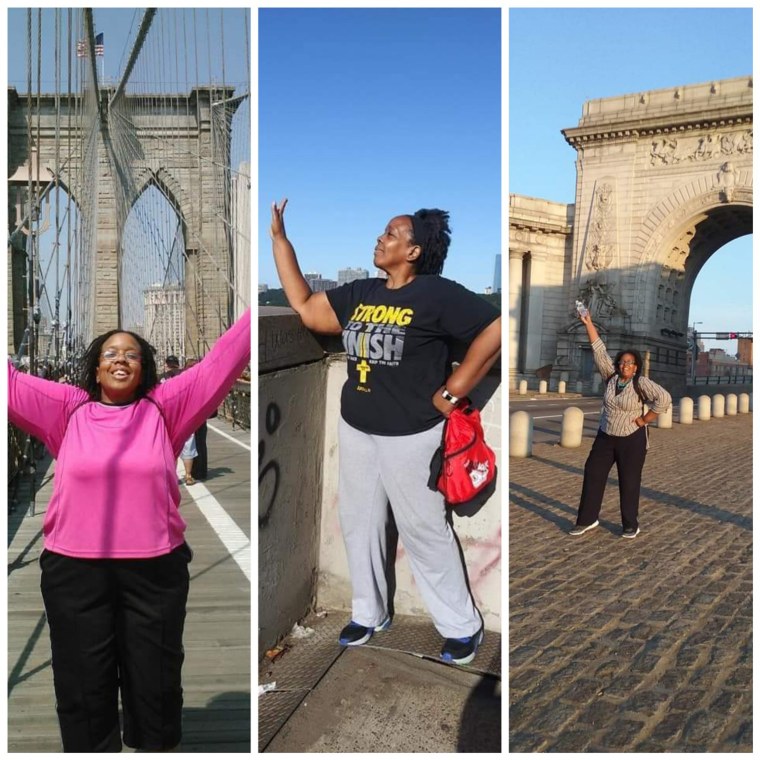 She's made gradual, sustainable changes to what she eats
Dampeer lists a lot of small changes she has made to her diet that, together, make a big difference:
She adds unsweetened cocoa or cinnamon to her coffee instead of sugar, and she's weaning herself off creamer
She sweetens her oatmeal with banana
She eats more vegetables
She uses peanut butter powder in place of peanut butter to cut back on fat
She reads labels and is conscientious of what she buys at the grocery store
She's more aware of what she's eating. "I'll still eat a hamburger and French fries, but not every day. I think about it first," she said
She asks for a to-go container in restaurants and divides her food
She doesn't keep treats in the house. "If there's anything I want to treat myself to, I'll purchase it from the outside, have it, and I'm done with it. If I keep it around me, I know I will eat it," she said
Here's what she eats in a typical day
Dampeer likes to meal prep — she'll make a batch of chili with ground turkey or chicken, beans, onions and garlic.
 Breakfast: 1/2 cup of dry oatmeal with a cup of vanilla-flavored soy milk and some cinnamon, protein powder or chia seeds
Lunch: Meal-prep chili, or chicken with broccoli and brown rice from a Chinese restaurant
Dinner: Boneless, skinless chicken with vegetables
Snacks: Fruits, veggies or nuts
Her final thoughts
"I cannot change the past, but there are things that I can do as I age. Having and maintaining independence is a top priority for me. Health, to me, is not just being outwardly 'fit,' but making certain that my bloodwork and all labs are as they should be, staying connected to people and being mentally, emotionally and spiritually healthy," Dampeer said.