Mindy Kaling's latest favorite walking workout gives her more time to watch "Mad Men."
"Signature summer workout: walking slowly at an obnoxious incline for the length of an episode of Mad men lol," she captioned a video of her workout that she posted to her Instagram story July 24.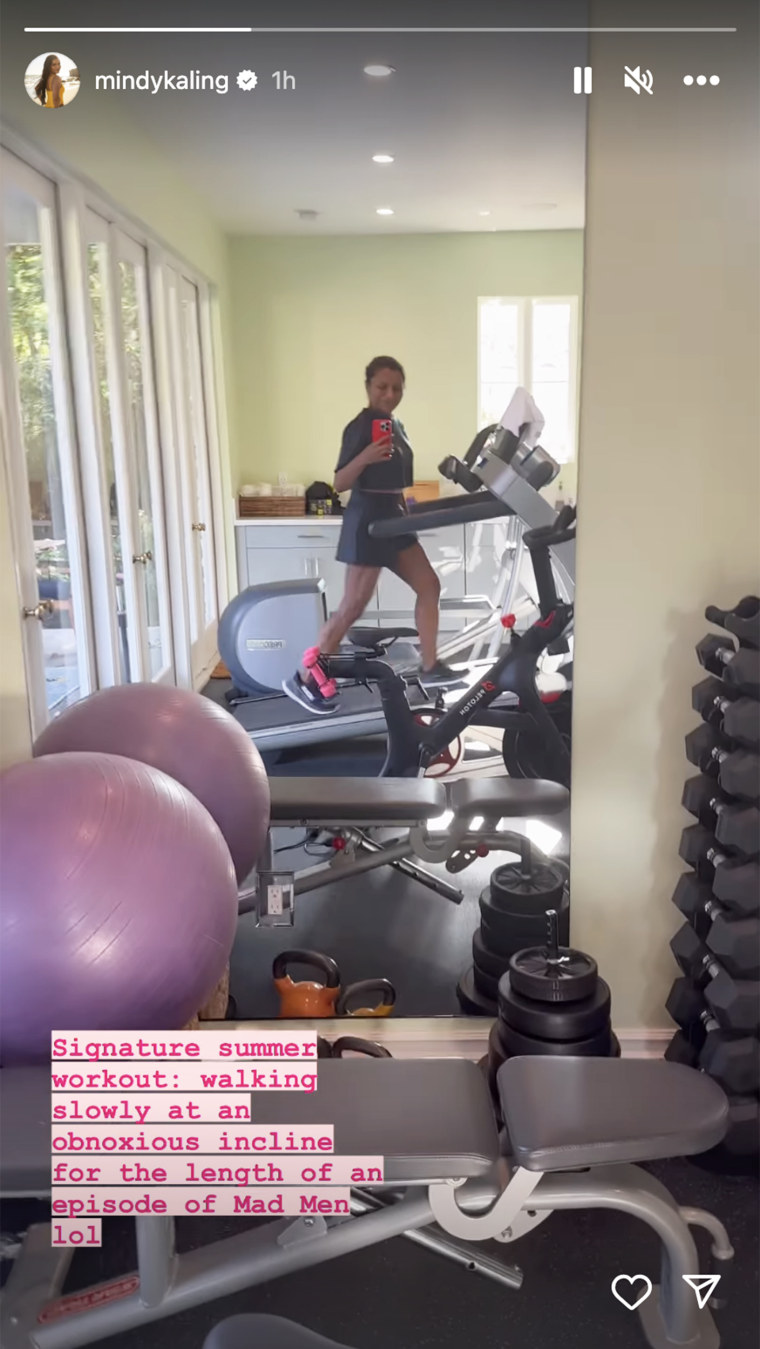 The 44-year-old actor has championed walking as her exercise after deciding that dieting and traditional, hard-core workouts are not for her.
"In my 20s, I thought a workout had to be something that was punishing, like 45 minutes of running and you had to hate it the whole time," she told TODAY in May 2022. "I don't have that relationship with exercise anymore." 
"Sometimes I'll be like, 'Well, I have four different times today where I have 10 minutes so let's just walk instead of sitting down and checking Instagram,'" she continued. "So instead of it being like one chunk of exercise in the beginning of the day or none at all, I'm now just deciding that I'm going to be a more active person all the time."
The mother of two automatically has workouts built into her day thanks to her kids, she told InStyle in May 2022. Her daughter, Katherine, is 5 and her son, Spencer, is 2.
"People are always saying, like, 'I stay fit by running after my kids!' I'm not gonna go that far, but I will say, my daughter's always like, 'You play the bad guy and I'll play the good guy and you chase me around the backyard!'" she said. "I wouldn't just depend on that as a workout, but that's a good 15 minutes a day!"
The "Legally Blonde 3" star said on Instagram in June that her kids fuel her commitment to staying healthy.
"Now I'm just trying to be present for them (hard for me! I'm impatient!), being up for anything (again hard for me, I am not whimsical!), and stay healthy for these two guys (ALSO hard! I just want to eat cheesesteaks every meal in front of the TV) for until I'm an old gray skeleton they're like 'mom, you gotta go.'"
Their prodding is working, she said.
"My doctor told me that this year I was the healthiest I've been in years," she celebrated. "That's a pretty damn good gift, right?"