When Dennis Bassett was in his 20s, he saw a stalled car and offered to push it for the owner. As he was assisting, he twisted his back and heard a "squishing sound."
"I was helping, being a good Samaritan," Bassett, now 64, tells TODAY.com. "(My back has) never been the same since."
Over the years, a car accident, pulled muscles and aging took its toll on Bassett's back, and he had constant pain. He tried everything — physical therapy, acupuncture, nerve blockers, and he even developed a drug dependency. Nothing eased his pain.
But that was before Bassett underwent an outpatient procedure where a new device was implanted in his back.
"It's like getting a large part of your life back," he says.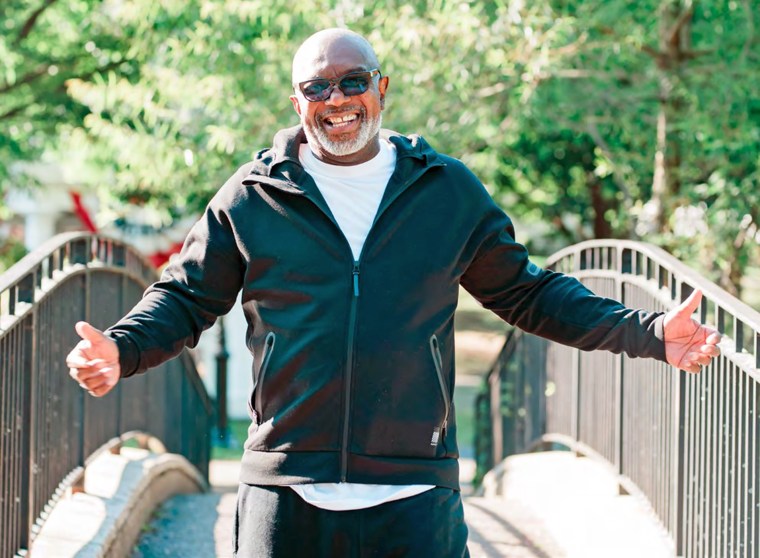 Back injury, aging and failed treatments
When Bassett first hurt his back, he didn't think he needed to see a doctor.
"You're young. You recover fast," he remembers thinking. "You don't really mind until years later."
Since his 20s, a car accident and normal aging put more strain on Bassett's back, increasing his pain. But doctors told him "there was nothing wrong with me," he recalls.
He attended physical therapy off and on when the pain became too intense. Sometimes he'd go three times a week. At first, he would feel better, but the ache always returned.
"Once you take the pressure off those nerves, you're fine until you move again, until maybe a week goes by," Bassett says. "You have to keep working on it."
He tried acupuncture and felt no relief. He tried stretching regularly, but it didn't help. About five years ago, Bassett started working with Dr. Kiran V. Patel, director of neurosurgical pain at Lenox Hill Hospital in New York City, who also helped TODAY co-host Carson Daly with his lower back pain.
Patel started Bassett on injections to ease the pain. But when they stopped working, Patel thought he should get an updated MRI and speak with a surgeon to see if surgery was warranted.
"The surgeon said, 'I've got to be honest with you. There's nothing I can do to help you,'" Bassett recalls. "He said, 'Go back to pain management and see what else they can do.'"
The next strategy Bassett tried was nerve blockers, a type of pain-relieving or anti-inflammatory drug, such as an epidural, administered through a needle, per Johns Hopkins Medicine.
"They worked for a little bit," Bassett says. "That lasted maybe a year and a half. Then that's when it started hurting again."
Patel ordered another MRI, which gave her a better sense of how to help Bassett.
"The MRI showed that the whole lower back, right where your tailbone is, those muscles in there had deteriorated," he says. "She said, 'There's no exercise or gym that can develop those muscles.'"
But she did have a new device that she thought could help him.
Lower back pain and new treatment
Back pain is incredibly common, with as many as eight out of 10 Americans experiencing it in their lifetimes, according to the National Library of Medicine. For many people, a strained muscle or poor posture causes temporary aches. For others, like Bassett or Carson, the pain becomes a problem they grapple with throughout their lives.
"Dennis' story is very common to many patients who have chronic lower back pain, which I prefer to call 'persistent lower back pain' because I think 'chronic' implies a sense of despair that we don't have options — when, in fact, there are options," Patel tells TODAY.com.
"Over the years, we saw that (Dennis') activity had just been limited," she adds. "He would avoid activities. … He had this pain that would come and go and sometimes respond to interventional pain treatments and physical therapy, but not always."
One MRI showed that Bassett's multifidus muscles, which stabilize the spine, were not working as they should. Even when he did core-stabilizing exercises during physical therapy, for example, he wasn't successful because his multifidus muscles didn't activate.  
Patel thought Bassett could benefit from Reactiv8, a device that rests near the spinal column that doctors place under the skin. Twice daily, Bassett would need to turn it on for 30 minutes.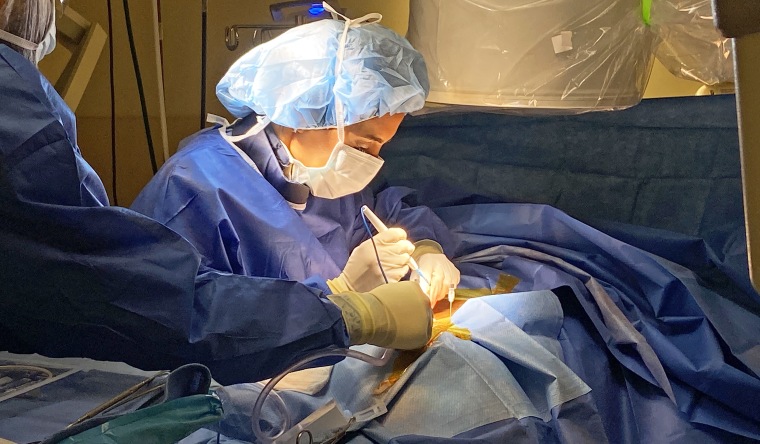 "It's almost like a spark plug, if you will, which gets the multifidus muscle firing," Patel says. "Then we're able to strengthen it over time."
"We have three years of data showing that patients who use this device, not only are they more functional, they report less pain," she continues. "Also, 50% of them are able to eliminate opioids."
"Quality of life"
In July, Basset received his Reactiv8. Soon, he noticed a difference.
"I feel way better than before," he says. "To me, it's a success because I have a much (better) quality of life than I had a year ago."
One of the biggest problems he's encountered so far is overdoing it. He feels so good now that he forgets he can still hurt himself. But if he does, it doesn't prevent him from doing things for too long. Just 30 minutes with the device means he can walk the next day with little pain.
Since getting the Reactiv8, "I've done lots of things — lay sod, put a big fence around my yard, things I could never do before," Bassett says. He hopes that the more he uses the device, the better he'll feel.
Patel says that after consistent use, some people find they don't need to use the Reactiv8 twice a day or even at all, in some cases.
For now, Bassett's enjoying life. He took his grandchildren trick-or-treating last Halloween and enjoys joining his family for fun activities that he was often in too much pain to do before.
"I was able to walk farther," he says. "It changed my life."