Welcome to Start TODAY. Sign up for our free Start TODAY newsletter to receive daily inspiration sent to your inbox.
When it comes to sticking with a healthy eating plan, meal prep is key. After all, who has hours to spend in the kitchen? That's why this week's lunches and dinners utilize meal-prep tricks that cut down on time like one-pan meals and pre-made ingredients — hello, rotisserie chicken!
You'll see that breakfasts involve some make-ahead meals and some morning-of options. Lunches include leftovers and simple-to-assemble ideas. We've offered four different dinner options and we'll save you from cooking one night by making enough for leftovers the night prior.
We even have the perfect salad to bring to your Memorial Day barbecue! Let's dig in.
What to Eat This Week, May 29, 2023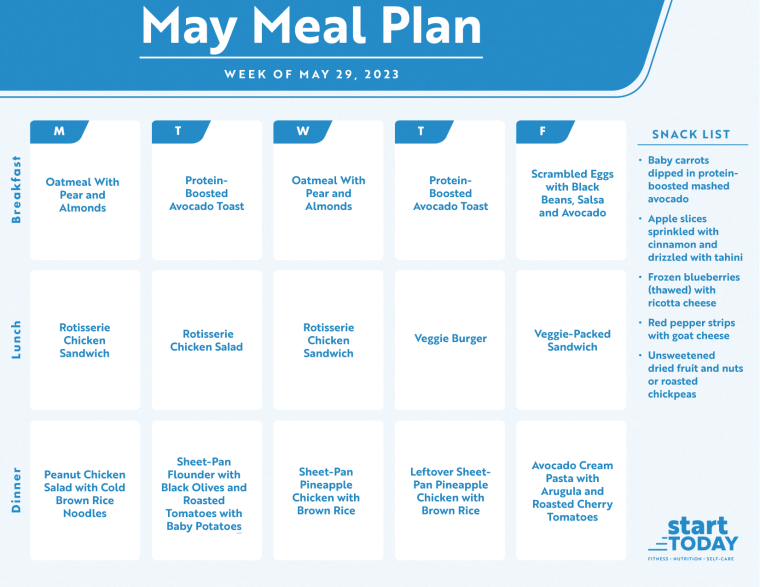 >>Download and print the meal plan
Monday
Breakfast: Oatmeal with Pear and Almonds
Lunch: Rotisserie Chicken Sandwich
Dinner: Peanut Chicken Salad with Cold Brown Rice Noodles
Snack of choice
Tuesday
Breakfast: Protein-Boosted Avocado Toast
Lunch: Rotisserie Chicken Salad
Dinner: Sheet-Pan Flounder with Black Olives and Roasted Tomatoes with Baby Potatoes
Snack of choice
Wednesday
Breakfast: Oatmeal with Pear and Almonds
Lunch: Rotisserie Chicken Sandwich
Dinner: Sheet-Pan Pineapple Chicken with Brown Rice
Snack of choice
Thursday
Breakfast: Protein-Boosted Avocado Toast
Lunch: Rotisserie Chicken Salad
Dinner: Leftover Sheet-Pan Pineapple Chicken with Brown Rice
Snack of choice
Friday
Breakfast: Scrambled Eggs with Black Beans, Salsa and Avocado
Lunch: Veggie-Packed Sandwich
Dinner: Avocado Cream Pasta with Arugula and Roasted Cherry Tomatoes
Snack of choice
Breakfast
Starting your day with a protein-rich option keeps you fuller for longer and tames cravings later on. Here are some quick and easy ways to pack protein into your morning meal.
Protein-Boosted Avocado Toast
Mash white beans or chickpeas into avocado. Spread on whole-grain toast and top with an egg, cooked any style.
Serve with lower-sugar Greek yogurt mixed in or on the side.
Microwavable Scrambled Eggs
Top with salsa, black beans and avocado slices.
Lunch
Rotisserie chicken is the multi-tasking ingredient of the week. Remove the skin and pull the meat off the bone to use in sandwiches and salads. A typical rotisserie chicken yields 3-4 cups of meat.
If you're a vegetarian or trying to reduce your meat consumption, use rinsed and drained canned beans instead (like we do on Friday). When making your grocery list, be sure to add plenty of veggies to serve in salads and alongside sandwiches.
Rotisserie Chicken Sandwich
Spread whole-grain bread with mayo and grainy mustard and stack with rotisserie chicken, lettuce and tomato. Serve with veggies on the side. For a vegetarian option, use mashed chickpeas.
Rotisserie Chicken Salad
Mix rotisserie chicken, chopped celery, and golden raisins with mayo and dijon mustard. Scoop mixture over salad greens and add any veggies of your choosing. Sprinkle with seeds (such as sunflower seeds) or crushed nuts.
Don't want to buy a rotisserie chicken? Make your own:
Veggie-Packed Sandwich
Mash some rinsed and drained canned chickpeas into store-bought hummus. Spread the mixture over 2 slices of toasted whole-grain bread. Layer jarred, roasted red peppers and baby spinach between the two bread slices and fold into a sandwich. Serve with some baby carrots.
Dinner
This week's dinner menu features nutritious meals that are anything but boring. From tangy pineapple chicken to briny flounder to creamy pasta, there's something for everyone. If you like a lot of variety, make one per night. If you'd prefer to cook less, double (or triple) a recipe to serve later in the week. You can also look back at the recipes from our previous weeks to add a different dish to your menu. Make sure to take note of any suggested sides to keep your meals balanced.
Get loads of veggies — and the spectrum of nutrients they provide —in this hearty main dish salad. You can take numerous shortcuts to streamline hands-on time, like using a rotisserie chicken and pre-shredded cabbage, Brussels sprouts and carrots. Make extra dressing and serve with cold brown rice noodles.
This colorful meal is a feast for your belly and your eyes. To make this more quickly, chop the red peppers in advance, and make extra to eat for snacks during the week. Also, buy pre-cut pineapple. Serve over brown rice (fast options include frozen and microwavable brown rice) or a blend of brown rice and riced cauliflower.
Briny, salty olives and roasted tomatoes give this dish Mediterranean vibes. Serve with roasted baby potatoes — also called creamer potatoes — which you can find ready-to-cook in most grocery stores.
Avocado brings the creaminess to this dairy-free pasta dish. Since this meal is light on protein, we recommend using chickpea or lentil pasta to make it more filling and balanced.
Snacks
Snacks that contain whole food sources of protein and fiber offer a winning formula that keeps you full for hours. Here are a few ideas:
Baby carrots dipped in protein-boosted mashed avocado. To make the dip, mash chickpeas or white beans into avocado.
Apple slices sprinkled with cinnamon and drizzled with tahini.
Frozen blueberries (thawed) with ricotta cheese.
Red pepper strips with goat cheese.
Unsweetened dried fruit and nuts or roasted chickpeas.