Welcome to Start TODAY. Sign up for our free Start TODAY newsletter to receive daily workouts and inspiration sent to your inbox. Then, join us on the Start TODAY Facebook group for tips and motivation, to connect with others following the plan — and to get real-time advice from trainer Stephanie Mansour!
Al Roker's fitness journey has been an inspiration to many because he hasn't just survived or overcome health obstacles, he's used them as stepping stones. His commitment to his walking practice has made him into a bona fide fitness influencer. Recently, Al had a few scary health experiences and his walking practice was impacted, but yesterday he had his "best day yet."
Despite struggling with his knee — which he has a replacement surgery schedule for in April — Al walked over 13,000 steps. In his Instagram post, he thanked the Start TODAY family for supporting him through his difficulties. Al Roker's walking routine has been a massive inspiration for the hundreds of thousands of people who participate in our 30 day walking challenges — aka the Start TODAY family.
On the show that aired March 28th, 2023, he said that he accomplished that impressive step count through a combination of walking outdoors and using his treadmill. It turns out that Al has a treadmill in his dressing room so he can fit in steps while he preps for the show — and he even mentioned being on a treadmill during the TODAY show staff's morning meeting.
Al seemed a little surprised by the number of steps he was able to get in yesterday. That's likely because instead of trying to do all his steps at once, he broke them up into pieces throughout the day. This kind of "exercise snacking" has been shown to be an effective way to boost your health and decrease stress.
This follows exactly a week after Al had his first 10,000 plus step count day. On March 21, he posted on Instagram sharing that it had been the first day in a while that he's felt really good about his walking routine.
"Before my left knee went south, a 10k+ step day was no big deal," Al posted. "Today was the first day, I felt good walking this much." Thousands of people have like the post and hundreds of people sent their congratulations in the comments. And that's not even counting the 150,000 people in the Start TODAY Walking Challenge Facebook Group that are cheering him on!
Al had a knee replacement 22 years ago, and recently he's had some scary health complications. First, Al was sick with COVID in September 2022. Then, America's favorite weatherman was hospitalized again in November for blood clots in his legs and lungs and had his gallbladder removed.
When Al was finally able to return to the TODAY show after a weeks-long absence, he credited his recovery to his fitness habits. "My doctor said the physical condition I was in because of the walking — because of the cardio — that probably helped save my life," he said on TODAY in January.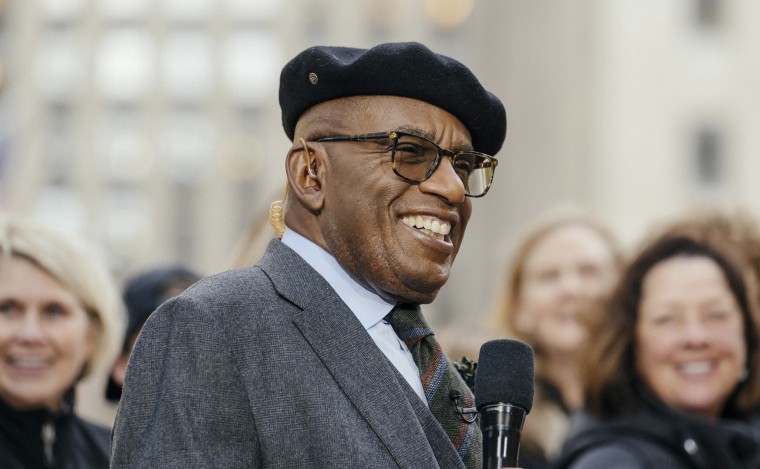 Al has been transparent about his own struggles as a way to help others combat their own. "Whatever you do to start moving, to start getting up and doing stuff — it doesn't matter how much or how little as long as you're doing something — that makes a big difference," Al said.
Al's positivity — even in the face of setbacks — is legendary. His advice to anyone who wants to start walking but doesn't feel like it? "Talk to yourself," he told TODAY.com in April 2022. "How are you going to feel not going out to walk compared to how good you'll feel after getting out there?"
Al also shared on Instagram what's next in his health journey. "The knee replacement of this 22 year old knee replacement is just around the corner," he wrote.
When Al hit his 200-day walking streak in August of 2022, he told TODAY.com that one of the most important things he he has done to stay motivated is remove the word "only" from his vocabulary.
"Stop using the word only. So many of you on our (Start TODAY) Facebook page were talking about, 'Oh, you only did this, you only did that,'" he said. "The fact is, you got it done, you made it happen, and that's what counts."
We celebrate Al's 13,677 step day and look forward to the multitude of ways he continues to inspire us!