Leonard Nimoy became famous for a character who was out of this world, but he succumbed to an illness all too common in real life. The respected and revered "Star Trek" actor spent his final year urging people to learn from his mistakes and quit smoking.
Nimoy died Friday of end-stage chronic obstructive pulmonary disease, which he had revealed a year ago. He was 83.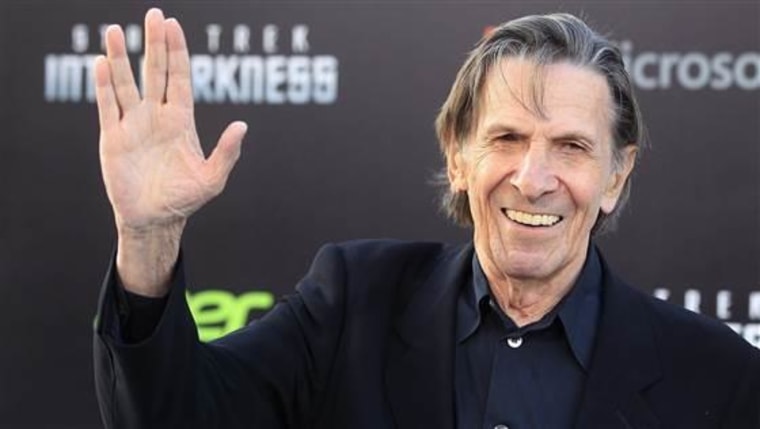 COPD — an umbrella term for a number of lung diseases, which includes emphysema — is the third leading cause of death in the U.S., according to the American Lung Association. More than 80 percent of cases are caused by smoking.
Nimoy went public with his diagnosis a year ago in a series of tweets that revealed his struggle with cigarettes.
It's not uncommon for a person to develop COPD years or decades after quitting smoking, said Dr. Norman H. Edelman, a senior consultant for the American Lung Association.
"One of the devastating things about COPD is once you put the process in motion, it continues even when people stop smoking. It's exceedingly frustrating not only to lung doctors, but to patients," Edelman told TODAY.
"It seems that the body just wants to continue that low-grade inflammation, that narrowing of the airways even when the primary irritant is gone. You've just set up a destructive cycle."
Still, he was quick to urge people to stop smoking as soon as they can, noting that Nimoy lived for more than 30 years after he quit. If he had continued to smoke, the damage to his body would have progressed much more rapidly, Edelman said.
Research shows that even elderly patients with COPD who put away cigarettes will improve their quality of life and may also live longer, he added.
Up to 24 million Americans may have COPD, according to the American Lung Association, although awareness of the disease is not high as smoking-related lung cancer or heart failure. Symptoms include a chronic cough and shortness of breath while doing routine activities. Edelman has seen patients get out of breath just by trying to comb their hair.
There is no cure, though drugs can dilate the airways to help patients breathe better, Edelman said. Some people receive oxygen therapy, while others get surgery. In very selective cases, people with advanced COPD have received lung transplants, Edelman said.
He echoed Nimoy's appeals to smokers to put away cigarettes.
"First and foremost, quit smoking," Edelman said. "It's very hard to quit by yourself and most people have to try to quit several times… (but) there's no question that quitting is helpful at any stage of the disease."
The American Lung Association offers tips and advice to help smokers quit.
Celebrating Leonard Nimoy: 5 lessons that Spock taught us
Follow A. Pawlowski on Google+ and Twitter.
This article was originally published Feb. 27, 2015 at 4:43 p.m. ET.