Designer Kate Spade's death at 55 came as a shock to friends, family and fans as more details emerged about her apparent suicide.
"She was so sharp and quick on her feet. She could make me laugh so hard. I still can't believe it. Its a rough world out there people, try to hang on," her brother-in-law David Spade shared on Instagram.
Spade's death highlights a worrisome trend in the United States: Women are dying by suicide at an increased rate.
"It is unfortunately true," Dr. Christine Moutier, chief medical officer of the American Foundation for Suicide Prevention, told TODAY. "You are going to be hard pressed to not find a group from 1999 to 2016 without increased suicide rates."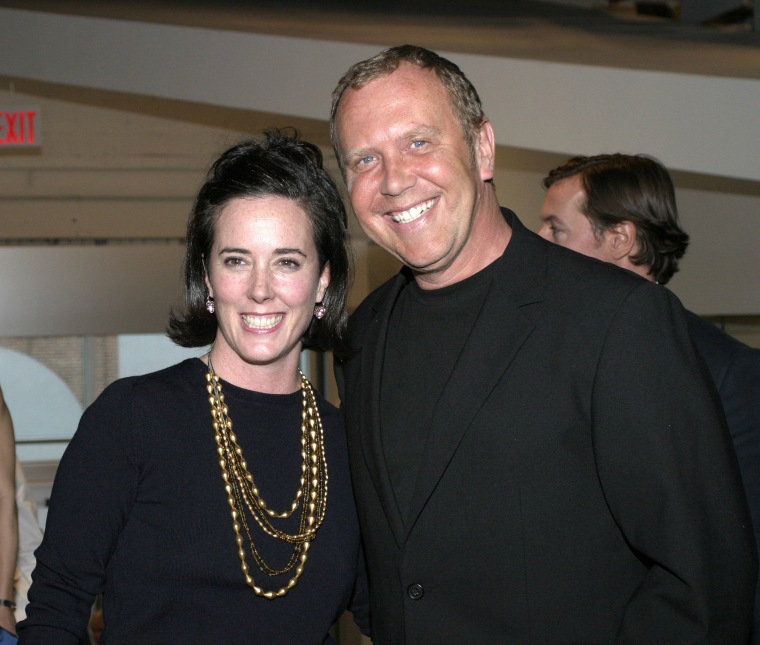 Since 1999, suicide rates in the United States have increased 24 percent overall and the number of middle-aged women dying by suicide is also rising. The suicide rate for non-Hispanic white females, ages 45-64, was 80 percent higher in 2014 than 1999, three to four times higher than for women in other racial and ethnic groups, according to the Centers for Disease Control and Prevention.
If you or someone you know is at risk of suicide please call the U.S. National Suicide Prevention Lifeline at 800-273-8255, text TALK to 741741 or go to SpeakingOfSuicide.com/resources for more additional resources.
The American Association of Suicidology said in a statement that 28 women die by suicide every day in the United States, with more than 10,200 dying by suicide each year, citing CDC statistics.
From 1999 to 2016, there was almost a 128 percent increase in death by suicide in women between 45 and 64, with 4,253 women from this age group dying from suicide in 2016.
"There are probably some biological or socialization differences that set women up for a greater risk," said Moutier.
Regardless of demographic, people with multiple risk factors are more like to die by suicide. The factors include:
living with a mental health condition
having access to legal means to carry out death by suicide
experiencing life stressors, such as relationship or economic stress
But women face unique complications.
"Depression is more highly prevalent to women to men by almost a 2 to 1 ratio," said Moutier. "Major depressive disorder is the leading mental health risk factor for death by suicide and that is because depression leads to suicidal though."
Moutier estimates that as many as 25 percent of women with mood disorders face increased sensitivity because of changes in their physical health, such as fluctuation in hormones or thyroid function.
"That will trigger or exacerbate their symptoms," Moutier said.
In an email interview with The Kansas City Star, Reta Saffo, Spade's sister, explained that Spade experienced mental illness for years and had recently turned to alcohol to cope. Spade herself admitted to being a "very nervous person" in a 2017 interview with NPR. The family tried to get Spade help, but the designer rebuffed it, Saffo said.
"She perhaps had a plan but she insisted she did not," Saffo told the Star.
Having a plan to die by suicide is a warning sign that experts said should not be brushed off.
"Suicide is not a normal response to stress. Suicidal thoughts or actions are a sign of extreme distress, not a harmless bid for attention, and should not be ignored," Thea Gallagher, clinic director at the Center for Treatment and Study of Anxiety in the Perelman School of Medicine at the University of Pennsylvania, told TODAY via email.
Warning signs for suicide include:
Expressing a desire to die
Trying to find a way to kill oneself
Feeling hopeless or without purpose
Feeling stuck
Feeling unbearable pain
Worrying about being a burden to others
Using drugs or alcohol more
Behaving anxiously or recklessly
Getting too much or too little sleep
Isolating oneself
Acting vengeful or full of rage
Experiencing extreme mood swings
Moutier said it is important that people do not normalize such feelings by thinking they are just part of life.
"We write off too much," she said.
That's why people should seek help if they experience any symptoms.
"There is stigma attached to seeking mental health treatment," Dr. Holly Swartz, a professor of psychiatry at the University of Pittsburgh, told TODAY. "(But) it is a medical illness and it requires medical treatment."
The experts agreed talking to a person who is experiencing suicidal thoughts and listening to them without judgment can help that person.
"It can be reassuring to talk about one's thoughts and fears about suicide," Swartz said. "If you are really worried that someone has thoughts and intentions recommend they talk to their doctor and look at what might help them get treatment."