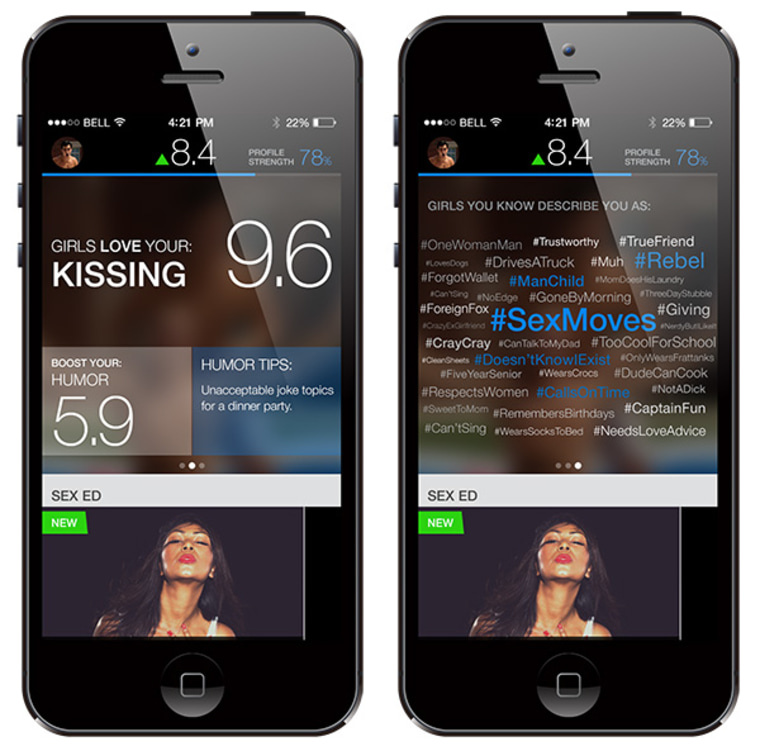 I'm a 7.3. That is my official rating on Lulu, which is kind of like Yelp, except women rate men instead of Thai restaurants.

Not that they can write detailed reviews of dates. Comments are limited to snappy hashtags like #ForgotWallet or #DudeCanCook. Someone deemed me #OneOfTheGoodOnes, which is no #AbsLikeGosling, but I'll take it. (Note: I made that last one up. Feel free to use it, Lulu).
When the app launched, men would beg their female friends to sign up so that they could see how they stacked up. Nearly one out of every four new sign-up attempts in the early days were dudes trying to sneak a peek at their ratings. These past few months, for the first time since Lulu launched in 2013, men have been able to sign up for themselves, giving them access to all kinds of romantic feedback.
"Guys wanted in on the action," Deborah Singer, Lulu's director of marketing, told NBC News. "It's natural for men to want to know what women are saying about them."
So, what can men learn from Lulu? The company calls it "personalized analytics," where guys can break down their appeal by vertical. For example, I received an 8.0 rating for "Humor," which means my Warner Herzog impression could finally be paying off. Less impressive was my 6.5 rating in "Look & Style."
Lulu insists that it's all constructive criticism, and maybe it is, considering I'm a pretty big fan of homemade jorts. The goal of the app is to "keep the tone positive," Singer said, by structuring women's responses — there is no open-ended criticism, only multiple-choice quizzes and set hashtags.
Still, slapping someone with overall score could seem kind of crass. Lulu is not the only one doing it. OKCupid members who pay $9.99 for an A-List membership can sort potential dates by attractiveness, as determined by user ratings. Of course, those on the dating market have been arbitrarily ranking each other by looks, salary and social status long before the Internet came along.

"People have been quantifying each other throughout history," Harry Reis, a University of Rochester psychology professor who has published research on online dating, told NBC News. "It's an essential part of human nature."
These days, however, those opinions can be easily found by anybody with a smartphone. Lulu recently made the switch from letting women rate any of their Facebook friends to only guys who have signed up for Lulu, thus eliminating some tricky moral questions about ranking people without their consent. So far, Singer said, around 1 million guys have signed up.
Despite some raised eyebrows from men, it's women who should not take the ratings too seriously, Reis, the professor, said. Well, at least for now.
"When there are a small number of ratings, it's easy for a few extreme cases to manipulate the numbers," he said. "It's the same thing that happens when your friend reviews your book on Amazon."
In other words, that handsome dude with a 9.0 rating could be a creep who got his sister to give him a good review. Conversely, some poor sap with a 4.5 rating could be the victim of a single angry ex.
Many of the women who use Lulu, Singer said, think of it as a complement to dating services like OKCupid or Tinder — a place to check if someone seems like a half-way decent guy or a total head-case before meeting him for a drink.
Those who cringe at anything less than numerical perfection, however, could be missing out. That is because numbers can't convey that mysterious quality known as compatibility.
"You might be a poor match with 20 people, but you might be a great match with two others," Reis said. "If those first 20 give you terrible ratings, the other two might never be able to find out that you are a great match for them."
Is it better to walk into a date blind, with zero expectations or preconceived notions? Or is a quick glance at their rating and some light Google stalking the way to go? The former might seem more romantic, but curiosity usually wins out. Now all guys have to do is opt in. 
Keith Wagstaff writes about technology for NBC News. He previously covered technology for TIME's Techland and wrote about politics as a staff writer at TheWeek.com. You can follow him on Twitter at @kwagstaff and reach him by email at: Keith.Wagstaff@nbcuni.com