One woman who has a lot to say about rape is Katie Koestner. Koestner ignited a media firestorm in 1990 when, after being sexually assaulted by a college classmate who was never prosecuted, she spoke out nationally about date rape. In 1991, she appeared cover of TIME magazine. Koestner shares her thoughts about the Stanford rape case, how sexual assault victims are re-traumatized and the disturbing question people still ask her.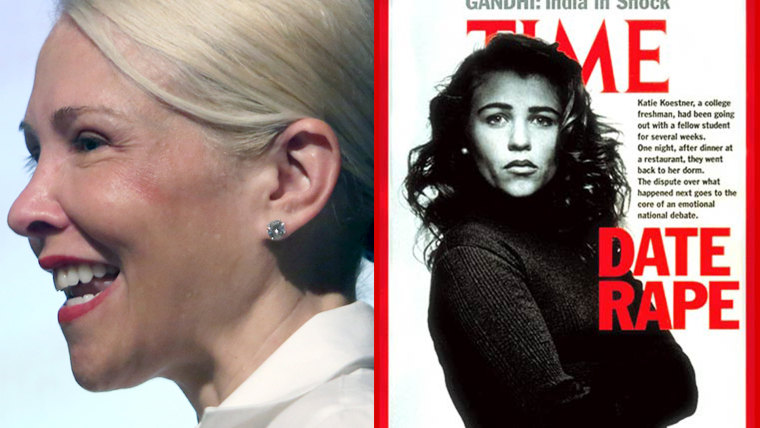 I didn't open my eyes until his weight was off of me that night. Like for 12 minutes. Or, maybe 20 minutes.
Hmmm. "20 minutes of action."
It seems we need to start considering how long it takes the sex offender to commit the crime, so appropriate sentencing can occur.
Last week, a sexual assault victim's letter to the former Stanford student who raped her went viral when he was sentenced to just six months in jail after being found guilty of three charges of felony sexual assault. When the judge said a longer prison sentence would have a "severe impact" on Brock Turner, outrage exploded. Soon after, Turner's father released a statement lamenting that the sentence was a steep price to pay for "20 minutes of action."
If the district attorney had agreed to prosecute my rapist, AND the jury had decided my rapist — an elite college athlete with abundant financial resources and good looks — was guilty beyond a reasonable doubt, he likely would have been sentenced to a 10-minute power nap in the jail.
RELATED: Brock Turner rape case: Court docs show history of drug, alcohol use
But it was 1990 and my district attorney didn't think I had enough evidence to bother with prosecution.
My rapist was found responsible in a closed-door, seven-hour college hearing by the school administration. He admitted I had told him, "No," more than a dozen times that night in my dorm room. The dean found him guilty.
His punishment? He was banned from entering my dorm for the rest of the semester. However, the dean's off-the-record recommendation was that we should "get back together in the spring semester after our little tiff, because he really likes you a lot and you make a nice couple."
RELATED: Viola Davis shares heartbreaking story of sister's sexual assault
My story is different from Brock Turner's victim.
Different, but not really that different. Indeed, my college, William & Mary, is in southern, colonial Williamsburg, Virginia. Stanford is in sleek, tech-savvy Palo Alto, California. The stark similarity is the plot line we went through after the initial crime. And, this is nearly universal for every woman who has been a victim of sexual assault.
I hear an average of ten stories of rape at every school I visit to share my story, and repeatedly hear how they feel re-traumatized by the system and people they face afterwards. This is true for those who have been raped, sexually assaulted, abused, degraded, harassed, stalked or otherwise harmed by sexual violence.
We are all scrutinized for how we could have possibly let this happen to us.
We're challenged on whether we weren't smart enough, bold enough, strong enough, demonstrative enough. And asked, why we didn't fight for our lives? People always say, "How bad could it have been? If somebody tried to rape me, I know what I would have done. I would have killed the guy, or died trying."
RELATED: Lady Gaga reveals family learned of her sexual assault during Oscars performance
Turner and nearly all of our perpetrators are never asked about why they didn't make sure that we were comfortable, consenting, agreeable and sober enough to make our own choices.
When I read the impact statement written by Brock Turner's victim, I felt that weight on me again.
It comes and goes. When I share my story across the country with a group of college or high school students, there is a predictable audience question: "When did you get over it?"
That would be like asking someone whose sibling was killed in a car accident — "When did you get over it and stop letting losing your sister affect your life?"
There is no getting over it or moving on.
When Turner's father wrote, "His life will never be the one that he dreamed about and worked so hard to achieve. That is a steep price to pay for 20 minutes of action out of his 20 plus years of life," I thought, none of our lives will ever be the ones we dreamed about. None of us who have been raped.
RELATED: Stopping 'rape culture' starts with parents...earlier than you think
When the brave, bold woman who wrote her spectacularly powerful victim impact statement is ready to start her speaking career, I know she will have an ovation from survivors everywhere.
Dear fearless gazelle, thank you for letting us know you are with us. I want to you to know we are with you too! Know that healing is a lifelong process.
You are not alone in the journey.
And, for all who are signing petitions against injustice, feeling outraged or speaking out: I invite you to get involved. You can participate from anywhere in the world in the first ever International Summit to End Sexual Violence. Post your story. Join a Hurt to Healing Survivor Support web chat this month, whether you are a survivor or supporting someone in their healing. Walk with survivors and support in the powerful, public path of a Take Back The Night event this fall.
Collectively, we stand united to support victims and shatter the silence on sexual violence!
Learn more: EndSexualViolenceSummit.org and TakeBackTheNight.org
By Katie Koestner, author, public speaker, activist, and executive director of the Take Back The Night Foundation