Ryan Weimer dreams big. For the last few years, the Oregon dad has created elaborate Halloween costumes for his young son Keaton, who uses a wheelchair. This year's ambitious plan sprouted a Kickstarter fundraising campaign that has turned into something even greater.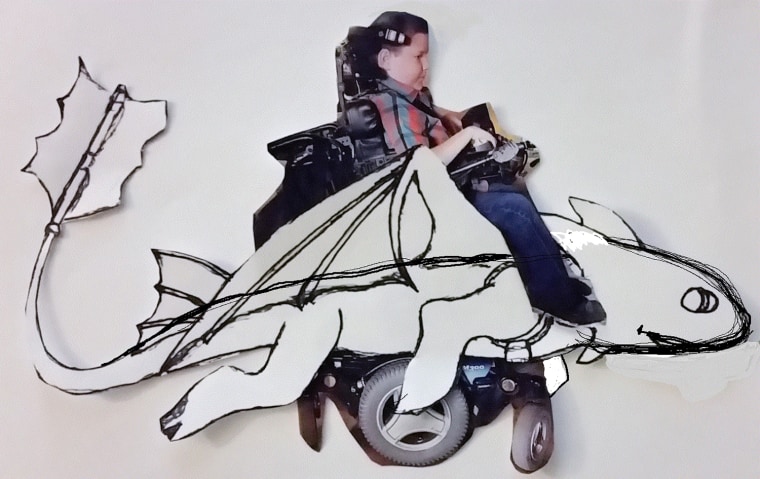 In addition to quadrupling his fundraising goal and touring the DreamWorks facility that helped create the "How to Train Your Dragon" character that inspired the costume, Weimer now plans to create a nonprofit that will allow him to create costumes for other children with special needs.
Related story: Amazing wheelchair costumes will make you smile
"It's just like the same thing anybody would do for their kids: dress them up for Halloween," he told TODAY.com. "For me, it's just what we do, but for other people, it's this really amazing thing.'"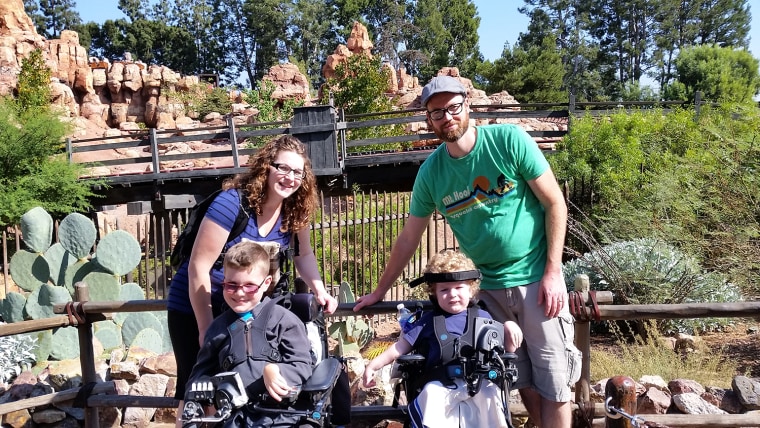 Ryan and his wife Lana, who live in Keizer, Oregon, haven't had it easy. In addition to raising two sons — Keaton, 9, and Bryce, 2 — with a rare kind of muscular dystrophy called spinal muscular atrophy, they've lost two other children. 
Their daughter Addison, who also lived with the genetic condition, died in 2011, just days before her third birthday; and a third son, Eston, died at birth.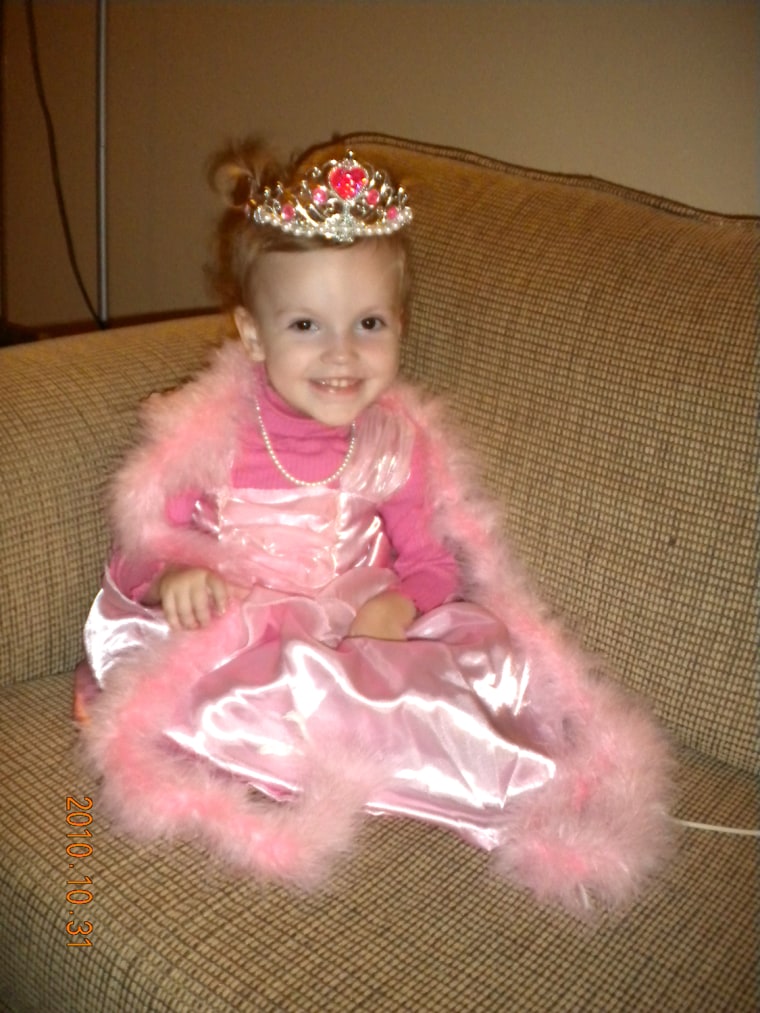 Since people who live with spinal muscular atrophy often don't live past their teens, Weimer said he's doing what he can to give his children the best lives possible. Part of that involves investing his energy and hundreds of dollars each year into building ornate Halloween costumes for Keaton. (Bryce also uses a wheelchair, but is too young yet to care about costumes.)
It all started in 2008, when the self-described "nerdy nurse with an imagination" created a three-dimensional wooden pirate ship around Keaton's wheelchair. Next came an elephant in 2009; a dinosaur in 2010; a "Mighty Morphin Power Rangers" character in 2011; and a knight riding a horse in 2012. (Ryan got a reprieve last year, when Lana sewed a simpler "Pokemon" character costume for Keaton.)
"Every year, I ask my son what he wants to be," Weimer said, "and immediately, I'm like, 'Holy crap. How am I going to make that?'"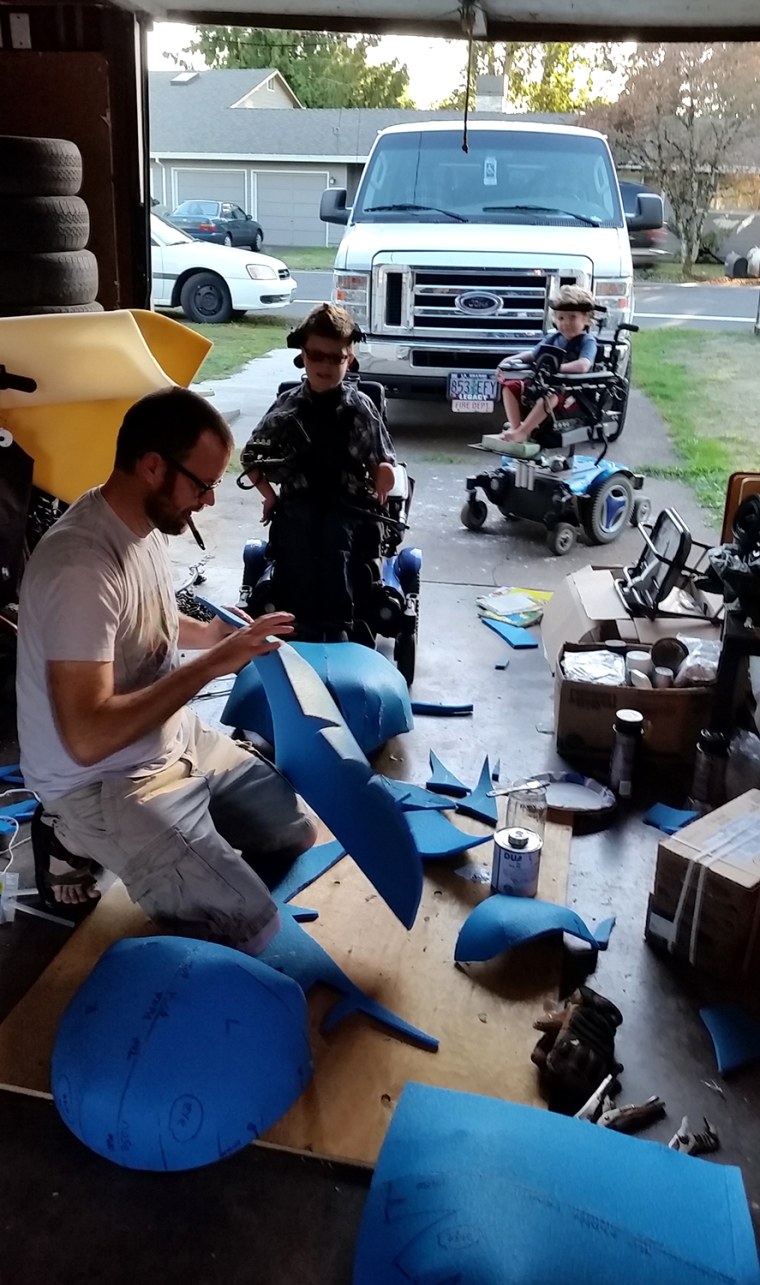 This year, when Keaton requested a costume of Toothless — a character from the "How to Train Your Dragon" movies — Weimer stumbled upon the website for the Stan Winston School of Character Arts, which provides visitors with detailed tutorials of how to build characters of all shapes and sizes. That studio is responsible for characters that appeared in many blockbuster movies, including "Jurassic Park," "The Terminator" and "Iron Man."
Weimer also created a crowd-sourced fundraising campaign on Kickstarter, complete with a video of both his impressive costumes and emotional family story.
"Each year our ability to make cooler, more epic projects improves, but there is a limit to what we can do with just our resources," he wrote on his Kickstarter page. 

Things quickly escalated when a local newscast picked up the story. By the Sept. 30 fundraising deadline, 226 backers raised $6,454 for the cause, crushing Weimer's $1,500 goal.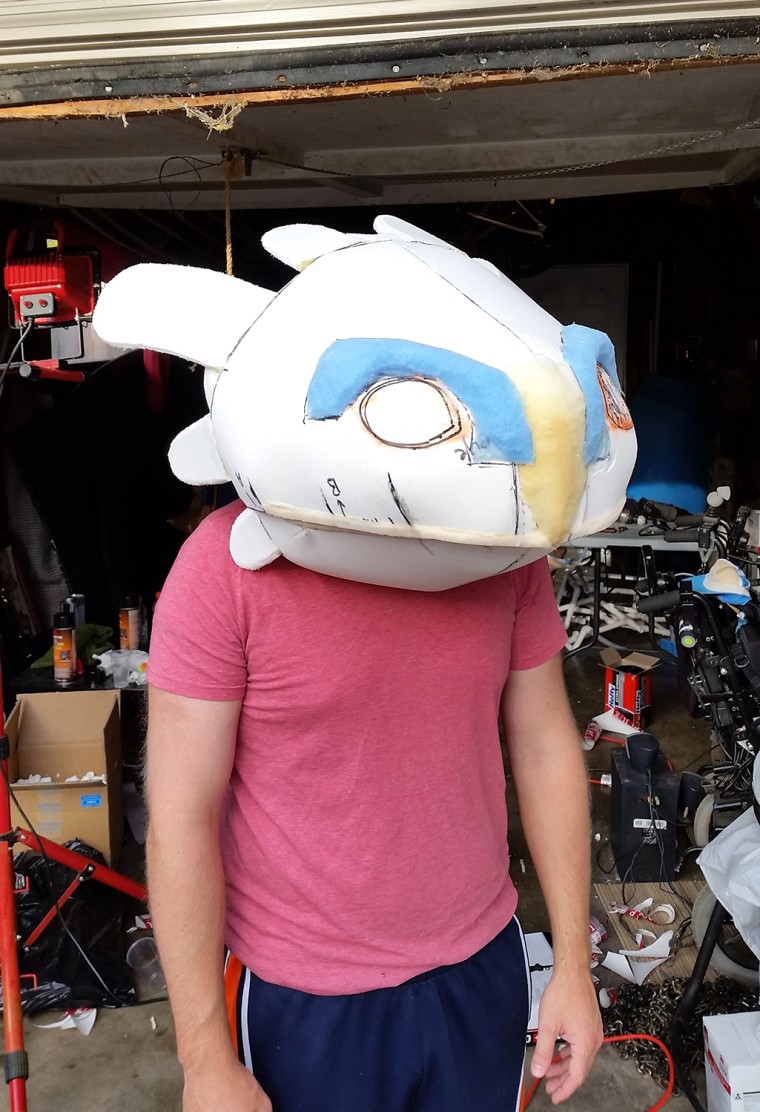 "It's just amazing and humbling, just people coming out of the woodwork to help," Weimer said.

When the costume builders at the Stan Winston School of Character Arts heard about Weimer's project, they reached out to offer not only personalized tips and tricks, but also an invitation to the Weimer family to visit their facilities in Los Angeles as part of a week-long vacation paid for by DreamWorks Animation and Twentieth Century Fox Home Entertainment.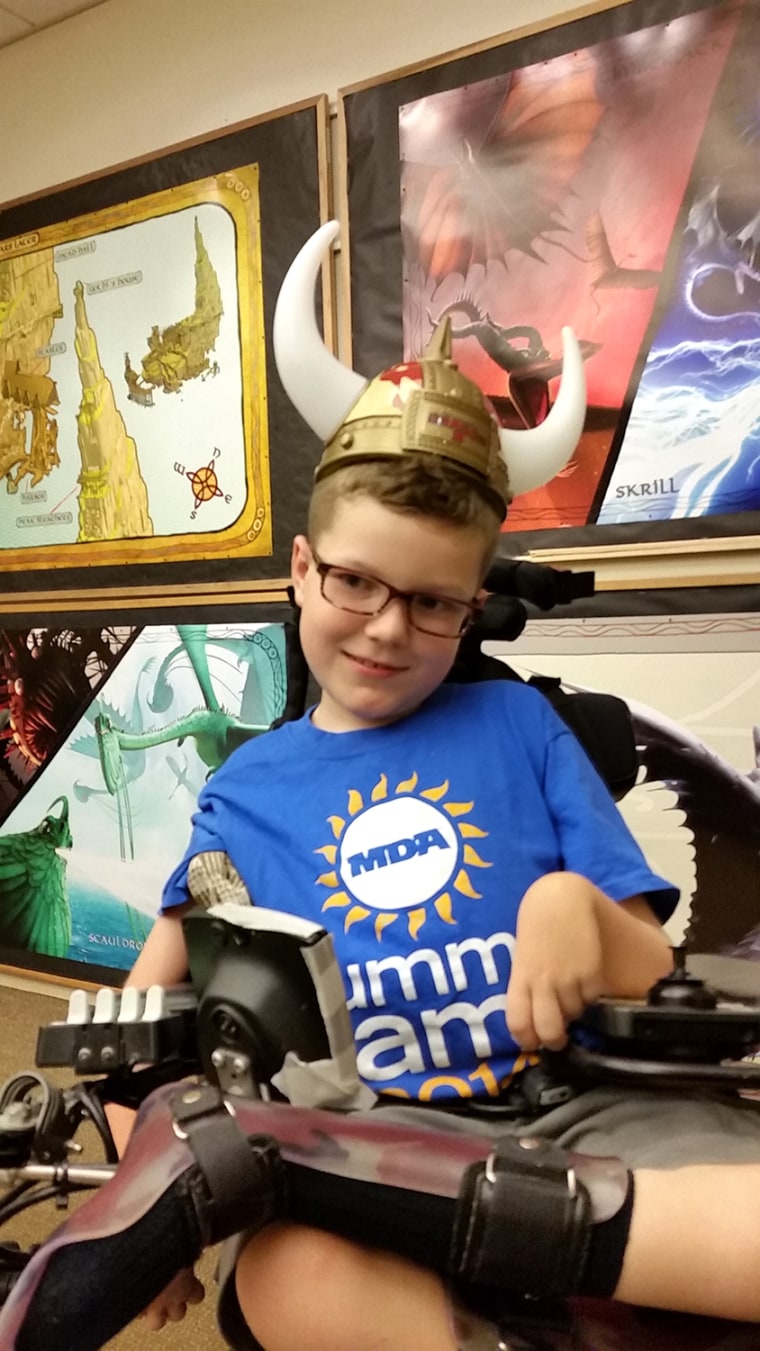 "[That was] an absolutely once-in-a-lifetime visit," Weimer said of the family's recent trip, which included tours of DreamWorks and classes at the Stan Winston School. "It was truly amazing for all of us."
Erich Grey Litoff co-founded the school with his brother-in-law, Matt Winston — the son of the school's late namesake, who won four Academy Awards for special effects and makeup. Litoff told TODAY.com he and his staff were thrilled to share their time with the Weimer family.
"[Their] story is heartbreaking and inspirational," Litoff told TODAY.com. "[Ryan] is amazing. The whole family is incredible. We're just on the side, supporting them with whatever tools they need to get it done."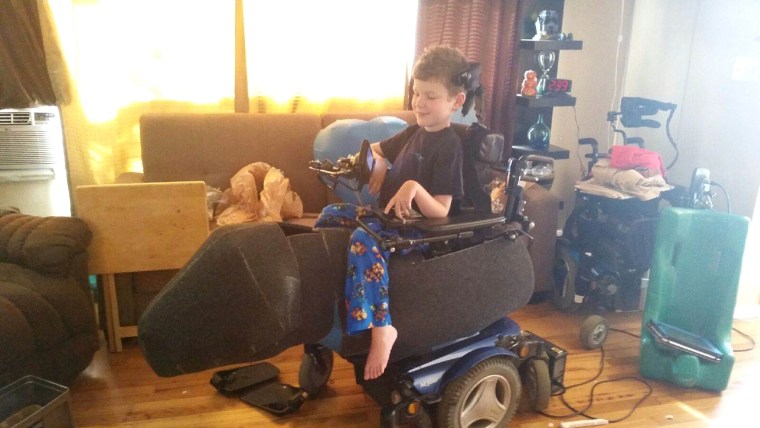 Said Weimer of the photo above, "That smile on his face, that says it all. When you see Keaton on Halloween be the coolest kid on the block — not because he's in a wheelchair, but because he's riding a super-epic costume — to me, that's priceless."
Weimer said all donations beyond the $4,500 mark will be the basis for a new nonprofit organization called Magic Wheelchair, which will build these kinds of costumes for other children in wheelchairs. The nonprofit's full website is expected to launch this week.

"I want people to look at my kids, not because they're different, but because they're amazing," he said. "And whatever I can do to try to create those opportunities [for other children] is what I want to do. And I'd love for other kids to be able to have that same experience. ... It's just an awesome opportunity for [kids] to be flying around on the dragon of their dreams."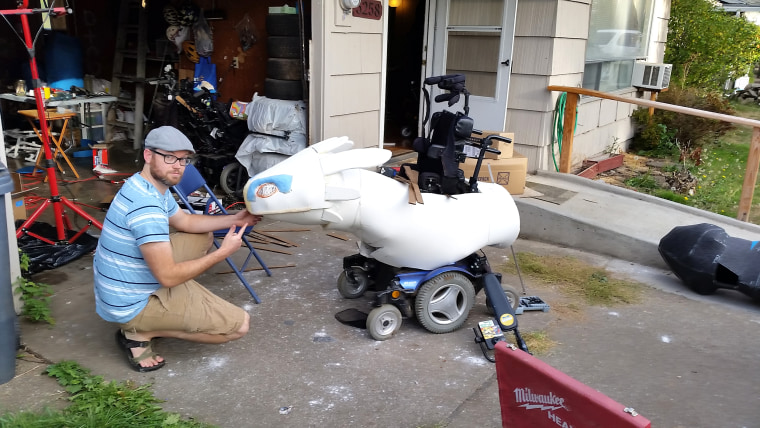 The Stan Winston School will continue to be there for Weimer. "We've offered him the training tools and the access to our material, and (invited him) to come down any time in person so he can have as much training as he can to build these things for kids in need," Litoff said.

There's more good news: Ryan and Lana are expecting another child in about three months, and this one does not appear to have inherited the condition.
"When we told Keaton that Lana was pregnant, he was hoping for a healthy baby," Ryan said. "He wanted to see a baby who can walk and crawl. He wants to see those milestones."

Follow TODAY.com writer Chris Serico on Twitter.