Like many superheroes, Aaron Purmort had a quick wit, touched the lives of strangers and battled a villain with all his might. In death, he also revealed his secret identity.
Purmort passed away just before Thanksgiving at the age of 35, some three years after he was diagnosed with brain cancer. Now his funny, whimsical obituary, which he wrote with his wife, is getting worldwide attention for exposing the "mild-mannered" art director as a famed crime fighter whose son would continue his legacy.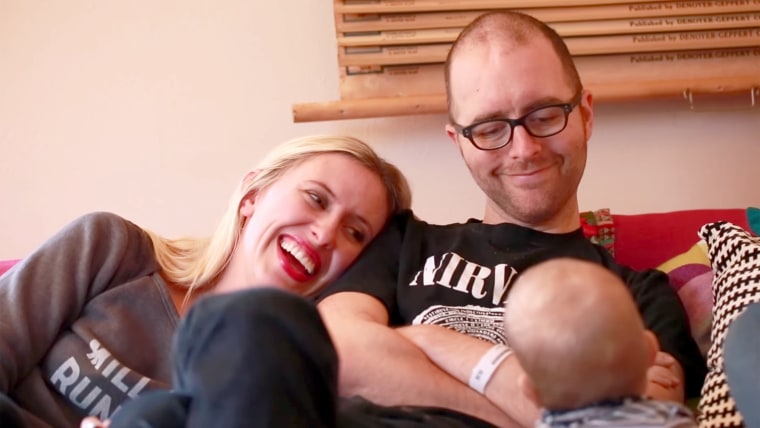 Purmort died peacefully at his Minneapolis home on Nov. 25 "after complications from a radioactive spider bite that led to years of crime-fighting and a years long battle with a nefarious criminal named Cancer, who has plagued our society for far too long. Civilians will recognize him best as Spider-Man, and thank him for his many years of service protecting our city," reads the obituary, published last weekend in the Minneapolis Star Tribune.

The tribute announces his son Ralph, who turns 2 next month, "will grow up to avenge his father's untimely death."

It also notes Purmort was "a comic book aficionado, a pop-culture encyclopedia and always the most fun person at any party and "always had the right cardigan and the right thing to say (even if it was wildly inappropriate)." He is survived by his "first wife Gwen Stefani" and "current wife" Nora.
"I've never laughed and cried more in one sitting, but I'm so glad we got to do this," Nora, who helped her husband pen the tribute, wrote in her blog.
The couple will be the subject of an upcoming documentary.
The unique obituary has touched strangers all over the country and the world, with condolences pouring in from as far as Italy, England and Australia.

Purmort was diagnosed with brain cancer in 2011 after suddenly suffering a seizure at work. He and Nora married the same year and welcomed their son in January of 2013. Still, the villain was always lurking in the background: Aaron's brain tumor was removed, but it came back.
There were two brain surgeries, countless chemotherapy and radiation treatments for Purmort, his wife wrote on her Facebook page. In her blog, she described the battle as "Aaron getting in the ring with the Mohammed Ali of cancers, and smiling for round after round after he got his teeth knocked out and his face rearranged."
Purmort died with Nora's head on his heart and her arms around him in a hospital bed, she wrote. A fundraising page has also been set up to help the family with medical costs.