A mother's desperate plea on Facebook for a kidney for her 2-year-old son reunited her with a high school classmate, who was willing to donate her kidney.
The donation, which takes place today, allows the boy's father, Ryan Wagner, to see his son, Miles, cured of a rare disease before he loses his own battle with stage 4 colon cancer.
"It means the world to me that Ryan gets to see Miles get a kidney," donor Elizabeth Wolodkiewicz, 31, told TODAY. "I am so happy to give Ryan more time with Miles, and for him to see his baby boy get healthy."
Wolodkiewicz went to high school in tiny Johnsburg, Illinois, with Ryan and Ashley Wagner. While they knew one another, they weren't close. But Wolodkiewicz followed Wagner's cancer diagnosis and Miles' battle with a rare kidney disease on the family's Facebook page, Team Ryan. When she realized she could help, she knew she had to do it.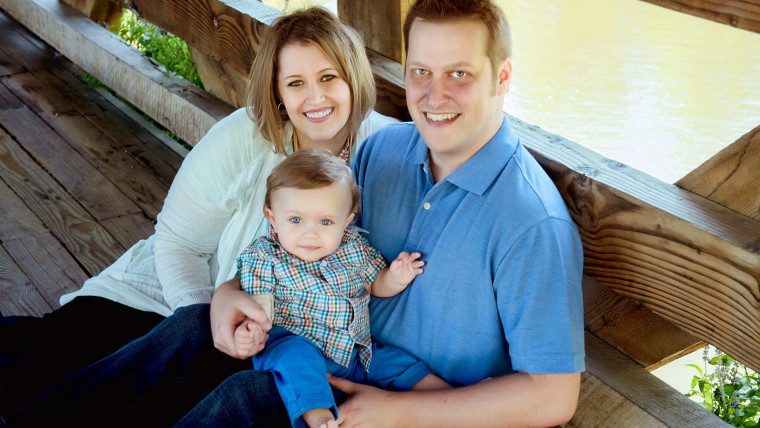 RELATED: Dying woman learns she'll have a granddaughter in emotional video
"I felt moved," Wolodkiewicz said. "It is also an honor to have been chosen to be a part of their story, especially a part of the 'good' in their story."
New beginnings and challenges
Ryan and Ashley Wagner were high school sweethearts, dated through college and got married in July 2013. That December, they learned Ashley was pregnant. But happiness quickly turned to sadness when they received unexpected news. Ryan — who thought he had been fighting a stomach bug — learned he had colon cancer. He was 29 and with no family history of it.
"It was a huge blow. It was really hard to digest and, of course, we were really hopeful that it was curable," Ashley, 33, told TODAY.
Only five months after the original diagnosis, they learned Wagner's cancer was stage 4 and that chemotherapy would not cure him. People with this type of cancer typically live for about five years.
"The reality of it was too much," said Ashley. "We have hard conversations and had to talk about things that we didn't think we had to talk about until we were like 60 or 70."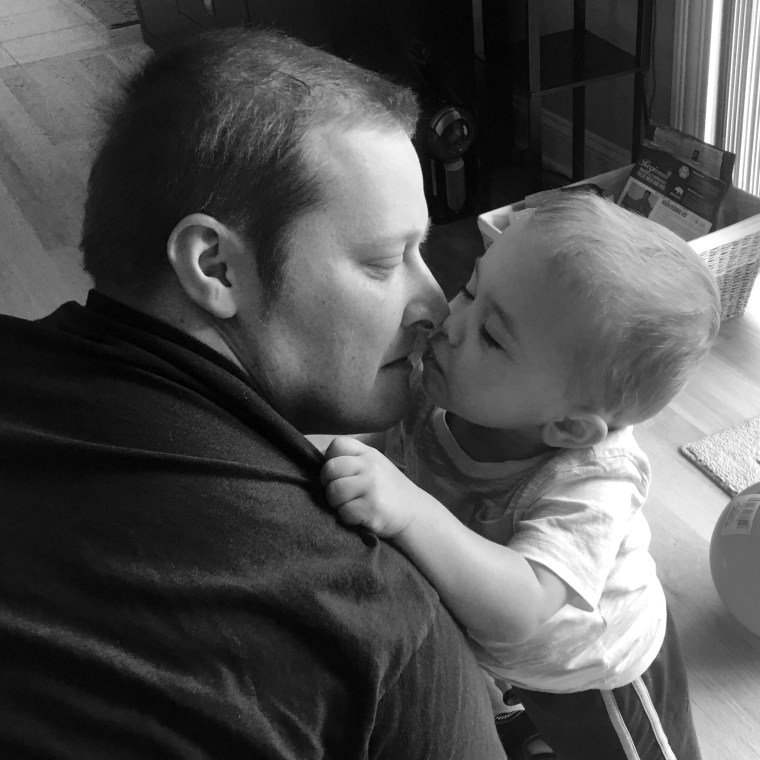 RELATED: 8-year-old boy dies one day after being made honorary U.S. Marine
In August 2014, Ashley gave birth to a healthy baby boy, Miles. Wagner, 32, drew strength from his son.
"Miles has given both us of, especially Ryan, more reason to fight," Ashley said.
After a month, the normally smiling and happy Miles became sick. Starting at 5 weeks old, he began spitting up. The pediatrician believed he had acid reflux and treated him with medication.
But his condition was worse than they realized. At 2 months old, Ashley witnessed Miles seizing.
"We rushed him to the ER and I was expecting something with the brain, but the fever was because of kidney failure," she said.
After doctors transferred Miles to Ann & Robert H. Lurie Children's Hospital in Chicago, the Wagners learned Miles suffered from primary hyperoxaluria, which affects roughly one in 100,000 people, according to Dr. Craig Langman, Miles' doctor.
People with primary hyperoxaluria lack the enzyme AGT, leading to an overproduction of oxalate, a type of sugar. The body can't break down oxalate and it floods the system, creating damage to kidneys and other organs.
"The body can't possibly get rid of it and, in Miles' case, it causes kidney failure," said Langman. "The only way we can replace this single enzyme that doesn't work is to replace the liver."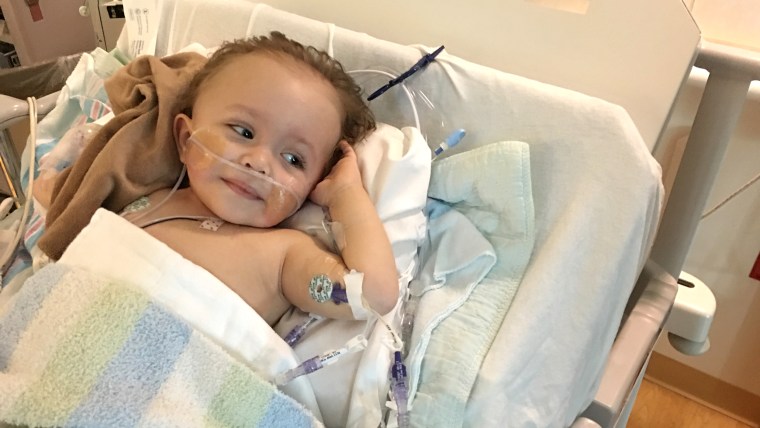 RELATED: Dying man marries fiancee in hospital, gets glimpse of unborn granddaughter
Doctors put Miles on the transplant list and he started dialysis five days a week while Ryan continued with chemotherapy. So far, Ryan's been through 71 chemo treatments.
"The hardest thing is watching Ryan go through this ... and there's not much you can do," Ashley said. "He was young, healthy and he worked out every day, and he jokes now that he feels like he is 90."
After 11 months, a liver became available and on January 29, 2016, Miles received it in a 12-hour surgery. But he faced complications, including the clotting of the main artery, and doctors thought he'd reject the liver.
But he bounced back and healed.
Doctors wanted Miles to have six months of stability before the kidney transplant, which ends his need for dialysis. But as he passed the six months, Miles had no compatible donors. And the Wagners worried.
A desperate plea leads to a reunion — and a kidney
"Is it on your bucket list to save a life?" Ashley posted on Facebook last summer.
She knew she sounded dramatic. But she couldn't watch Miles tethered to a dialysis machine for much longer and the wait for a kidney from a deceased donor could take six years.
"We were desperate," she said.
When Wolodkiewicz spotted the post, she thought: "Shouldn't it be on everyone's bucket list to save a life?"
She knew she could help Miles and sent a message to Ashley, explaining she and Miles shared the same blood type.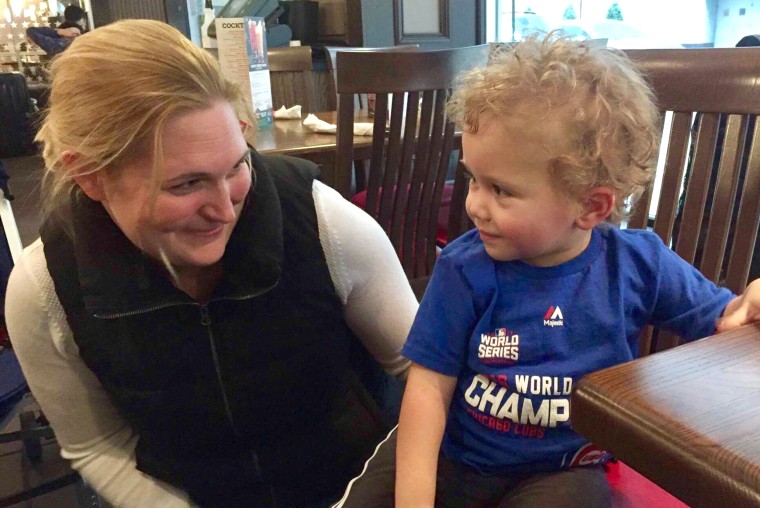 RELATED: Dog says goodbye to dying owner in heartbreaking moment at hospital
"I could tell she was committed," said Ashley. "I think we were a little blown away that someone we didn't know very well was willing and committed to donating her kidney."
Right before Christmas, they learned Wolodkiewicz's kidney matched Miles and the surgery was scheduled for February 2017.
Wolodkiewicz's surgery at Northwestern Memorial Hospital is expected to last two to three hours, while Miles' will be five to six. If the transplant is successful, which surgeon Dr. Riccardo Superina expects it to be, Miles will have no lingering problems from primary hyperoxaluria. He will depend on anti-rejection medications for life, however, and could need a new kidney in the future.
"Kids bounce back pretty fast," said Superina, director of transplant surgery at the hospital. "After five or six days, he will be walking around and feeling pretty good."
As for the Wagners, they're looking forward to one less challenge.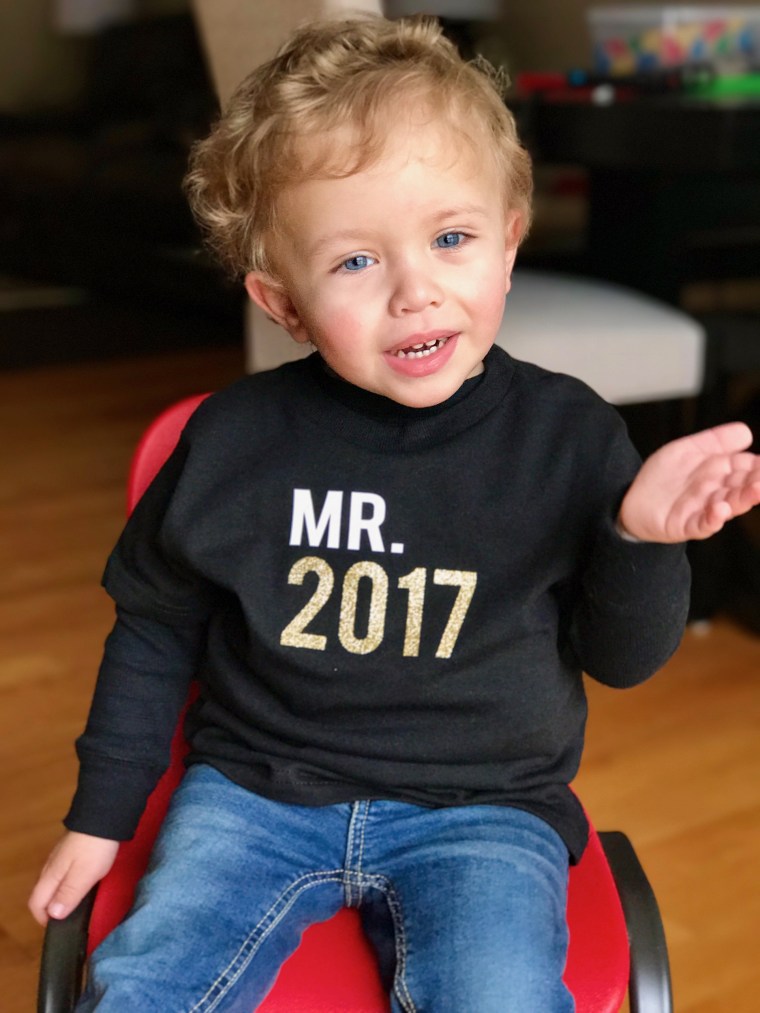 RELATED: Mom who took dying friend's six kids wins full custody
"This kidney is a blessing for us. It is the last of the major surgeries," Ashley said. "Now we don't have to focus on Miles and Ryan fighting for their lives."
The family feels grateful for the support they've received, but feel incredibly overwhelmed by Wolodkiewicz's generosity.
"It might be even more of a gift to us because of Ryan's cancer. I think she probably doesn't realize how much we appreciate the decision she made. It means everything to us," Ashley said.