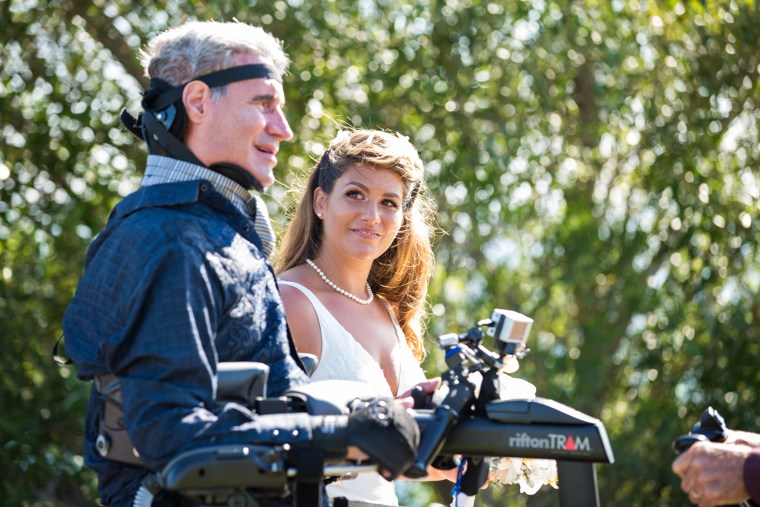 Lindsay Nieto's father was diagnosed with amyotrophic lateral sclerosis (ALS) when she was 15 years old, so she quietly made peace with the fact that he would never be able to walk her down the aisle at her wedding.

But ten years later, Augie Nieto, 56, was by his daughter's side, every step of the way, when she married Chris Williams, 28, in Rancho Palos Verdes, California. 
Defying the average prognosis of two to five years of survival for those with ALS, on Saturday, Augie helped escort Lindsay up the grassy incline to the altar while harnessed to an aluminum scaffolding that helped keep him upright for the emotional ceremony. 
"I kind of thought that I would've been looking at Chris when I was walking down the aisle with Augie, but I couldn't look at anything but my dad,'' Lindsay told TODAY.com. "I was just amazed he was able to get in his device and stand up. The sun was in his eyes, and I was just thinking that he's done so much to be here and worked so hard that I just started bawling. 

"I'm just completely honored that he's done so much preparation to do that for me. It was just the most special thing for me. I had no way of preparing myself for that."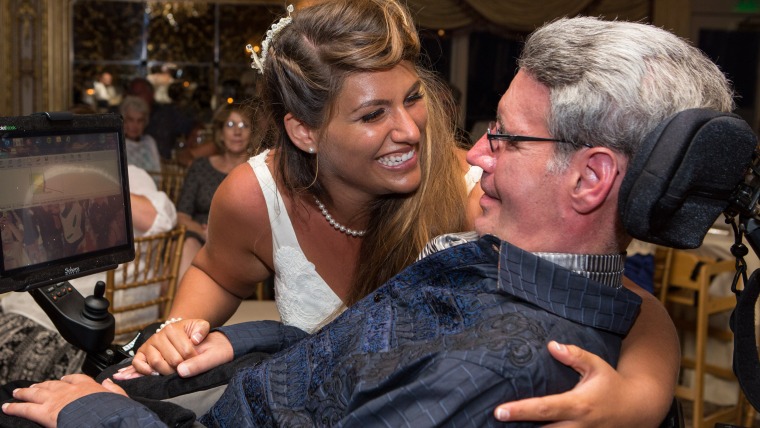 Augie lost use of his arms and legs within the first three years of being diagnosed with the neurodegenerative disease, and he can no longer speak after undergoing a tracheotomy three years ago. However, he communicates by typing on a special device using his feet, and he still has use of his facial muscles. He mouthed the words, "I love you, and I'm so proud of you" to Lindsay during Saturday's ceremony. 

"It's just so great that it worked out because it's the last time my dad and I were going to walk together,'' she said.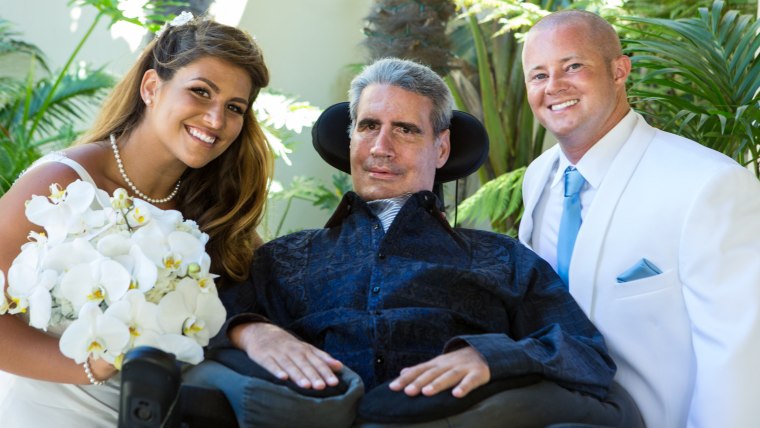 Augie was a successful fitness equipment mogul behind Lifecycle, Life Fitness and Octane Fitness before he was diagnosed. He switched gears and created Augie's Quest, which has raised nearly $40 million since 2006 to help find a cure for ALS. His story has been highlighted by Natalie Morales, who cited Augie as an inspiration. 

The fact that he was able to walk with Lindsay down the aisle was just an added bonus, considering the chances seemed remote that he would even live long enough to witness her wedding. 
"It was something that I mourned a long time ago,'' Lindsay said. "I was selfish and 15, and I was like, 'Who is going to be there with me when I need my dad?' Unless I got married when I was 18, I figured he wasn't going to be there.
"I always thought he would be there with me in spirit, but not only was he physically there, he walked me down the aisle. He could've walked down the aisle, rolled down the aisle or been carried on my back, but he was there, and that was the best part."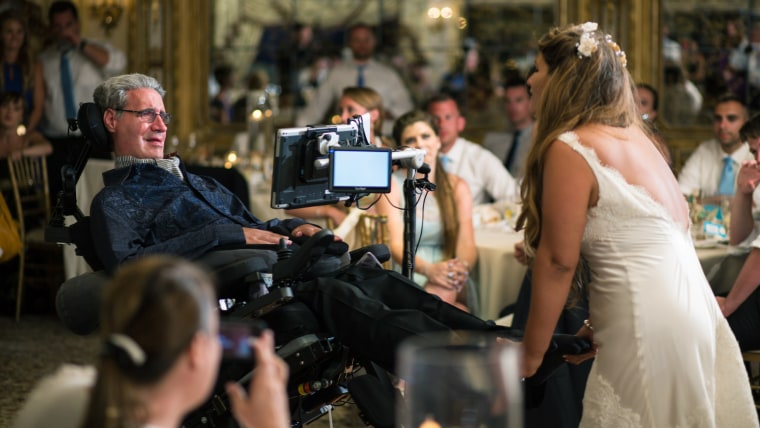 Traditionally, the bride stands on the left side with the groom on the right, but Chris and Lindsay reversed positions to give Augie the best view. 

"We set it up so that he could see my face when I said my vows to Chris,'' she said. "He was right behind Chris to see me when I said, 'I do.''' 
She believes her father's positive outlook is what has kept him alive much longer than the average ALS patient. 
"He's the type who's just so full of life,'' she said. "When he was first diagnosed, the way the disease is treated in the medical field is very pessimistic. He did a lot of reflection, and went through a depressive stage, but then he really found another way to frame it. He was like, 'I'm going to choose to be as positive as I can each day.'''