After years of being warned about the evils of fatty foods, Americans ate more carbs and cut back on fats. But a new study suggests that replacing even a moderate amount of carbs with fats from vegetable oils, nuts and soybeans can reduce the risk of diabetes.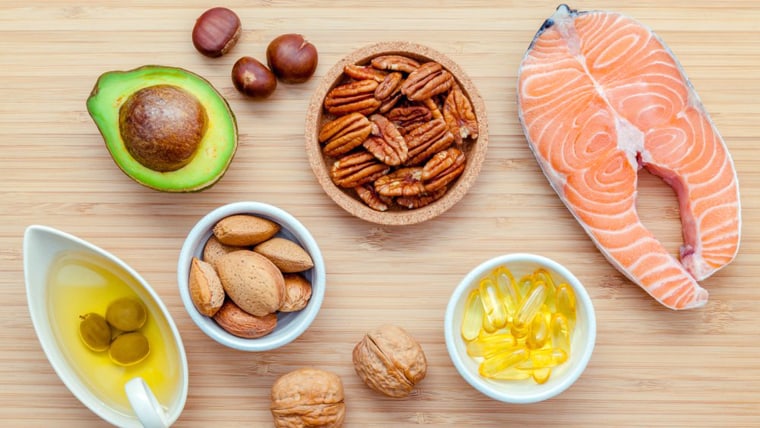 Researchers found that substituting about 100 calories of unsaturated fats, especially polyunsaturated fats, for 100 calories of carbohydrates lowered blood sugar levels and improved insulin resistance and secretion, according to the new study published in PLOS Medicine. And those improvements, the researchers estimate, could result in a more than 20 percent reduction in the risk of Type 2 diabetes.
Replacing more carbs with healthy fats appears to lower risk even further, said the study's lead author, Dr. Darius Mozaffarian, dean of the TuftsFriedman School of Nutrition Science & Policy at Tufts University. "And a separate potential benefit is that if you eat more healthy fats and less refined carbohydrates in the long term you will lose weight," Mozaffarian added.
RELATED: 4 healthy fats you should be eating
Polyunsaturated fats are key
The new report comes as the rates of insulin resistance and type 2 diabetes are on the rise. Nearly half of Americans currently have diabetes or pre-diabetes, according to the Centers for Disease Control and Prevention.
Mozaffarian and his colleagues combined and re-analyzed the data from 102 with 4,220 participants who were randomly assigned to consume specific diets.
The researchers found that for every 5 percent of dietary energy that was switched from carbohydrates or saturated fats to mono- or poly-unsaturated fats, could lead to a 22 percent reduction in the risk of diabetes and a 6.8 percent reduction in the risk of cardiovascular diseases.
RELATED: A daily handful of this food may lower risk of fatal heart attack
Mozaffarian sees the improvements in insulin resistance as key to better health. That's because cells need to be sensitive to insulin to take up glucose, he explained. "When the cells can't take up glucose, they release fatty acids into the bloodstream, which results in low HDL levels and high triglycerides, he said. "And when the liver thinks there's not enough glucose it makes new fat and you end up with a fatty liver."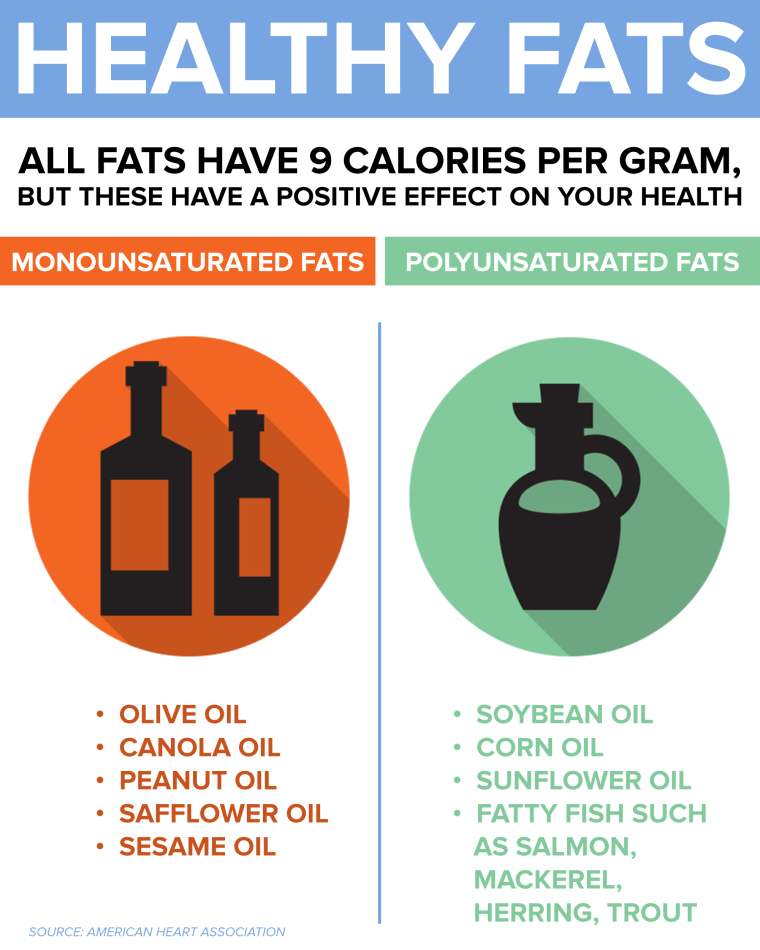 While substituting "healthy" fats for carbs is good for anyone, the study found it's even more effective for those with diabetes and pre-diabetes, Mozaffarian said.
The new study may offer some clarification to people confused by the mixed messages on diet that have been appearing in the media, experts said.
RELATED: 10 small food changes that make a big difference in your waistline
"Unfortunately, there have been a plethora of less well documented reports over the last couple of years that have led to massive consumer confusion based on provocative articles and popular books that have not only raised doubts about past dietary recommendations, but even professed that 'butter is back' or 'bacon is best,'" said Linda Van Horn, a professor in preventive medicine-nutrition at Northwestern University.
But these researchers are using "big data" to help separate "fact from fiction," Van Horn said. "What's new and different about this study is that its target is diabetes risk as opposed to cardiovascular risk factors," Van Horn said.
One of the interesting findings is that poly-unsaturated fats had a more positive effect than mono-saturated fats, said Juliet Mancino, a diabetes educator and clinical research coordinator at the University of Pittsburgh School of Medicine.
"We're now recognizing that there are many functions of fats and the good they can do," Mancino said. "But we're still deciding on what is the right combination of fats and carbohydrates. If you're living on wings and cheese you're probably getting too much. The moderation message may be boring, but it actually applies for a lot of us."