Hungry? Portion size is no object? There's no shortage of gluttony on the menu.
A 2,000-calorie breakfast, an entree equivalent to eating five bacon double cheeseburgers and the aptly-named "Insanely Large Chocolate Cake" are some of the recipients of the annual Xtreme Eating Awards, revealed by the nonprofit Center for Science in the Public Interest on Monday.
The list highlights restaurant meals that contain huge amounts of calories, salt, added sugar, saturated fat and cholesterol. CSPI calls them "nutritional nightmares."
"These meals are extreme, but even the typical dishes served at restaurants are a threat to Americans' health because they increase the risk of obesity, diabetes, heart disease, and more," said CSPI senior nutritionist Lindsay Moyer in a statement.
The National Restaurant Association countered that it has led the effort to implement a national standard for menu labeling so that "customers can make informed decisions on their dining choices," said spokesman Steve Danon. A federal rule that would have required chain restaurants to list calories on menus was to take effect in May, but has been delayed by a year.
Restaurant portions have grown so large over the past two decades that standard portion sizes seem skimpy by comparison, noted Madelyn Fernstrom, NBC News Health and Nutrition Editor.
"Sadly, these kinds of foods reflect the preferences of the restaurant-eating public: huge portions for a low price," Fernstrom told TODAY. "While some restaurants defend these dishes by saying they're meant to include leftovers, no one has given the consumer that message."
Here are the "winners" of CSPI's 2017 Xtreme Eating Awards:
Cheeseburger Omelette from IHOP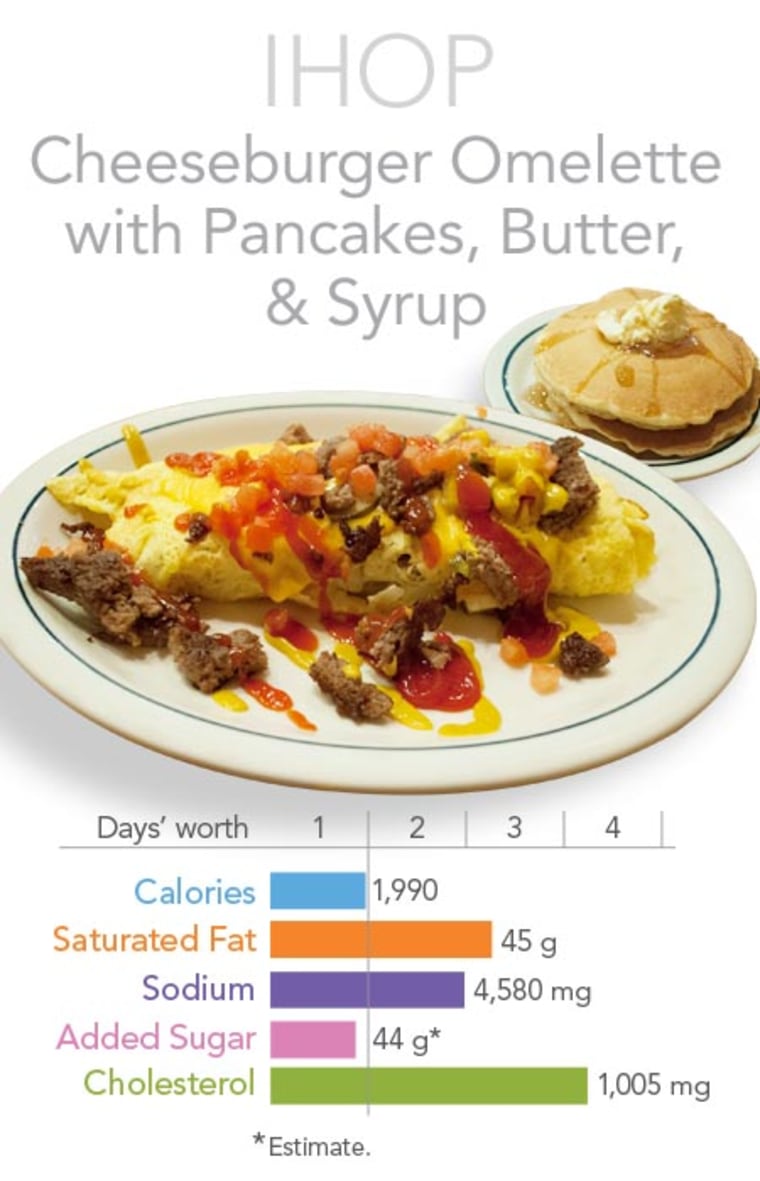 CSPI's verdict: Featuring eggs, hamburger patty pieces, hash browns, cheese, plus a side of three pancakes with butter and syrup, it's the equivalent of eating four McDonald's Sausage Egg McMuffins drizzled with two tablespoons of syrup.
IHOP's response: "It's misleading to single out the highest meal combinations without informing people of the wide range of choices offered at IHOP restaurants, including the ability to customize any item to meet a variety of dietary needs," said spokeswoman Stephanie Peterson.
Carnivore Pizzadilla from Dave & Buster's
CSPI's verdict: The recipient of the "Worst Original Appetizer" award is a 12-inch quesadilla served "pizza-style" and loaded with cheese, pepperoni, and Italian sausage. The company calls it a "shareable appetizer," but if you eat this all by yourself, you've already consumed almost 2,000 calories.
Flying Gorilla cocktail from The Cheesecake Factory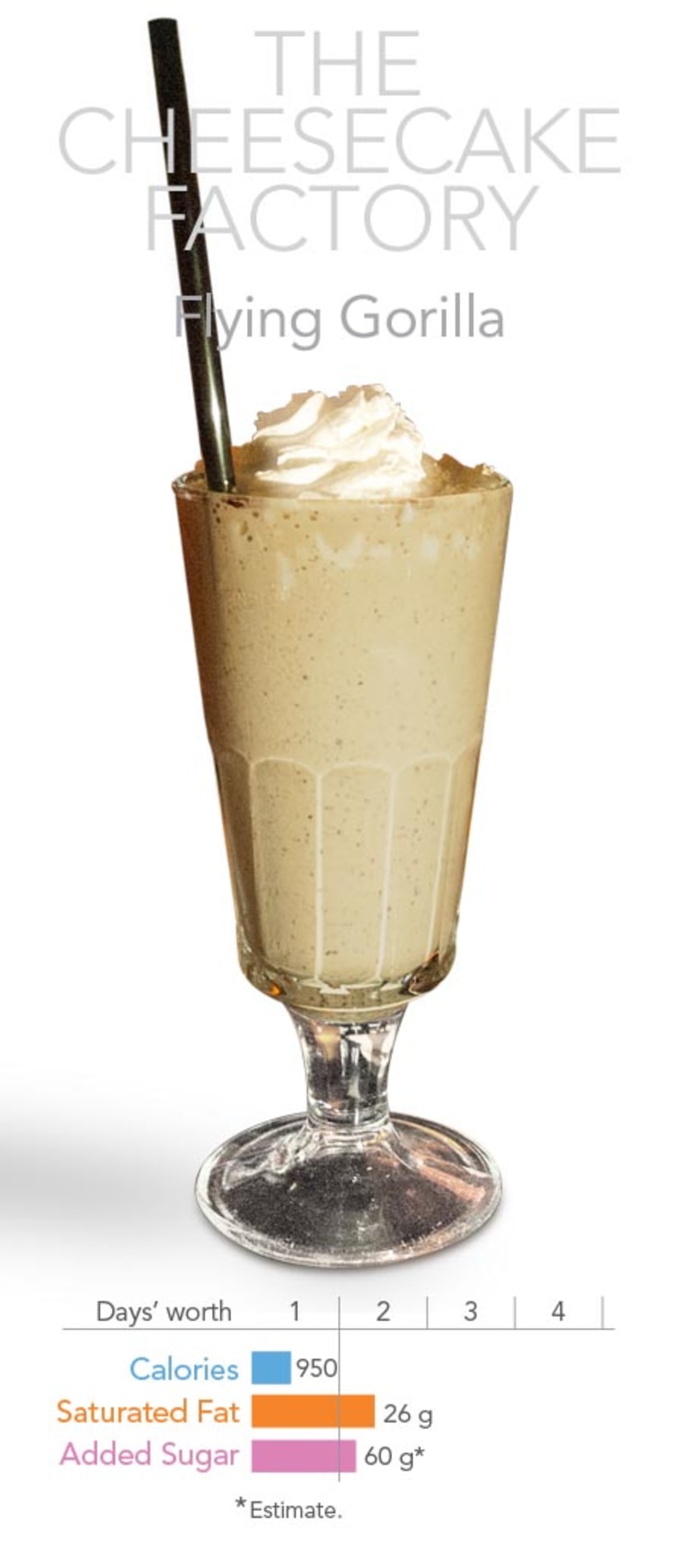 CSPI's verdict: At 950 calories and more added sugar and saturated fat than you should consume in an entire day, "it's like kicking off your meal by pouring a 20-ounce Budweiser over five scoops of Breyers Chocolate ice cream," the group says.
Ultimate Smokehouse Combo from Chili's
CSPI's verdict: This 2,440-calorie meal includes so much food that it's served on a tray rather than a plate. Customers choose three meats, which are served with corn, homestyle fries, chile-garlic toast and garlic dill pickles. "Why stop at a triple meal? Why not serve four meats and four sides? Or five?" the group asks.
Cheese Curd Bacon Burger from Buffalo Wild Wings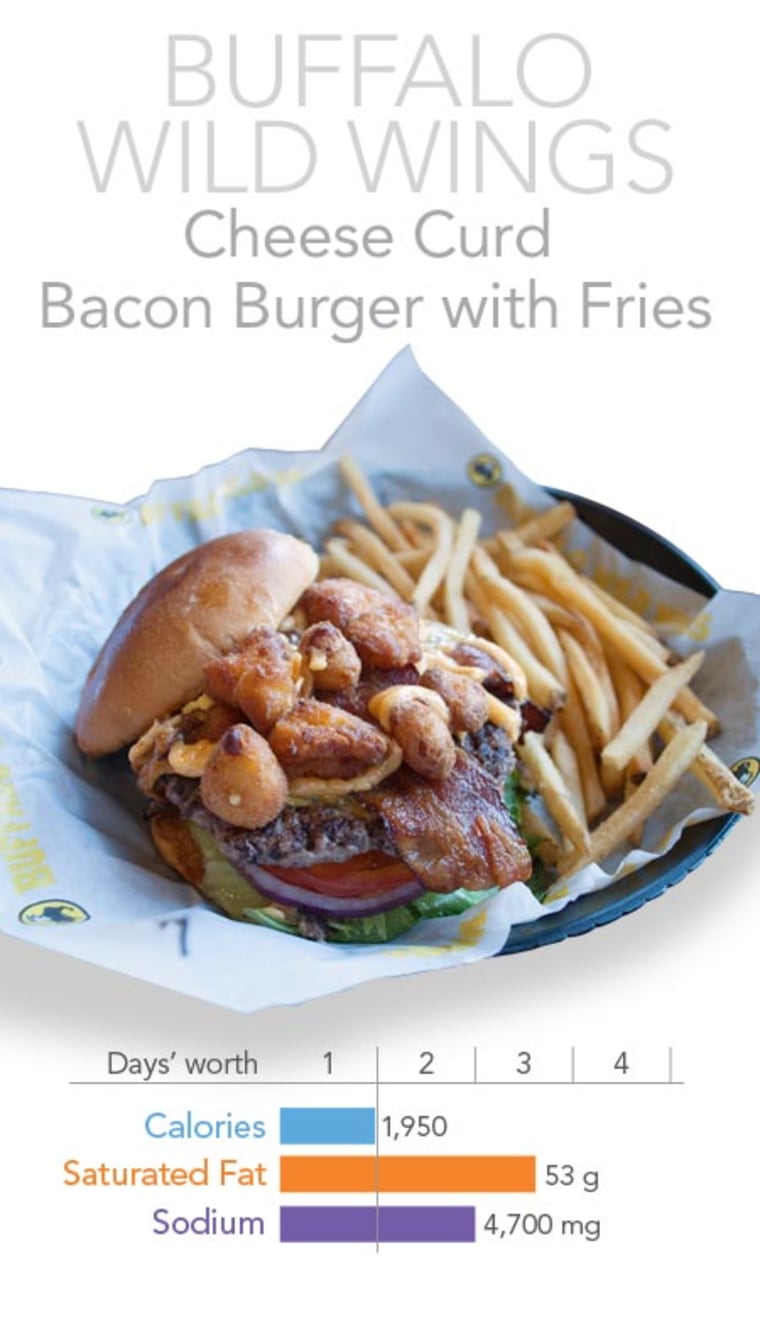 CSPI's verdict: Battered, deep-fried cheese curds add to the calorie count of a hamburger that's already loaded with cheese, two bacon strips and a "mayo-rich" sauce. With a side of fries, it's the same amount of calories as about five Burger King Bacon Double Cheeseburgers.
Pasta Napoletana from The Cheesecake Factory
CSPI's verdict: This dish featuring Italian sausage, pepperoni, meatballs, and bacon on pasta "that's been greased with butter and cream" clocks in at a whopping 2,310 calories and has almost four times the amount of saturated fat you should eat in a day. "Check with your waiter for a list of nearby cardiac care units," the group says.
Prime Rib with Loaded Sweet Potato at Texas Roadhouse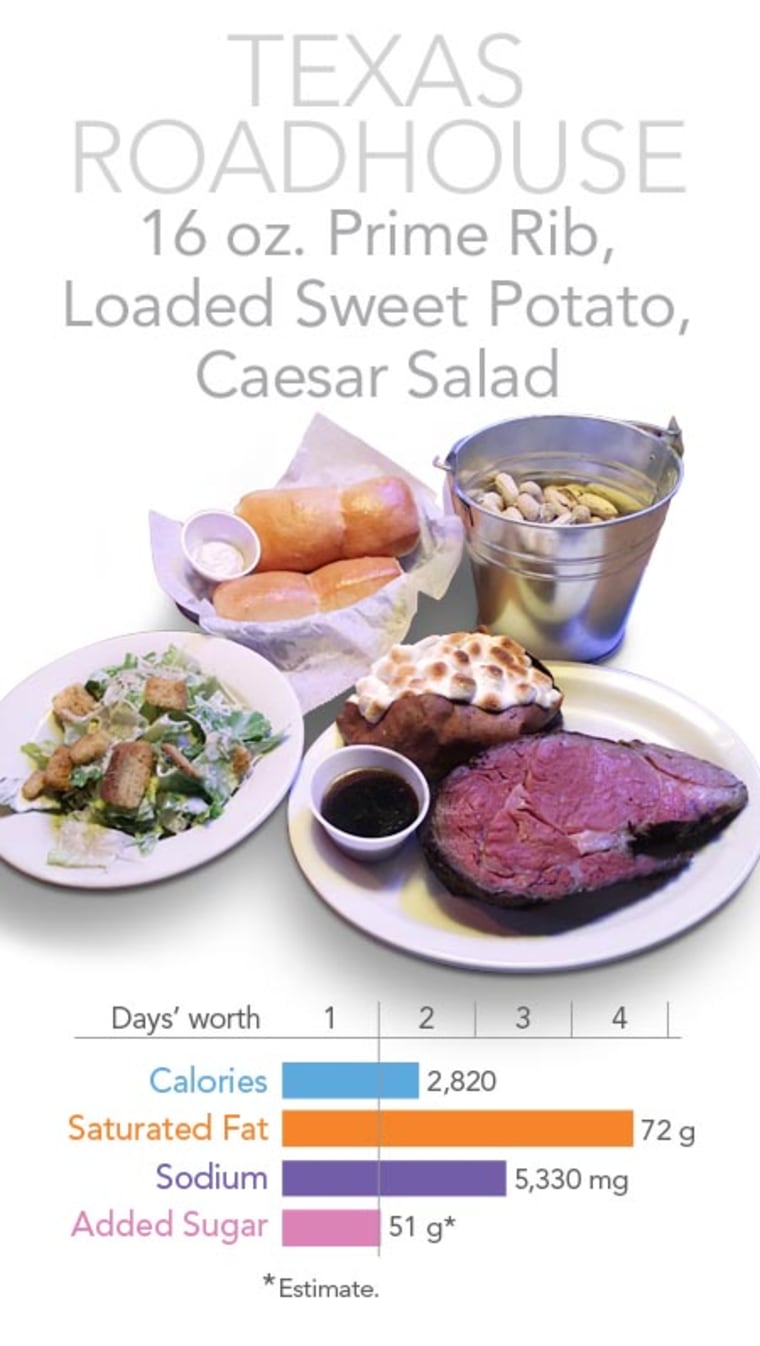 CSPI's verdict: Mini marshmallows and caramel sauce turn the side dish into dessert, earning it the group's award for "Most Damage from a Supporting Vegetable" award. The whole meal — including the sweet spud, prime rib and Caesar salad — has more than 2,800 calories and enough saturated fat for almost four days.
Ridiculously Awesome, Insanely Large Chocolate Cake from Uno Pizzeria & Grill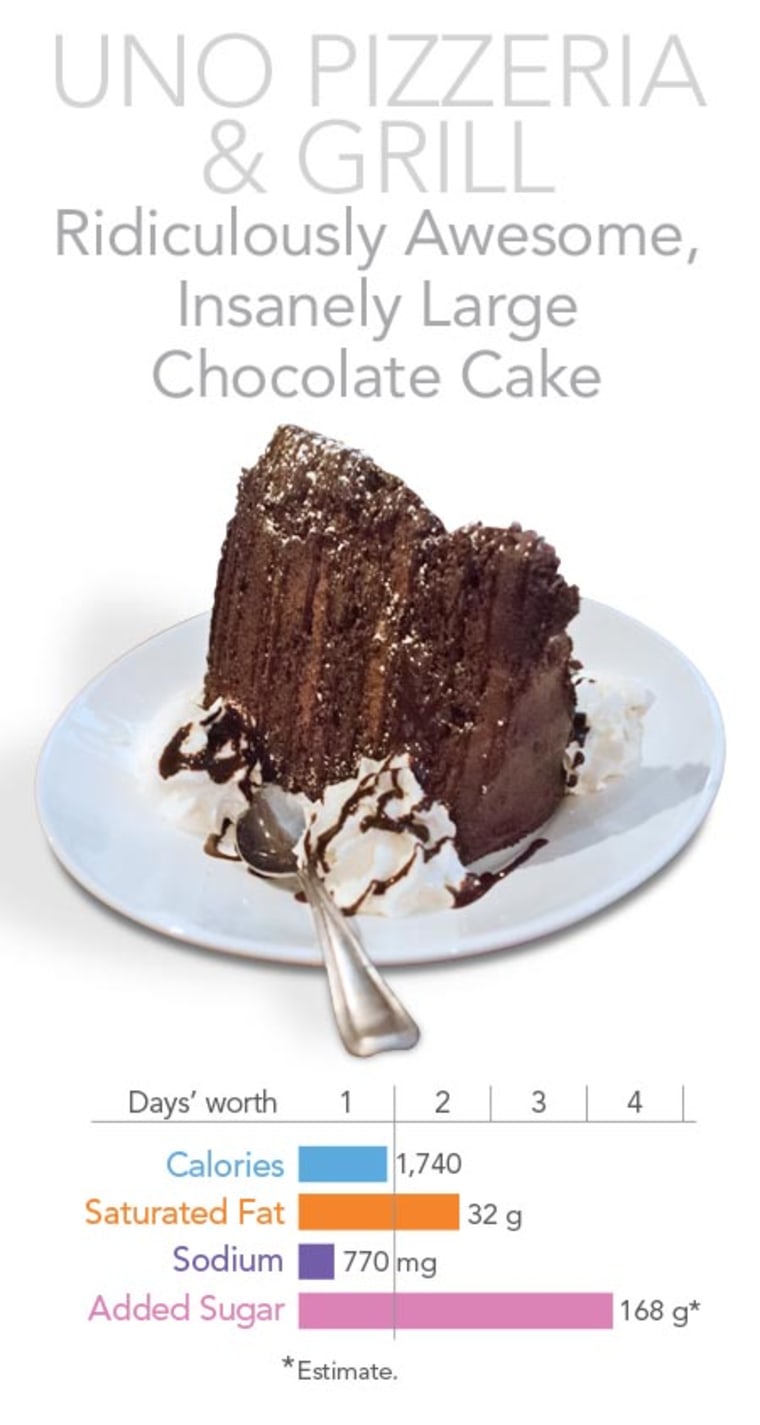 CSPI's verdict: The name pretty much sums it up. The group gives this monster dessert the award for "Most Ridiculous Ending." At 1,740 calories, it has more than three times the added sugar you should eat in an entire a day.
How to stay in control in a restaurant
Fernstrom had these tips:
• It's fine to indulge now and then, but that doesn't mean eating until you're stuffed.
• If you order a monstrous portion, get three other plates — four people per order. Spring for the "sharing charge."
• Calorie awareness is part of healthy eating. It's a skill many people don't have, but you can learn to recognize smart-size portions.