For some patients with uncomplicated cases of appendicitis, antibiotics may be a good alternative to surgery, according to a study published Tuesday in The Journal of the American Medical Association.
The study, of 530 patients ages 18 to 60 in Finland who had uncomplicated appendicitis, looked at the outcomes of those who were treated with 10 days of antibiotics and those who had an open appendectomy.
It found that nearly 73 percent of patients treated with antibiotics did not require surgery, and that the patients who did require surgery had no complications within a year of follow up, NBC News Medical contributor Dr. Natalie Azar said on TODAY Wednesday.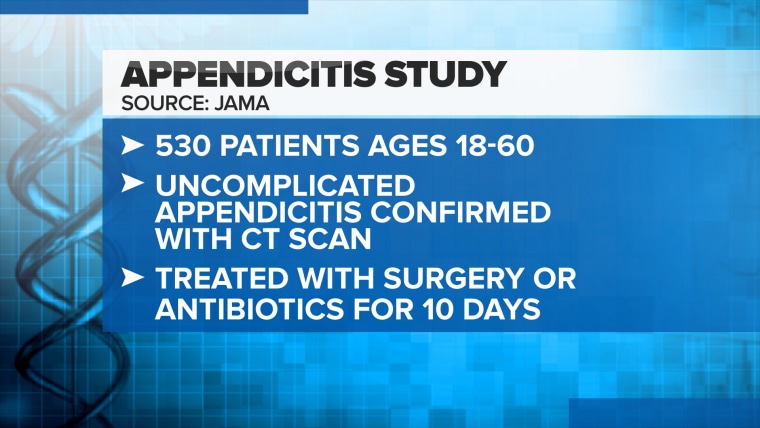 "I don't know that this is a groundbreaking study," Azar said. "It's not going to be definitive.
"But I think it's provocative enough that there is going to be discussion among surgeons about whether or not they need to rethink the standard of care, which for the last century or so, has been surgery," she added.
The study involved patients with uncomplicated cases, meaning they had no evidence of a perforation or abscess, Azar noted.
And the results do not apply to certain patients — children, pregnant women or patients with complicated appendicitis.
"A very select group of patients may actually do well with antibiotic therapy rather than the standard of care, which is surgery," Azar said, summing up the researchers' findings.
The lead author of the study, Dr. Paulina Salminen, told The New York Times that researchers performed open surgery rather than laparoscopic surgery to generalize the results to areas where that more common type of surgery is not available.
Though she called it "a weakness" of the research, she told the newspaper that most of the surgical complications were due to incision-site infections, which could happen after laparoscopic surgery as well.
Appendicitis, an emergency condition that afflicts an estimated 300,000 people annually in the United States, is an inflammation of the appendix. If untreated, the appendix can burst and spread infection in the abdomen.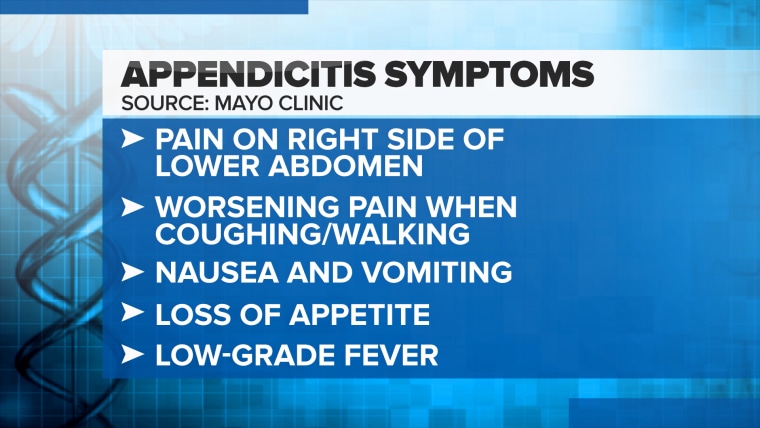 While people often worry that a stomachache may be appendicitis, Azar reviewed the symptoms. The classic scenario, she said, starts with pain in the naval or mid-abdomen area, moving to the right lower quadrant of the belly within one to three days.
Other symptoms include:
nausea and vomiting
low-grade fever
increasing pain when you cough or put pressure on the abdomen.
"Any concerning signs like this, obviously, see the doctor right away," she said. "I think with children, we have a lower threshold for having them evaluated."
While appendicitis can strike anybody, it is more common among those ages 10 to 30, according to the National Institute of Health.