As millions of children head back to school this fall, their parents have questions about the coronavirus pandemic — and TODAY is here with the answers.
The hosts of TODAY held a special Coronavirus and the Classroom event Monday on the plaza at Rockefeller Center, taking questions from parents, teachers and students for Dr. Rochelle Walensky, the director of the Centers for Disease Control and Prevention, and Dr. Miguel Cardona, the U.S. secretary of education.
Here are the answers to some of the most urgent questions asked.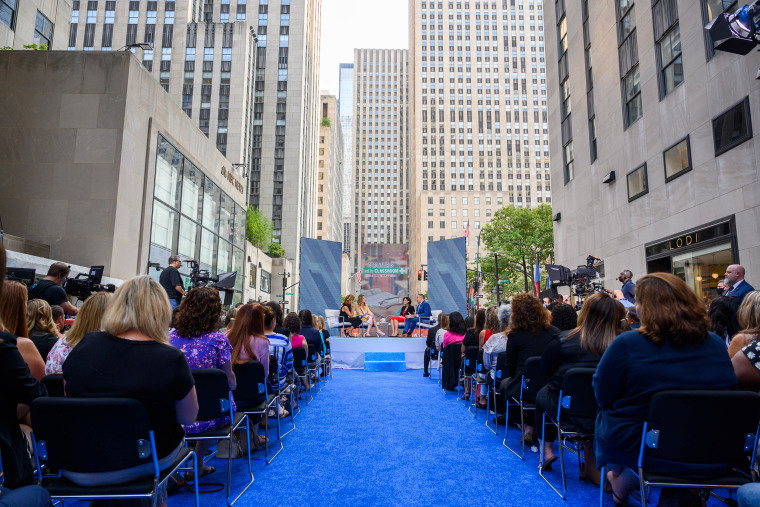 When will vaccines be available for children under age 12?
One of the first questions asked on the plaza is one of the most pressing questions for parents and medical experts alike: When will young children be able to get vaccinated against COVID-19?
"We're waiting for the companies to submit the data to the FDA. We're anticipating that will happen in the fall," said Walensky. "We will look at the data from the FDA, from the CDC, with the urgency we all feel for getting our kids vaccinated. We're hoping by the end of the year."
Walensky said that while the agencies are still waiting on information and data, they will make swift decisions once that is received.
"We want to move quickly; we anticipate moving quickly," said Walensky. "But we also want to have the efficacy data and the safety data that the FDA will require so that we know as soon as it is available, that it will be merited with science."
Later in the town hall, Walensky told a fourth grader from Texas that the agencies are doing their best to get vaccines out to children as soon as possible.
"We are working with urgency to make sure that that vaccine, when it comes to you, is going to be safe, it's going to be effective, it's going to follow the science," Walensky said. "We are really hopeful that you will have that vaccine by the end of the year."
Does the delta variant put children more at risk?
While Walensky said there is not currently evidence that the delta variant results in more severe cases of COVID-19, it does lead to more spread of the virus, which results in more cases. There has been a five-fold increase in pediatric hospitalizations over the summer, the CDC reported.
"Dangerous is more transmissible, right?" said Walensky. "If it is more transmissible, we have more kids with disease, we have more kids with symptomatic disease, and more kids ending up in the hospital. ... We are definitely seeing more disease. This virus is an opportunist. It'll go where places are not vaccinated, where people are not vaccinated. The best thing we can do for our kids is surround them with people who can be vaccinated when they are eligible to be vaccinated."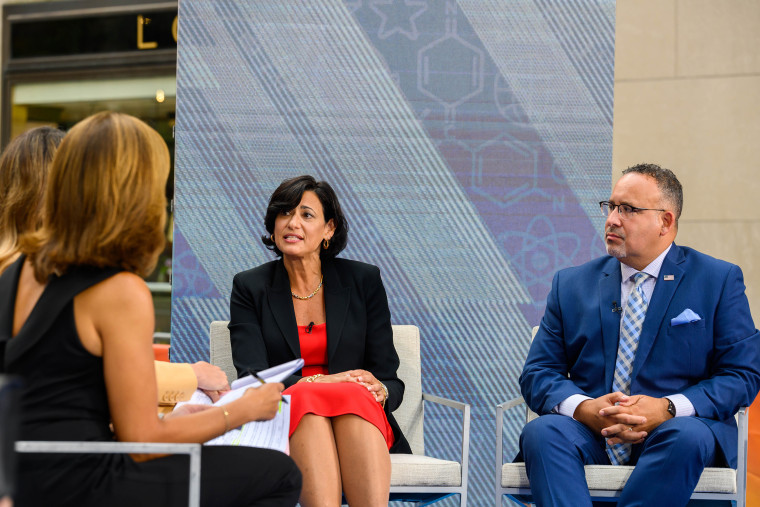 Will schools require the coronavirus vaccine?
After President Joe Biden announced sweeping vaccine mandates late last week, Hoda Kotb asked Cardona whether he believed schools would require vaccine mandates.
"I'm glad to see the strategies that states are taking to get safely back in school. ... It's our responsibility to make sure that across the country students don't have to deal with disrupted learning again," Cardona said. "In those places where they are doing vaccine mandates, I do support their efforts to get the students in. We know it's safe."
In response to a teacher question, Walensky added that she believed "everybody who is eligible to be vaccinated should get vaccinated" and thought that people should get the information they need to want to be vaccinated.
"The more people vaccinated, the better, the less disease in our community," Walensky said. "If we need vaccine mandates to do that, that would be a local discussion but I would be advocating for that."
How can schools keep things calm amid division?
A mom from California had a question about keeping conversations respectful in the classroom amid the division over masks, vaccinations and more.
"Education is a unifier. We all want the best for our kids, we all do. I'm excited that getting back to school, we can get back to the business of teaching and learning and making sure that our schools are safe communities for the students and their families. ... This is difficult work, but I think if we as educators model how to do it respectfully, I think our kids will be better off for it."